Check If A Website Is Blacklisted
As you probably know the web is full of threats these days. They range from common email spam to malicious software spread by infected websites. As a result there are many blacklists around, with the goal of helping Internet service providers and companies identify the problematic websites and domains.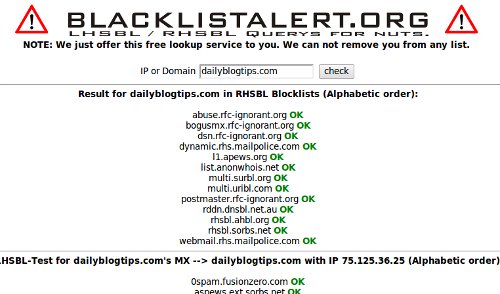 If you want to make sure your website is not listed on any of these blacklists you can use a tool called BlacklistAlert.org. Simply input your domain and the tool will check on more than 30 spam and malware blacklists.
This tool can also be useful in other situations, including:
If you are considering to buy a registered domain name and want to make sure it's clean.
If you just moved to a new hosting company or to a new server and want to make sure your IP address is clean.
If you are considering to exchange links or create a partnership with another website and want to make sure it's clean.
So check it out.
Browse all articles on the General category
14 Responses to "Check If A Website Is Blacklisted"
Alan @ Work From Home

Great resource, Daniel. Thanks for sharing this with us. My site seems to be OK even on a shared host, so I'm happy about that.

Fanis

Very good tool… I needed something like that to check some ip's and domains.
But i was wondering where they get the back lists data ?

Thanks for sharing
Fanis

Virtuves baldai

Strange, but one of gmail mx ip is blacklisted

Mike @ Blog Success Resource

Good site resource, Thanks Daniel.

Robert Bravery

Nice. I was hosting on a share host. Along with other unscrupulous operators. Using a shared host has it's benefits, but also it's pitfalls.
One of those pitfalse is that if one person / website on that share host get black listed, then all other sites get blacklisted. Because most lists use the IP address to black list you.

Just checked my site. All seems fine.

jason ward

I didn't even know this site existed, but I'm checking it out now. It will be interesting to see what's on there.

Steve @ 2011 Tax

Getting blacklisted is not a good thing. I have two blogs and I have tried almost everything to get them back into Google. Thank goodness the other search engines still send me some decent traffic.

Matej

That's actually quite useful, thanks! I once had a problem with domain that was previously owned and left to expire.

carolee Sperry

Thanks! I'm headed over now!

This would sure help with comments bordering on SPAM

vicky89

wow good to know that my site is clean too.,

Jane@Find All Answers

Yup the pointed link doesn't work but typing BlacklistAlert.org into the address bar works. My site is clean 🙂

Kamal Hasa

Great tool. Let me check if my site and also the ip address is clean 🙂

Luciano Passuello

Thanks for the tip, Daniel.

Although the link caption in the post is 'BlacklistAlert.org', it's actually pointing to blacklistAlert.com, which gives an error.

Daniel Scocco

Thanks for the heads up. Fixed it.
Comments are closed.