Blogging Idol: Second Week Update
The contest is getting some heat as we hit the second week of competition. Most bloggers have already fired their shots, but I think some are reserving the best weapon for the final weeks.
By the way, the game is not over yet, although the two leaders have quite an edge over the rest. Remember that I will be strict in evaluating the tactics used by the winner, and one or more people could get disqualified, so even the third and fourth runners up have a chance.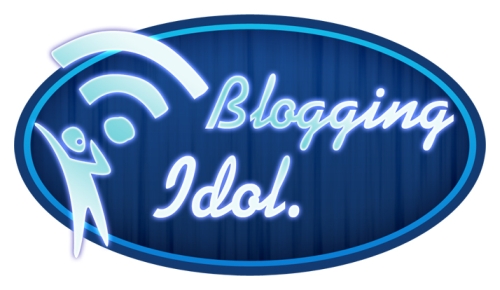 The Sponsors
As you know the final prize worth $3000 is courtesy of those folks:
KeywordCountry.com: The best keyword tool for making money online.
Yoast.com: The blog of Joost de Valk on SEO and WordPress.
NotSoBoringLife.com – A blog with hobbies for everyone.
BidVertiser.com – Make more money from your blog or website.
SponsoredReviews.com – Make money with your blog by writing reviews.
The Updates
I would also like to give a special thank you for the blogger behind The Life is Colorful. He has been posting almost daily comments on the main blogging idol post updating us on the leaders of the competition, and how their RSS count is developing. Here is his latest updates from Saturday:
(Past rank->Current rank) Blog | Increase
(1 From 1) #66 romeuy – 759 -> 1275 = 516
This is tooooooooooo much man! I wish I get 50% of them, and that would be double of my current number of subscribers. By the way, if you subscribe to my blog today – you would be part of my contest ending in 2 days – Hi hi!
(2 From 2) #2 stockmarketindia – 953 -> 1228 = 275
Looks like weekend was flat for this blog – seems all investors are taking rest to start off on Monday. The numbers remained almost same over the weekend – rather 2 less than yesterday.
(3 From 3) #8 homedesignfind – 89 -> 210 = 121
This blog lost some of the readers. And you know what, many blogs have seen small deep in readers except Romeuy.
(4 From 5) #24 umarsiddiqi – 69 -> 146 = 77
Even if small dip, Jobmob's big dip helps this blog to go up by 1 rank.
(5 From 6) #1 standoutblogger – 30 -> 99 = 69
Again 2 readers gone from this blog like umar, I will call it as "Sunday effect"
(6 NEW) #91 mommymeryl – 17 -> 69 = 52
I can see smiles on her face already. Mommymeryl must be happy to see her blog making to the top lists today
(7 NEW) #58 techtream – 196 -> 247 = 51
You must have read this name before. This blog was pushed out of the list but seems he made it back to the list today
I will mention 3 more blogs today to make it Top 10 list.
(8 NEW) #108 bloggingisnotacrime – 0 -> 49 = 49
New entrant in the list as well as to the feedburner. Seems like shooting up for the competition
(9 NEW) #105 stockmarketguide – 559 -> 601 = 42
New entrant in the list, not sure if this blog was in Top 10 yesterday.
(10 From 7) #23 everything-everywhere – 435 -> 475 = 40
Dip of 31 readers, pushed E-E to 10th position today. Yesterday, as you read – though I calculated increase correctly for this blog, the counters mentioned were not correct.
Cheating the Contest
Over the past week we had some people complaining about the competition, mainly about the fact that supposedly some participants were cheating.
First of all, I am aware that the rules might not be perfect, but they were made with the best of the intentions. Some people suggested that other factors should be added to select the winner, for example they said we could use Alexa to measure traffic. Well, guess what, it is also possible to cheat over Alexa rankings and virtually on any other measure you select.
People cheat on national elections on most countries, and you were really expecting that a small blogging competition would be run flawless?
Now that being said, I will obviously make all efforts to monitor the tactics of the leaders. I can't say all the methods that I will use to verify is someone cheated on the rules or not, else the competitors would be aware of that and they would try to mask the stuff, but before announcing the winner I will run many tests and ask for a lot of information to make sure he was not cheating.
The Strategies
Below you will find the strategies of the competitors that sent an email to me. Remember that the emails needed to be between 100 and 200 words. I got too many that had one sentence, so I barred the ones out of that word count limit.
1. http://www.adampieniazek.com/
My "strategerizing" for this week took a bit of a hit as I suffered an injury when the chain on my bicycle fell off my bike and caused me to lose my balance and fall off. I was going relatively quick so hitting the ground was a bit shocking. I tried to stick to a daily posting schedule and had 1-2 posts written up before the fall but mostly published a few videos and quick posts.
Even though I didn't publish any huge cornerstone posts this week my subscriber count went up (slowly but surely!). Everything I published I felt was up to the quality level I have for the blog but for sure I feel I could have written better and publicized more without my injury. I also submitted a few posts to some blog carnivals that will go live prior to July 31st and hopefully that will bump up my readership. I also updated the feed links in my header, footer and sidebar to point directly to feedburner.
2. http://discoveringdad.net/
This week saw my subscriber count top out at 309, and then plummet to 271. I have to say that I'm a little surprised at this fluctuation, but when I looked back at my trends the cyclical nature of subscriptions is still trending up.
As far as strategies go, I added an additional sponsor to my month Top Referrer Contest, and I awarded my first weekly random subscriber prize. I also installed the What Would Seth Godin Do plugin to encourage new readers to subscribe. I also created several badges to go along with popular series that run on the site and feature other bloggers. Finally, I spent a significant amount of time promoting other blogs with good articles in various social medias, and I tried to leave comments on at least a dozen sites per day.
I've got some more exciting things in store for this week, and I hope the slide in subscriptions was just a temporary anomaly from a slow weekend.
3. http://www.back-links.org
This week's strategies have mainly been taken from the other competitor's strategies which they had discussed on dailyblogtips.
I found some of the strategies to be very useful and effective however I have found the key to increasing an RSS feed most definitely is constant and daily blog posting. I have missed a couple of days this week, which is not usually my style however it was unavoidable; in this time I noticed not only does the RSS feed count decrease but also traffic.
So the strategies this week have been:
1) Emailing my proxy subscription members
2) Blog Carnivals (good for traffic and backlinks)
3) Blog Commenting (again good for traffic)
4) Quality Content
This week has been slow and steady however next week will be when I push to hit 100 RSS subscribers."
4. http://bensonbear.net/
I mentioned last week that my strategy was to visit all the Blog Idol contestant blogs and get a sense of what each of their content and strategy was about, and comment at least once, as well as subscribe to each blog as well. I figured 3 or 4 days, but I think 3 or 4 weeks will be needed. So this week will be continuing to get to know the other Blog Idol bloggers a bit. But to drive some traffic and hopefully get a few subscribers I'm letting the Blog Idol contestants and anyone else who's interested know about the following.
Since security of site software is so important or at least it should be. I'm letting all Blog Idol contestants know that my site and that of the support site for the WebAPP v1.0 SE software is open to anyone that wants to find vulnerabilites and exploit them. Please let anyone else know that you reason may be interested.
So any blackhat hackers looking for a challenge, you are welcome to do so at either o the two sites I mentioned. Anyone wishing to try their hand at it for the first time; your welcome as well. Meaning your not doing anything illegal if your actually invited to do this. Your own your own as to how and get started however. I'd suggest Googling words like "how to get started with blackhat hacking methods" or something.
So anyone that ever wanted to try such a sport but haven't done so yet because they feared being caught and prosecuted; now is your chance to do so. Let me know how your progressing via my forums if you could.
5. http://jobmob.co.il/
For Week 2, the first full week of the competition, I tried a few different things that resulted in a 100-subscriber boost before my usual weekend dip:
1. Extra promotion, generating extra traffic (>150% increase over last week)
2. Published new pillar content, and began work on more to come soon.
3. Changed wording of subscription area on my site to prevent confusion regarding subscription fees (or lack thereof)
4. Spent a lot of time networking on Digg
5. Continued promoting the Building RSS Group Writing Project on Group Writing Projects, which has already taught me other new tips to try for subscriber growth.
Speaking of which, the Building RSS Group Writing Project wraps up today, which means that a long list of subscriber-breeding tips is coming very shortly to help us Blogging Idol'ers.
6. http://www.protycoon.com/
This last week has been spent optimising the on site RSS awareness. I have looked at blogs who are good at converting readers to subscribers and highlighted the main aspects of converting readers. I have also been working through the 25 Ways to increase your RSS subscriber count.
I will be launching my survey this week, that should bring some extra traffic to my site, which I hope to convert to subscribers using the methods I have learnt over the previous week. I am slowly moving up the leaderboard and should break into the top 10 this week!
7. http://www.workhappynow.com/
Progress has been slow, but I'm not discouraged. I'm in the process of editing my ebook like you suggested. The writing is done but I'm not sure if I can edit it and get it all together by the end of the month. In the mean time I'm commenting on three new blogs a day, I'm giving the 3,000 dollars away to a subscriber if I win, and getting my social media message out there. Hopefully I'll see even better progress in the days to come.
I'm having a good time trying to make my RSS grow and learning a lot so even if I don't win I'll still feel like I've accomplished some good work.
8. http://finaldog.com/
Strategy : To date, I have no strategy to speak of and that's showing pretty well with my stunning under-the-radar mediocrity as far as this contest goes. I think I've just sort of hoped it would all work out somehow, and in the end I'd win the entire contest and make all of the other competitors my slaves in a new world order of rapacious debauchery. As it happens, I'm starting to think this is rather unlikely considering I'm hungry and there's not even anyone here to bring me a peanut butter sandwich. Damn it all, I really wanted a sandwich. Beyond my Just Hope Everything Works Out Somehow Strategyâ"¢, I'm at least making every effort to post regularly. I'm managing at least one post a day, but more usually two one in the morning and one in the mid-afternoon. Maybe Monday I'll bust out into a new strategy phase, but until then I think I'll just continue hoping everything will work out somehow. That's what most bloggers do after all, and I suppose I owe it to them to stick it out over the weekend at least.
Future strategy : Going forward I think I'm going to get cracking on at least one of a few series I've been contemplating. I figure having a series that follows me through a particular project might be good, provided it's an interesting project and provided I can publicize it on some creatively oriented forums and what not. Along those lines, I have a few creative project ideas that might not be hard to spread the word about, and if I can make some quick progress on at least one of them I might be able to get some blog-attention happening.
9. http://www.wardontheweb.com/
Here's what I've done to boost my subscribership thus far.
1. I used content on my blog to aid work-related projects. Specifically, I wrote 7 Essential Tips for Corporate Blogging in preparation for a meeting about my company getting into that sort of thing. I sent the link around to coworkers in the meeting invite and got a few of them interested in the blog.
2. I submitted posts to blog carnivals. In particular, I noticed a lot of "make money blogging"-type carnivals and submitted a post about blogging to enhance your career instead.
3. I added a contest-specific call to action at the end of each post, stating, "Ward on the Web is currently competing in the Blogging Idol competition. If you liked this article, please support the site by subscribing!"
4. I submitted several of my posts Dzone, a niche-specific social news site.
5. I went out and actively commented on plenty of topically-related blogs.
6. I installed Google Apps on my domain and started using that as my primary email address. I also added my blog URL to my email signatures.
7. I wrote this email to generate interest through Daily Blog Tips. 😉
So far, I haven't seen a lot of success. Still, the blog is less than six weeks old at this point, so I'm optimistic things will pick up as long as I keep moving in the right direction. Whether or not I win, Blogging Idol is turning out to be a fun exercise.
10. http://tryingtoblog.com/
I am experimenting with the most basic of techniques. This is my first blog
where I've focused my attention towards getting daily views from a feed versus
getting them from Google.
I've been trying the most basic of ideas. I'm giving away free advertisements
on my blog. All they would have to do is comment, and then reply in the post
that told them they won. This would mean they would have to add me to their
feed. It's not a brilliant tactic but it works.
I'm also looking into a very easy niche. People my age. They're always looking
to earn money online, and I've got several forums where I feel I can get a
large number of people to subscribe because they are interested in my content.
Wish me luck, hopefully I at least end double what I started.
11. http://sellotapeandstring.com/
In preparation for this competition I have written a number of articles in advance. My main method to increase subscribers will be to write quality, targeted content. My audience is web designers like myself, so I am hoping to write content that will be of interest, and ultimately useful to them. Since blog promotion doesn't happen overnight I am pulling out my arsenal up-front and hoping that this will attract new subscribers over the coming month. The arsenal I speak of is a tutorial about rounded corners techniques – a hot topic amongst web designers. I think I have the ULTIMATE technique, and have written a thorough step-by-step tutorial.
12. http://www.iblogtoblog.com/
I'm a little curious, if you sponsor your own contest with cash incentives, wouldn't that be the same as paid promotions technically?
But to start off this week, I will be asking family and friends who are interested in the same topics that I discuss on my blogs to subscribe. Â It never hurts to remind your daily visitors to subscribe.
In addition, since iBlogtoBlog.com is an entertainment-type blog, I will hit up other entertainment blogs for blogroll exchanges, leave comments hoping to get some of their readers, maybe even guest post.
Also, I will entice my readers with post series or cliff-hanger posts like "Check back as I will be updating this post with additional info on blah blah blah…"
I guess that's to start off for my first week… thanks Daniel!
Browse all articles on the Blog Projects category
19 Responses to "Blogging Idol: Second Week Update"
Wayne

That's Too nice, when it comes in india hope it can make a Rocking place for youngster.. hope that come true.

Julie N

Hi Daniel – I actually did my update…it wasn't a one liner by any means, but maybe still not long enough? I just want to make sure that you did get it for the next update I'll send. Thx!

@Jacob – thanks for sharing the tips on increasing RSS!

datter

@Adam Pieniazek : That's not that bad of an idea you know. 😉

Melvin

I really feel what you feel Daniel especially on the competition being not perfect… Good luck on tracking dude…

Rajaie AlKorani

I'm glad to hear that you'll be investigating the winning blog before handing out the prize 🙂

Alexa rank was also on my mind, but not alone, with a couple of others factors as well…

Jacob from Group Writing Projects
Blog Marketing Journal

Great stuff – love this contest!

Tom – StandOutBlogger.com

doh. I forgot to get my update in :S

Adam Pieniazek

Looks like a lot of us are trying to bump up our readership organically by increasing traffic by publishing quality content and in turn converting new visitors into subscribers. It's a simple strategy but personally it's working well and it seems the leaders are using the same strategy. My RSS count has now doubled (from 20 to 41) so this contest is already a success.

Thanks to everyone for the additional "strategerizing" methods!

Datter, may I suggest you write an e-book about your "Just Hope Everything Works Out Somehow Strategyâ"¢" and how it can apply to blogging, working and life in general?

Life is Colourful

Thanks Daniel for mentioning about my running commentary of the Blogging Idol contest. Appreciate it!

datter

I've gone from a stunning 3 subscribers to a more stunning 9 subscribers using my Just Hope Everything Works Out Somehow Strategyâ"¢ (see strategy section above).

You can't go wrong with it really.

Technotip.org

Hi Daniel,

again I forgot to send my strategies……
I will surly send them this time.
I know that, I am not doing good with the contest.

I have only 12 to 14 subscribers now, and I wonder, who they might be!

Anyway, the game is not yet finished, I will try hard from now, to give some competition.

Jay

I'm not going to lie, I've been slacking a LOT! Don't get me wrong, I jumped from 3 to 45 subscribers but now it's back down to 27 or something… too bad I have a bunch of paid projects that I need to take care of or else… um… I'd be 2-5 subscribers higher? lol

Jay

Brad Blogging.com – Personal Blog Tips And Blog Help

Cool update! I like the strategies section. It is good for people that aren't in the contest, but want to learn how they do it.

SEO Genius

Some more great tips but not many people sending you their reports not that i mind means more light shines on my blog.

Overall some more great reports 🙂
Comments are closed.