Blogging Idol: First Week Update
It has been a very active first week on the Blogging Idol contest. First of all, you can see the launch post and the live score board on this link: Blogging Idol Is Live!.
The Dip
As soon as the contest kicked off last week all the bloggers started employing their strategies. One curious event that some people noticed was the fact that four blogs presented a dip in their RSS count, right on June 30 when the initial mark was to be taken. The picture below illustrates it.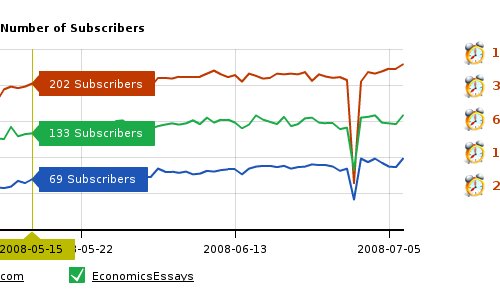 I talked with the four bloggers, and apparently it was not an intentional thing. As a result I will just consider their initial feed count on the 29 of June.
The Rules
Several bloggers emailed me to inquire about which promotional activities were legitimate, and which were against the rules.
I thought that the rules were pretty clear, but still some people interpreted them in the wrong way. The bottom line is: you can use any promotional method that is NOT blackhat and where you DONT spend any money.
You can create contests with give-aways as long as you don't need to spend money with them. If you convince a sponsor to give you $500 that is fine. But this must be a real thing. One blogger created a contest where he was giving away $100 in cash. I asked where the money was coming from, and he replied: "From a friend." This is obviously not allowed, else people would just fund their own contests and say the money was coming from "friends."
Some people were also promising to give away the prize of the Blogging Idol contest itself, should they end up winning. This is allowed, since it does not require the blogger to spend any money from his own pocket.
If you have any doubts regarding the legitimacy of the tactics you want to use, email me first to make sure it is OK.
The Race
Most bloggers increased their RSS count by 10 to 20 new subscribers on the first week. Some even lost subscribers….
Come on guys, you got get creative, I think that adding 100 new subscribers in one week is very feasible, even for a brand new blog. I am seeing many contests around, but I am not sure if this is the most efficient method.
Here is one tip: write a small ebook or report, on a topic that people are interested in. Release it on your blog to every one that subscribe (via RSS or via Email). Then email some high profile bloggers to let them know about it. If the ebook or report has quality information inside it, I am sure they will be glad to promote it.
Two blogs that appear to be killing it, though, are Romeuy.com and StockMarketIndia.net. The first reaped 241 new subscribers on the first week, and the second 167. They RSS count progression was pretty linear as well, so it looks legitimate. The secret behind them seems to be pretty simple also: quality content on a consistent basis.
The Strategies
Below you will find the strategies being used by some of the competitors. It was a rule to send a weekly summary of the bloggers activities, but since only 30% of the competitors sent one, I will make it optional.
If you send yours by next Sunday it will be published on the next update. This could also be an opportunity to let the DBT readers know about your tactics, and if you get them interested they might end up subscribing to your blog also.
1. http://discoveringdad.net/
I asked Twitter followers to also become RSS subscribers. I also incentivized subscribing by introducing a weekly contest for the month of July where subscribers will be eligible to win fun prizes, like t-shirts, books and gift cards. I posted about Discovering Dad being part of Blogging Idol and informed my readers why I wanted to participate and continue growing the site. I gave my existing readers an incentive to help me promote RSS subscriptions by creating a contest in which the Top 2 referring sites during the month of July will receive awesome prize packages. I reached out to companies that have sponsored contests with me in the past to build an attractive list of prizes, and I created badges for people to include on their site and link to my subscription landing page.
I've got several more things in store for this week, as well as looking to expand the prize packages. I look forward to reading other contestants updates!
2. http://www.teenblogger.net
I have a few methods I'm going to use to gain more subscribers for my blog:
1. Letting all of my friends know – The first thing I'm going to do is let all of my friends and family know about my blog and ask them to subscribe to my feed. I'm sure I can gain a lot of subscribers from them.
2. Commenting on blogs and posting on forums – I'm going to comment on the maximum number of blogs based on my niche. I will also participate in forums and sites like BlogCatalog so that I get more traffic and convert them to subscribers.
3. Hold a contest and give away a lot of prizes – I'm going to keep another contest on my blog and give away some prizes in the form of Entrecard credits, ebooks and ads.
3. http://debizqablog.wordpress.com/
1. I gave a presentation at a conference last week, and it included an exercise. I told all the people at my session that the answers to the exercise would be on the blog, and gave them the blog url
2. I made a headline animator and added it to the end of all my emails
3. I informed (by email) my colleagues about the existence of the blog
For next week, social bookmarking, and blogging on other peoples' blogs
4. http://www.standoutblogger.com
StandOutBlogger.com theme for the month is 'Making Your Blog Famous' with posts all focused on building exposure to you blog.
The first week of Blogging Idol has been fantastic with an increase in RSS readers of over 100%. This has been done by great content, and an offer of a free blog roll link to all new email subscribers. This offer will continue for the coming week and I will also be announcing the launch of a new free blogging theme that is perfect for the make money online niche.
5. http://umarsiddiqi.com/blog
1. Made a post on my blog announcing that I am participating in this contest and asked for their help in winning it.
2. Announced a contest on my blog giving away 50% of the cash prize to one lucky subscriber who subscribed in the month of July.
3. Personally sent a message to everyone in my IM list and requested them to subscribe to my blog.
That's all for this week. Let's see how the next week goes.
6. http://www.coffeesage.com/
Lot of good it did me but I tried to position my rss sign up feeds at the top and did a lot of visiting around to draw people in. I was going up but then I ended up being one less than I started. lol.. oh well, back to the drawing board. Got some other things in mind for this week. Good luck to all. I see some are doing quite well. Congrats on that!
7. http://digitalphotographyblogs.com/
The bulk of the work this part week has been consolidating the original 4 blogs into the one blog at digitalphotographyblogs.com. Not only did we have to merge all the posts, we reorganized all categories and tags so that they're standardized. Our new theme should be live early this next week.
As to our promotion strategies, we have a number of ideas.
1) We have some contests recently announced regarding a photo contest. The winners will be posted on the main site. Only subscribers can win.
2) We are lining up some guest posts on large blogs. Hopefully they will be posted during the contest time frame.
3) We're making an effort to bring up subscribing frequently.
4) The new theme will have subscription options more prominently featured.
More to come…
8. http://www.protycoon.com/
This first week has been spent mainly networking and researching. Have been looking into all the methods available to increase my RSS feed count and published them on my blog. I have also been chatting to some of the top bloggers in my niche with the view to doing guest posts on their blogs. I decided that I am not going to rush into this contest; I will work to slowly build a LOYAL following in the early weeks, and then make a big push at the end. I want to increase my feed count with loyal readers, not just readers that are after a freebie!
In the coming week I will work on producing 3 pillar articles to help gain links to my blog and hopefully many more subscribers. I will also be doing a guest post this week.
9. http://mrjavo.com/
I had planned several things, which I will notify you in the next reports. The _first strategy_ I want to explain you is the following one:
*Guest Posting
As I have told you before, writing posts in other blogs is a great way to get traffic, and with luck, new subscribers. I have requested to some recognized bloggers to write a post in their blogs, getting their
approbation. Between them, I can mention bloggers like Tyler Cruz, Garry Conn, Gyutae Park and others….
So by writing all those guest posts with a proper self-promotion, I will get tons of traffic and new subscribers. I will be exposed in different audiences and it means that there will be people who never read my blog
before.
I already wrote a couple of these guest posts, but they will be public in the next week.
10. http://mommymeryl.blogspot.com/
1) I emailed all of the members to my WEBSITE about the contest and told them to sign up on my blog as a member (didn't get too many that way)
2) I have an ongoing offer to people w/ websites and/or blogs that if the sign up they can have their URL posted on my sidebar for the entire month of July – so free PR
3) I hosted a giveaway – 7/3 – 7/6 – this only grabbed a few, but I think I will add one more day because of the holiday weekend. . .
11. http://www.homedesignfind.com/
Week One Strategy-
Unique Content and Visitor Awareness. Thus far it has been difficult to increase the feed count. HDF has a steady number of monthly visitors but the problem becomes how to convert these daily visitors to daily subscribers. HDF works daily to provide unique content that is not frequently seen on many other web magazines/blogs. In the interior design niche many visitors may not be aware of RSS or email subscription, so we need to explain and show the benefits of subscribing. The strategy that will soon be used is to have a visible message above the fold of the web page that describes the email newsletter and how to subscribe to it.
12. http://www.girlrobot.net
1. I displayed my RSS subscription number
2. I added a link to subscribe to my RSS by email (an option I had not offered before)
3. I submitted my feed to several RSS directories including feedest.com, 2RSS.com, feeds4all.com, etc
4. I visited other similar websites and left comments
5. I offer a full RSS feed with no ads
6. I included a link to my RSS in my forum signatures
13. http://nnothrthng.blogspot.com/
My overall strategy will be to go through the Archives for the 'Promotion' Category on your site and apply every tip that I can.
First up this week will be Blog Carnivals, I plan to enter every single one that applies to me. Ended up entering 14 for the month of July.
14. http://www.abundancehighway.com
I plan to win this contest so the highway will jump in July as I put the Law of Attraction into Action to get my RSS subscribers to the level needed to win. I would like 1000 by July 31st. Ambitious yes. Dream Big says my mentor.
What I plan to do this week:
Ensure it is easy for my readers to subscribe
All subscribers with get my new 3 steps e- book on Getting More of what you do want in your life and less of what you don't.
A free tele-class on learning how to start using the Law of Attraction in your life and business. I will be using this process to increase my subscribers.
Contests to be announced on Tuesday 8th July
Simplify my blog- get rid of unnecessary widgets, I have been reading Daniel's blog more closely last week.
Introduce a daily Abundance / Angel card reading starting on July 7th
Invite Guest bloggers
15. http://www.adampieniazek.com/
My subscriber strategy for this week was to first look internally and ensure I'm presenting the best blog I can. I made a commitment to post at least 5 times a week and to write top quality posts. So far it seems to be working as my subscriber count went from 20 to 26 and my traffic spiked up as I was mentioned on universalhub.com (for my post about a cycling incident) and got some visitors from reddit.com (for my post updating the Declaration of Independence to 2.0 status).
Today I sent an e-mail to everyone in my address book (almost 400 people) asking them to subscribe to my blog and wrote a post describing the blogging idol contest, so hopefully I'll see an even larger increase over the next couple of days.
16. http://www.stockmarketindia.net
Here is my strategy for gaining RSS subscribers:
1. Updating the blog with 2-3 new posts every day with current stock market news, specially with posts that contain news updates which are difficult to find anywhere like stock splits, right issues, bonus issues. Adding the posts often, would also index my posts faster in Google and would bring search engine traffic thru blog search as well as google search.
2. Addition of email subscription box right in front of user in the middle of screen in non-obstructive manner but would attract their eyes. The title of box would be catchy enough to have them subscribe.
17. http://www.BensonBear.net
Basically the strategy was to install software of WebAPP SE v1.0, start website up on first day of competition, and start optimizing site for setup and display. Add some content in terms of articles that should start getting visitrs interested in beginning their own online community and earn some money while doing it.
The intention was to visit every competitor blogsite and make some notes about the good and bad, then try to incorporate what's learned into building a better articles publishing module for use with the WebAPP v1.0 SE software. The aim is also to add every combetitor's feedburner feed and add a few commentsnby the end of first week. I think I'll actually only going to get to 1/2 of them to make notes by end of Monday. So I'll try and revisit them, add feeds, and add a comment here and there to them by end of second week. While also gettting around to the other half of the Blog Idol contestants for taking some notes.
18. http://www.rajaietalks.com/
1- Pay millions for people to subscribe. Just kidding, sorry bout that :p
2- Try to post at least once a day, something I have failed horribly at until now
3- Do some giveaways
4- I plan on holding a contest after a couple of days or weeks.
5- I don't think I will be doing any guest posts.
19. http://www.romeuy.com
I haven't really done anything much for the first week. I just continued what I was doing for this past couple of months. I started romeuy.com targeting gaming enthusiasts as my audience. I knew that most of these individual are just casual internet users. Once upon a time, before I became a blogger, I was also one of these 'casual internet users' and I knew nothing about a feed and a feed reader. My internet knowledge was very basic, emails — google — websites. I have read some blogs before I started blogging and I always scratched my head whenever a blogger asks me to subscribe to the blog's feed. I never did subscribe even if I liked the blog because I didn't know anything about it and I was lazy to do some reading about it.
I then applied this experience of mine when I started blogging. My main soure of traffic are search engines. The people that find their way to my blog searching for the key phrases that I am ranking well are not webmasters and bloggers. They are just an average person (in terms of internet knowledge) trying to find information about something.
20. http://www.back-links.org
During the first week these are the strategies I started to implement
I firstly started with submitting my RSS feed to 50 RSS directories something which I am usually rather sceptical about however as it only takes a couple of seconds per directory I felt it was worth the time.
Secondly I used blog commenting to gain traffic and backlinks (with the pagerank update approaching) ensuring the comments left were of value both informative and quality helping both the readers and highlighting specific areas out to the writer if I could. Making sure the comments left on other blogs is not only courteous but also ensures you do not give yourself and your website a bad reputation.
The third strategy I have implemented throughout my websites life span and tried to improve over time is the quality of my writing and content. By improving the quality of ones writing you will make it easier for people to read your article, cutting to the point saves time and ensures the reader has not fell to sleep. The content needs to be unique and full of information useful to the reader and your target market.
21. http://www.shedblog.co.uk/
This week 7th July, we are celebrating the 2nd annual shed week and to get more people to subscribe to the RSS feed for shedblog.co.uk, I will be doing the following things.
1) I have recruited two guest bloggers to blog about Electrics in sheds and tips for the first time shed buyer
2) Emailing my mailing list (2500 users) to tell them sign up to the blog using email feeds or feedburner
3) Our Shed of the year winner will be announced next week and I have a press release to send out and will mention the option of the press getting direct info from the feed.
4) We are working with our sponsors with a TV company to promote sheds during shed week.
We were mentioned on boingboing.net and UK newspaper websites last week, hopefully the traffic will increase the subscripers
22. http://reviewofweb.com/
Well, as a first step, I have a started a give-away worth $700 on my blog. The amount will be given from the DBT prize money only IF I WIN blogging idol. More promotion will start from next week onwards.
23. http://www.marketeer.com/
Well, I found out about the competition on the 30th and decided in the last minute to join in. I originally had some special plans for the promotion of my blog that needed more time to prepare but I think I can still get some of that going during july.
So, my tactics for the first week have been to design a blog theme that hopefully will be good at getting a high signup percentage. I have also been writing some content so I'll have something on my blog when it goes live. Thats right, it isn't even live yet. 😉 Week two will be launch week for me.
24. http://neobluepanther.com
First of all, I would like to thank you for accepting my blog for the Blogging Idol. It is a great incentive for bloggers to spend some time to focus on their blog, and attract some readers for their blog.
I am really not very sure what my strategy is going to be through the month, but for the first week I have decided to focus on my offline friends. I have contacted many of my friends in real life, and asked them to subscribe to my blog. Some have, some have not.
Also, I have started a contest that will continue through the month of July for people who subscribe to my blog and leave a comment.
25. http://shakethesalt.com/
My blog has not offically gone "live" as of yet, but I am currently looking into and adding ways to make it easier for my posts to be shared via social media sites and email. RSS Feed subscription information is located in a prominent location at the top of the sidebar. I am preparing a launch party to kick off the blog in style when it is ready. I am networking. I am also continuously researching ways to spread the word about the blog (when it is ready), which will rpovide more traffic, and encourage visitors to the blog to become an RSS subscriber. I believe these things will all work together to produce results.
26. http://www.economicshelp.org/econ.html
These are 2 things I have been doing for RSS competition:
Blog Carnival.
I have set up a Carnival of the Economists, encouraging people to submit
articles on economics. The hope is that people up submit to carnivals will be
interested in subscribing. I think it is also important to make the most of a
blog carnival, e.g. encouraging submitters to subscribe.
Commenting on Top Blogs.
I found a list of the top 100 economic blogs. I went through the blogs, and
subscribed to those who allow comments with links to your homepage. I have been
leaving thoughtful comments, in the hope some will click through and subscribe.
27. http://www.winningstartups.com
My blogging strategy has been the following:
1. I have commented and/or visited everyone's blog who is participating in the contest
2. I have a contest going that is a win-win-win strategy. A. If you subscribe to my site I win. B. If you subscribe to my site you win because I put your blog on my blogroll for the month, and C. If you subscribe and I win, all the proceeds go to St. Mary's food bank and hundreds of families will be able to eat.
3. I have submitted my contest to as many contest blogs as I could find
4. I have done a guest post for ptmoney.com, and I have submitted another for getrichslowly.org, which hopefully will be posted this month.
5. I'm working to be the top commentator for the week on shoemoney.
So far this is what I've done. Hopefully I can guinea pig off other strategies as well, because I've only gotten an increase in four subscribers so far!
28. http://www.catchtheposts.com/
My strategy for this challenge is quite simple and is divided in 5 points:
1. Hoping Feedburner won't be bogus! 🙂
2. Be generous with people — as usual! 😉
3. Publish quality content.
4. Continue my monthly contest to give 2 free 125×125 ads above the fold.
5. If I win, share the money with the Children Foundation.
I would like to focus on the last one:
If I win, share the money with a Children Foundation.
I personally really care about children. In fact, sick children foundations are social causes that I believe in. I'm more than happy to have healthy children so I would like to give a little help to this very admirable foundation. I must say that every post that I make that includes the name of this foundation need to be approved; this is something I understand and respect!
As you will see, the rule will be very easy:
I will donate 1$ to the Children Foundation for every new subscriber on my blog.
There will inevitably be a winner for this contest! This decision is on your hands!
29. http://ledgerpad.ath.cx/
I've made a plan of posting once a day and having the post done the day before. To become known I'm developing a WordPress plugin. Developing web application and script is the goal of my blog and this
plugin is going to fit in nicely with it. Lastly, I'm preparing to do a guest post. I should probably get out and comment more on blogs. Working on the design of my site is another thing I'm doing and something that needs to get done.
30. http://www.dancingaboutarchitecture.org
Way to increase my RSS feed:
Installed the "What Would Seth Godin Do" plugin that puts a reminder to
subscribe to my RSS feed for each new visitor to my site
Redesigned blog layout making the subscribe button more prominent and
appealing.
31. http://revenuereservoir.com/
My strategy will be as follows: I will first promote the contest to potential readers from all social media networks such as myspace, facebook, technorati, article marketer, ezine articles, digg, blog carnivals and more.
I will then write an enthusiastic but simple guide on how to create a blog and start making money online and how to they should subscribe to my feed in order to stay up to date on more strategies and learn more about blogging and making money.
Hopefully this is the right way to update you on my RSS promotion.
32. http://www.BookClubClassics.com
Hello! My blog is BookClubClassics.com and I began with a subscriber count of 70. My strategy for this first week is
·Comment on other blogs in my niche my goal is to comment on at least 5 different blogs each day
·request link love from those book blogs in my reader who do not already list my blog on their blog roll
·comment on at least 1 blog not in my niche.
·give away an Advanced Reader Copy on Wednesday to the reader who tells the most friends about my blog!
·update my literary social media sites Shelfari, Good Reads, etc.
33. http://Dev102.com
To increase our RSS subscribers count we have a weekly column about Programming Job interview Questions.
Each week we post a new challenge to our readers. The answer to that challenge is only published the following week along side a new challenge. We accept answers through comments and blog posts.
We are hoping that people will take on the challenge, provide their answer and subscribe to the feed to get the answer next week, and to get updated on following challenges.
Browse all articles on the Blog Projects category
35 Responses to "Blogging Idol: First Week Update"
Antique Ring

I usually do not comment on blog posts but I found this quite interesting, so here goes. Thanks! Regards, P.

Mommy Meryl

@Shannon – Feedburner does give you a list of who is on your email subscriptions. But I ask that people subscribe w/ their email – so I think virtually everyone is doing email on mine and not a reader so I can confirm them. . .hope that helps.

Shannon

For those offering contests, how do you get a list of who subscribed to your blog over the month? I mean, Feedburner gives me a number, but I don't see anywhere they provide a list of WHO subscribed. If you don't have email addresses, how do you pick a winner? I know I'm missing something obvious here…

Felicity Evans

@Daniel – I was hoping to send you another update. However if I don't get round to it, please include my details from the first week. Many thanks. Felicity

Roshan Bhattarai

hey daniel, sorry for this week. I couldn't send any update to you due to busy schedule. I'll surely send next week…

Daniel Scocco

@Felicity, sorry for that I will add it next week.

Melvin

I am very sorry daniel I wasn't able to send my promotional tactics to you… I have been busy this past few days and more probably I can send it to you later tomorrow…

Winning Startups

These are great, but nothing I didn't know before. Seems like we're all doing pretty similar stuff.

Karl Staib – Your Work Happiness Matters

I forgot to write my summary. I'll make sure to write one for next Sunday.

Cris Cuthbertson

I think this is a fascinating competition. There is a lot of interest in how people are choosing what to do and how to be involved. I am not doing so well, but I am excited to see there are so many different techniques and opinions out there. I am loving what I am learning through doing this.

Things I have learnt so far:
1. Remember to submit your progress email or you will lose the chance to get a backlink. Oops!
2. Guest posts do drive a lot of traffic to your site, but they won't subscribe unless your blog content matches the post. I have been using guest posts as a way ato express "another side" of my writing. This works well for the blog, but not for the competition.
3. Blog carnivals also can drive good traffic to your site, which is slow-burn traffic as they tend to be more liekly to be your target audience. However, you can submit and you don't know you are accepted until the day of the carnival. Great long-term strategy, but risky for this.

I am still learning. Thanks for the opportunity, Daniel.

Rajaie AlKorani

Those are some pretty good tips, might use them to win 🙂

Daniel, thank you for updating us, I was starting to feel really nervous 😀

Felicity

Daniel,
I sent you an update on the 5th of July,
subject: Blogging update 1 – Sellotape and #39
Please add.

Cheers.

Daniel Scocco

@Jay, I must have missed it, will add next week.

Jerry Thomas

Wow — lots of interesting blogs here. Looks like I'll be adding myself to the feed count of more than one of these.

Christopher

the link to teenblogger.net is broken
http not ttp
glad to see the first update!

Jay

Hey,

Wait a sec… I sent you my tips when in reply to your original e-mail letting us know Blogging Idol is live.

I guess my strategy didn't make it on here 😛

Jay

Debby Phillips

All of these are great strategies. I forgot about using Twitter! I sent in my strategies yesterday afternoon. Maybe I didn't send them in before you wrote this post.
Thanks ~ Debby

Lachy G

Well It's taken me about a week to get 45 subscribers. I have just emailed my tips 🙂

Thanks

Tejvan Pettinger

I'd be happy with an extra 50 subscribers in one month. It's taken two years to get 150. But, as you say, it's good to think big.

Missy (from Groovy Vegetarian)

My blog feed count is like a rollercoaster ride. Up, then down, then up again. It fluctuates ALOT. I really dont know what this means.

Yesterday the feed count was @ 181, then today it is @ 190. Its nutz!

Hungama

Hey thanks buddy for bringing out this comprehensive update. I also want to join this race and have already mailed you through the contact form. Awaiting positive response from you…

Nisha

Hey nice contest.Nice tactics to increase our rss.
Though I am not a participant of this contest, I will keep coming back here for all these good informations 🙂
Best of luck, to all participants!

CoffeeSage

Right after I wrote my update and stated I had less, I gained 30 (for now, I hate how it goes up and down) … I have sincerely enjoyed reading this weeks tactics and look forward to next weeks. Have a happy and expanding rss week people! 🙂

Medical Transcriptionist

Wow, so much ways of promoting a blog? Interesting!

Rome

Hi Daniel,

just would like to ask if you really meant 'contest' in this sentence.

"The secret behind them seems to be pretty simple also: quality contest on a consistent basis."

because I haven't had a contest on romeuy.com 🙂

David Shaw

Looks like alot of people are using similar tactics!

Peter

How many people and so many ways to promote your blog 🙂
Daniel, thx for the nice idea you've write here.

SEO Genius

Some excellent tips here i have just read through them all and if anything it gives me some more motivation to get promoting.

Rome

My updated email didn't make it 🙂 Sorry Daniel. I just got back home and I tried to write it as soon as I can. I will just write it again next week.
Comments are closed.