Blogging Idol 2: Update Three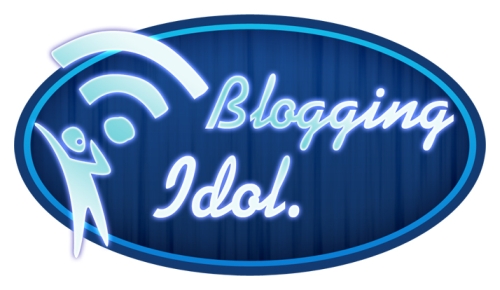 First of all a quick note about the open voting session. Many competitors emailed me complaning that we are just half way down the competition, and that hosting the voting session this week would not give them enough time to showcase their strategies and talent. I agree, and therefore we are moving it to next week. The voting will be open next Monday, and it will run for 5 days.
The judge votes will be cast on December 1st, on the same day where we will reveal the winner.
You have therefore until Friday 21 to send your strategies to me if you want them covered on a post I will do about it.
The Live Scoreboard
I just updated the scoreboard with today's numbers, and it is looking interesting. We have two leading blogs with over 600 new RSS subscribers in just over two weeks of competition, although one of them is being examined for a problem on the Feedburner reporting.
Following them we have 5 blogs with over 200 new RSS subscribers each.
The strategies are pretty varied too. Some blogs are just focusing on quality content, others are using contests to encourage people to subscribe, and others yet are placing subscription forms aggressively to make sure they won't go unnoticed. One of them even managed to convince John Chow to blog about her!
The Strategies
Anyway here are the strategies being told by the bloggers themselves (next week we will have another batch).
1. http://www.techzoomin.com/
Since TechZoomIn is only 2 months old and i didn't find too much time to spend on blogging because of my projects at office, I followed the following strategies to gain my readers count
1. Changed the Theme Design
2. Provided the subscribe form beside the comments form
3. Provided the subscribe form on top right of the home page
4. Asked readers to subscribe and support TZI at idol2
5. Sent mail to all the friends to support me
2. http://www.suzannefranco.com
1. Blogging for Bucks BootCamp: Decided to give my upcoming class for FREE for those who subscribe during contest period.
2. Sponsor Directory: Offered a nice link with 200 character description for those who blogged about my quest.
3. Socializing: Hit the social networking and blog commenting HARD and started building relationships with my peers.
4. Contest: Will hold a drawing for those who vote for me and who add an "I Voted for Suzanne Franco for Blogging Idol" button to their page.
5. Guru Roundup: I used video invites to 6 top gurus in the internet marketing and blogging industry and invited them to support me. Although I was hopeful that some might "play along" the strategy was to get readers involved, having fun, and to subscribe so they could follow along. This "clever idea" was also to gain votes from the readers and judges. The gurus showing up and commenting was a bonus … and John Chow blogging about me was, of course, the icing on the cake.
6. Sharing: I have been sharing my strategies throughout the contest so that others can learn from this. I believe in being open, honest, and friendly … despite being a fierce competitor.
I hope I have EARNED your vote!
3. http://www.techvivo.com/
My current strategy is to guest post on as many high-traffick blogs as I can, and to write linkbait/resource posts on my blog. I already guest posted on ProBlogger & QuickOnlineTips, and looking to do it on Lifehack.org, DumbLittleMan, ZenHabits etc. In the final week, I'm also looking to use video. Other than that, I'm trying to be the 1st commenter on as many high-trafficked blogs. Finally, I'm writing an ebook which I'm looking to release sometime near the 20th.
I'm not doing other things such as posting breaking news, as I believe it's a waste of time if your blog isn't mainstream yet. Of course I already did the "standard" stuff like submitting to RSS and blog directories. That's my main promotion strategy.
To maximize my conversion rate, I'm using landing pages, displaying a custom message to each visitor based on their referrer info, and also using the WWSG plugin to show a subscription box to new visitors. I'll also be using a stripe ad, and a pop-up hover once I get my ebook done.
4. http://www.mastersofseo.com/
A few of my favorite strategies for gaining RSS subscribers are:
1. have a contest
2. make content or prizes that is available to only subscribers
3. reward on a consistent basis your subscribers.
Make it so your readers want to subscribe, make it a beneficial thing for them. And also, display your number of subscribers proudly, if there's a few of them, then your readers will be proud of subscribing thinking of themselves as your first groupies. If you have a lot, then people will be confident that you are providing good material, because if so many other people are already subscribed, then you have to be good.
Or the best technique would be to combine all three strategies into one, and have a contest where current subscribers can get one prize, and all new subscribers have the potential for another prize.Make sure it's something worth winning though.
5. http://technotip.org/
1. Writing consistent good, valuable articles, inspite of busy exam schedule.
2. I have put a big( 300×250 ) subscription forum at my blog's sidebar. The spot in highly visible and we guess that there will be lot of conversions(visitors into subscribers). Please visit and see the placement, its quite interesting.
3. I will call my visitors for action. I will write an article and ask them to subscribe to my blog.
4. I have not told about the existance of my blog to many of my friends(except 1 or 2) at my place, now I hope its the best time to tell them all about it and tell them to subscribe to my blog. Majority of my friends have orkut profile, and if I put a link to my blog there, I will get good number of subscribers.
5. I will call for action, to all my social networking site friends and ask them to subscribe to my blog. I will just ask everyone whom I know, to subscribe to my blog, only if they like it, orelse there is no force or begging to subscribe.
6. I am planning to run a contest in my blog and ask people to participate in it. Competitions will also get us some exposure. But I am thinking of, how to give contest awards without spending money from my pocket!(as its a rule in blogging idol).
7. Last(for this week) but not the least, I will keep tracking your articles on promotion strategies and make sure to follow all those which seems to be working for me.
6. http://administrativearts.com/
My goal with this contest is not just to increase the number of RSS subscribers, but to increase the number of loyal readers. Just increasing the number of subscribers temporarily with contests or what-not is easy, but I'm looking for long-term subscribers who will hopefully share my site with others. I've got a few strategies for this contest.
First, I decided that offering an e-book would help increase my authority as well as be a good enticement for people to subscribe to my blog. I looked over my posts, which ones were most popular as well as which ones got the most search engine hits. By far, those were my Receptionist Tips post. I looked around the internet and searched Amazon and realized there was very little written for Receptionists. I decided that writing for those starting out in the Administrative Support field would be more beneficial, both to myself and them, then writing something for long term admins.
I decided, for this contest, to offer the e-book for free with an e-mail subscription through the end of November, at which time I'll start charging $9.95 for it. I launched the announcement of the book and the subscription offen on November 1st.
My second strategy revolves around getting more notice on other Admin sights. Admin Secrets (a monster.com board) had approached me in October about using one of my posts on their site. I held off until now so that post should come out there some time in November. I have a mention of my e-book and the subscription offer in my author's biography.
I'm also branching out to some other Admin sources to become more well known. I've been active on OfficeArrow for some time, and will be one of their featured members which, again, should happen in November, and I've already put my e-book offer in my signature there. I have 3 other forums/websites on my list to start posting to this month.
Third, I announced my e-book offer on Twitter. While I don't have a great deal of followers, I know at least a couple of people retwitted it.
Lastly, of course, is the conning…errr…encouragement of all of my friends and family members, as well as various colleagues and ex-colleagues to subscribe *laughs*. I'm sending out an e-mail to all of them asking them to subscribe, but also asking them to pass it on to others they know who may be interested in my particular blog.
7. http://www.datmoney.com
First, I have done keyword research and I'm going to try to rank on the first page of a couple of low competition terms and convert that traffic into subscribers. A lot of search engine visitors probably have no idea what RSS Feeds but I have a cool trick on converting them.
Secondly, instead of writing eBooks, which I feel is a little played out, I will be writing proven tips that have helped me make X amount of money. The catch is the fact that those "secrets" will be password protected and the only way to get the password is to subscribe via e-mail.
I will have a few other strategies but I just have to implement my plans.
8. http://www.economicshelp.org/econ.html
Firstly, I noticed that 60% of my subscribers were email. Therefore, yesterday, I added an email subscribe box at top of right column (before, it was a just a link to an email form). I have considered using a popup to increase subscribers more. But, – I don't know how to, and it would be intrusive.
The most important strategy, is creating a consistently good standard of articles. I focus on economics isssue of the day, but, offer a unique perspective and avoid just regurgitating news. The unique selling point is helping to understand economics in a non academic way.
The final strategy is simply getting traffic to the blog. Google sends a lot, so I spend time thinking of good keywords and editing titles if necessary. I also use other blogs and ezines to send regular traffic.
Browse all articles on the Blog Projects category
24 Responses to "Blogging Idol 2: Update Three"
switch

You are right.very useful.thanks.

Brigitte

Suzanne's Franco Blog Rocks!!! Very informative and resourceful

laptop

i like this post. some good information.

d3so

Great tips!
I'm currently 8th place :p
To reach number one seems so far, haha.
My blog is less than a month old and to win this would be a miracle.
Vote for me 😉

Peace!

Bong Saculles

I am a neophyte blogger and I am learning a lot from your blog. I'll keep a link to it from my blog. 🙂

Onuora

Thanks for hosting this.

This has been a lot of fun to watch and I have bookmarked a ton of interesting blogs..

Kurt

Nice to share those tips. I have not send my strategies because I am simply following one strategy finally…that is about writing good content… 🙂 I am quite satisfy with my current position in the scoreboard 🙂

Rarst has cool feed

I hadn't sent my strategy in the end. I am mostly focusing on traffic and guest posts… Which is good in long term but hardly makes subscriber count boom. 🙂

Ben Moreno

Unfortunately, since I lost my job due to downsizing and my blog doesn't make enough money to support me, I am forced to spend most of my time searching for a job.

I will still however try to get at least one strategy in the works. Good luck to all!

Fromtheold

I am moving hosting. Might only have 5 days to gain enough subscribers to win. I have a plan 🙂 Might fail but who cares, that's what makes blogging fun.

Ajith Edassery

I had posted once when the competition started… perhaps I should post one more now?

You are right. We should think of the long term prospects as well 🙂

cheers,
Ajith

TechZoomIn

@Ajith,

Have you asked your visitors, by posting an article explaining where you are standing at the contest and what you need hlep from them.

That helped me a lot. Got around 70 subscribers after i wrote a post explaining all these.

Even if don't win the contest, you count will up to some extent right 🙂

Ajith Edassery

I do not have a strategy right now 😉 I don't think I can target to be even in top 10 in less than two weeks. 😆

Kudos to all those who managed increases to the order of 600+

Chandler Bluesoul

I am enjoying your tips! I can't wait to see your newest post!

Andy

Any new tips on how bloggers are getting the subscribers are interesting. Keep them coming!

TechZoomIn

Pretty diff and brand new ways people are trying 🙂

Daniel,

This idol2 will ge a revolution on the blogging web :). Am seeing contest going hot on all the ways.

I must say thanks for moving voting session to next week. Because my blog is just taking speed in RSS count.
Let see many be am the winner 🙂

Product Reviews Provider

Great strategies . Thanks for sharing.
This will help me to increase rss subscribers .

Money Making Ideas ~ Suzanne

These are all great tips … I'm having so much fun with this contest … and wish everyone luck in quest … *SmiLes* Suzanne

all top blogs

Great tips. Thanks for sharing. Will share any tips that works for me

thanks Dan

Daniel Scocco

@Satish, bloggers that were featured today can't send another one for next week. I am doing only 1 shot each on this edition.

SATISH — Technotip.org

This post is inspiring me to think of some more strategies to increase the RSS subscribers.
I will surly comeup with some more strategies and mail it to you Daniel..

Daniel Scocco

@Will, there will be another round next week.

SEO Genius

Some great strategies there. I totally forgot about emailing you my tips I have had a busy week at Uni. If I was to write them up now and send them to you in 30 minutes would you be able to post them up here?

Will.
Comments are closed.