Let's kick start July in great style with a new blog project, and this time, apart from plenty of traffic and backlinks, we will have $300 in cash prizes!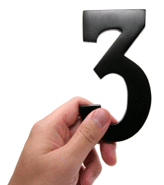 Ever heard the song "Three is a magic number?" Well, I thought that the number three would also make the perfect topic for a blog project. There were some modifications to the rules, which I think will make the project even more interesting, check it out.
Rules:
Write a post that involves the number three. It might be your "Top 3 Blogging Tips," "3+1 Reasons Why You Hate Something" or "3 Signs that You Are Addicted to YouTube." You get the idea.
Use the Contact form and send me the URL of the post, the title and your name.
Once I publish the final list of entries, you will browse around them and post a list of your favorite entries (it can be a Top 3, Top 5, Top 10 or anything else).
Points will be assigned to the entries mentioned on these "best of the best lists," and the authors of the 3 entries receiving more points will win $100 each.
As you can see from the rules, the participants themselves will decide the winners of the blog project. And no, you can not include your own entry on your "favorites list" :).
You can submit your post until the midnight of next Sunday, July 8. Have fun!