Blog Incubator Project: Batch 1
Welcome to the first batch of the Blog Incubator Project. The response was below my expectations, but I guess that is because most of our readers already have a blog. Perhaps after we get the ball rolling and people understand better the whole process we will be able to get more participants.
Below you will find the first eight ideas for a new blog. I have not included personal details or the website of the participants, so that the voting remains focused on the quality of the ideas and no on other factors. (That being said you are free to post on your blog about your favorite idea or to encourage your friends to vote on it.)
The eight submissions summed $80. I had promised to put $100 out of my pocket for the first round, and there was a donation of $20 as well so the prize for the best idea will be $200.
The voting session will be open 48 hours, and I will present the results and declare the winner on Wednesday already. Good luck to everyone!
Idea One
Name: Review Away
Topics: Review Away would be (as the name implies) a blog that reviews and gives away items. Be in gadgets, books, DVDs, vacation packages, even cars the sky is the limit when it comes to what can be given away on the blog. Site visitors would have varying entry requirements for entry into a giveaway, anything from leaving a comment, posting about it on their own blogs.
Why would it valuable?: Review Away would be valuable and interesting because everyone likes getting a chance at winning free stuff. Many persons may see an attractive item like a Sony PSP for example and would be interested to visit and learn about the item in the review, enter the giveaway and stand a chance of winning one of few that might be up for grabs on the site.
Background of the author: My name is Kirk, I am a 22 year old Jamaican who while searching for additional ways to supplement his day job income so that he can afford to enroll into college learnt about and got interested in earning via the Internet through blogging and other ventures.
Idea Two
Name: The Inept Blogger
Topics: It will be a real-life, from start to finish view/tutorial/for dummies guide to getting a blog set up, launched, promoted and paying the bills asap.
Why would it be valuable?: Explanation of why it would be an interesting and valuable blog (max 100 words) – with so many people looking to start the newest, most lucrative blog, the possibility of watching an amateur sink or swim appeals to both the voyeur and the student. To some it would be a lesson and to others comedic relief. But most of all, people just like watching people make life-altering changes and getting to be a part of it.
Background of the author: I'm a single SAHM who blogs on three sites right now, for less than $20 a month. I run a side business from home, admin-based, that I have to give less attention to than blogging, yet it pays me exponentially more. My current goals include becoming a full-time writer/blogger within a couple of years, redecorating my apartment in a dora, the explorer theme and learning how to make diabetic applecrisp in my crock pot. High hopes, I tell you.
Idea Three
Name: How 2 Get Rich & Famous Selling Software On-Line, Or Not
Topics: Humorous and whimsical entries of the daily trials and tribulations of trying to establish a B2C security software that will forever change how folks data can be protected while on-line.
Why would it be valuable?:It will be an ongoing lesson on what works and what does not work as 2 older dudes try to get rich and famous. Funny podcasts and videos will be part of the blog. For instance, DO NOT use the on-line GoDaddy order form to register your domain names, it will only make you slobber knockingly ANGRY.
Background of the author: Former highly successful $$$$$ tele-com and gaming industry salesman/marketeer (it's supposed to be "marketeer" like "buccaneer"… Uses Outrageous marketing and Web 2.0 tactics to get attention and then make the SALE.
Idea Four
Name: This Website Will Change Your Life
Topics: 52 Goals/Things To Do for each week starting January 1st that will make you a better person
Why would it be valuable?: Each week I will post a new goal (perhaps, I will post the goal a week ahead so people can prepare) that will help better a person's life either physically, emotionally, etc. For example, 1 week's goal could be to eat the recommended serving of fruits and veggies for 1 week. Others could be to contact someone that you haven't talked to in a year+, volunteer or do a random act of kindness, wake up a half hour earlier than normal, etc. Each goal would last a week and I would post about my own progress and people can submit their own experiences/pics and I will post it up as well.
Background of the author: My name is Kim and I am a software engineer living in Los Angeles. I love writing and the internet. My interests are always changing but there is one constant in my life: SCRABBLE!!
Idea Five
Name: Not defined yet
Topics: The blog will promote heritage tourism, historic preservation, lanning/zoning, and streetscaping etc. as these topics relate to economic development and community engagement.
Why would it be valuable?:This site would not be directed to tourists. It would serve to educate people like myself who – whether professionally or as volunteers – are trying to promote economic development without sacrificing community. There is a wealth of information on the web but it is difficult to tie it all together. My blog will help people make the most effective use of the services and resources available to volunteers, municipalities and organizations across the country.
Background of the author: I have a positive reputation in local circles with regard to these topics. I'm an active community volunteer, published writer (local magazine). I've been asked to lead a new blog for the Chamber's entrepreneur initiative (that blog lacks wide appeal — not suited for your contest.) I get tremendous positive response to my e-newsletters and the blog on my community website.
Idea Six
Name: Heartland Market
Topics: Small town America rejuvenation. Ideas to spark tourism, small
business and general marketing of your small town. How to facilitate economic growth.
Why would it be valuable?: Each town/community is unique and its people need to be involved to make changes. This blog will teach people how to work together to make these changes. A small town isn't much different than a department in a company. Many of the same tools can be used to create "profit" for your community.
Background of the author: I was a long time South Minneapolis resident that hrough company acquisitions and mergers, ended up on a hobby farm in Belview MN, population 412. My wife for almost 20 years, and I have 2 biological children and 6 special needs children, adopted through foster care. My last career was as a successful manager for a large publisher in rural MN. I had been in the graphics industry for 20 years.
Idea Seven
Name: Tips4Expats
Topics: The blog will cover all kind of topcs that Expats-to-be have to deal with.
Why would it be valuable?: What I want to do is give expats-to-be their own blog. With this blog they can tell all people that are interested about their problems/issues they had to deal with during their move abroad. The benefit for the expat is that they can start 'promoting' their business. As the majority of the expats start an own business when they move over.
Background of the author: I emigrated to South Africa about 4 years ago and moved back to Europe a year ago, so I have been 'emigrating' 2 times in a relative short period of time. I have learned the past few years is that the majority of questions that people have are the same (where do I get my permit, how do I move my dog, where do I arrange my insurances, etc).
Idea Eight
Name: MoneyHacker
Topics: Ways to save/make money.
Why would it be valuable?: I would post a tip a day (5 days a week) on how to make or save money. I notice a lot of personal finance websites are long and drawn out with a lot of frivolous details. I will post short, easy ways to save money OR make money. (ie. save money by switching to CFLs, signing up for credit cards that have promotions like free air tickets or money, how to make your own cleaning products instead of buying them, etc). I would be a "Lifehacker" of sorts for money/personal finance. 1 easy, short tip a day.
Background of the author: My name is Kim and I am a software engineer living in Los Angeles. I love writing and the internet. My interests are always changing but there is one constant in my life: SCRABBLE!!
Vote Away!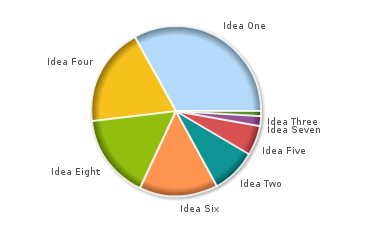 Poll is closed.
Browse all articles on the Blog Projects category
27 Responses to "Blog Incubator Project: Batch 1"
Mr. List

One of the keys to creating a successful blog these days is writing about where there aren't already thousands of blogs doing it. It's difficult to do these days but niches are where it's at.

A few months ago, my brother and launched a new blog, "Four Reasons Why" that offers up four or five reasons for a variety of topics. It's quirky, irreverent and, sometimes, informative but, most important, it's unique because as far as I can tell, no one else is something like it.

bmunch

I like idea number 4 as it has a action plan for every week. So readers can participate with the blogger. This can easily build a loyal community for the blog.

Also having a schedule posting for the whole year can build anticipation for the blog which again build a loyal followings.

Good Luck!

netvalar

I at first thought number 1 was the best, but then I realized that when I have done research on web contests and online giveaways that I find lots of this type of site/blog. One more is just that another one. I chose instead number 6 due to the ability to use a blog that could help promote Real Life involvement in social organization. I think once enough people do this they will find new ways to promote all of their online profiles/sites/blogs.

girlrobot

hey, i'm idea #4 and #8. I actually like idea #1 the best (as does everybody else) but I wonder how he will get things to "give away". Especially in the beginning when he is first building up his blog. In concept, it's definitely the most appealing though!

And as somebody else commented, I did get the idea for #4 from the book but the book is totally different in that the things they list in the book are just plain silly stuff…not "self help" type things. I should probably come up with a different name, but the point was to suggest/help peopleform different habits by taking them in small bites. Maybe some will stick, maybe not. Either way, if you do all 52 ideas, you'll have a more productive year! (I hope hehe).

Daniel

Yeah that is fine Eric :).

Elena

Idea 1 is intriguing but I'm not sure how it would work. How will Kirk keep a steady supply of items flowing and how will it be set up to prevent the same clique of readers from winning items?

Ideas 5 and 6 definitely seem related, like two branches of the same tree They could potentially appeal to different constituencies with the same ultimate goal of promoting tourism/economic development and conservation of hidden gems. If the backers of those two ideas don't win, they should consider collaborating in some way.

Idea 7, tips for expats, is not viable as presented. Too broad. Also, tons of expat sites/blogs are already out there. The most useful ex-pat sites are country specific or nationality-specific. For example, a British person wanting to set up a business in Spain will have less bureaucratic issues to deal with than an American wishing to do the same thing due to the EU residency/work permits requirements, etc. I think it will be very difficult to provide useful advice for expats unless it is country specific or nationality specific. Also, the typical expat wants advice from the frontlines, from people with firsthand experience, people who can vouch for places and services, etc. That means having a community forum where people can post questions, exchange information, debate topics, etc. A standard blog won't be enough.

Perhaps another way to go would be to focus on a particular demographic (expat families, single professional expats, businessman expats, American expats, European expats, etc.), although, I fear, that's been done to death as well. Don't give up on the idea if you feel strongly about it. Just find a way to focus and define it more clearly.

Good luck to all the entrants!

terra

I'm following in Eric's footsteps and throwing myself in the ring, too.

I'm the idea #2 girl and though I understand where everyone's coming from in respect to other "how to make money" blogs existing, I've yet to hear of a blog that primarily focuses on what steps, in real time, the author took, how it affected their livelihood, family, etc. You read a lot of after the fact stories, recommendations, etc., sure, but do any of the other blogs that already have been done give the opportunity to watch it in action?

It's one thing to start from scratch, making mistakes and sharing success, but another to preach what works after the fact.

Thats' the goal with the Inept Blogger, to let the world watch me flounder.

Eric

Nothing in the rules about promoting your idea on here… After all its all about marketing.
Hi I'm Eric I am the author of idea # 6, Heartland Market. Not only will this blog benefit myself, it will help strengthen our (US and possibly other countries) rural economies. Our small towns are dying and we don't have to just stand by and watch.

I have seen a few people in my community rise up to try and tame this monster but few have expertise online, in corporate business or marketing. That is where Heartland Market comes to the rescue.

Heartland Market is about growing communities not one guy trying to make all the money for himself. Sure I will monetize Heartland Market, but I hope to monetize rural America too.
Eric

Ravi

I really like idea 8 IF it sticks to the description.

There are too many wannabe-Lifehacker sites out there that just dont provide that immediate value to the reader (Download Squad comes to mind) — if MoneyHacker can provide me with that instant value on first visit, I'd definitely subscribe.

Katy

Tough choice between 1 & 8. But I went with 1. Good luck to all of the bloggers though… anyone of them would be something worth visiting often!

Shark Girl

I like idea #8, assuming the author really is making money from the ideas, and not just talking about making it.

I'm learning about investing and coming up with creative ideas to earn money, so I'm very interested in what the author has to say.

I also like idea #1 for obvious reasons. Who wouldn't want to try to win something? *grin*

#2 – Already being done – lot's of blogs exist about this topic.

#3 – And compete against Amazon, Best Buy, etc. etc.? How many software sellers do you know that are famous? Bill Gates? Limited scope I guess, but it's very stiff competition and the software market is over saturated in my opinion.

#4 – Another to do list – I already have way to many of them! LOL

#5 – Sounds like an interesting idea, but I'd like to know more about it.

#6 – After re-reading, I probably would have voted for this one (I voted for #8). The reason I would vote for this one is because I registered a domain for my county, but don't know how to promote such a small (and very poor) community. I would like show the good things about my community and help them get past the image of being a bad place to live.

But in all fairness to #6 and 8, I can't choose. I need both of these ideas because they both apply to what I'm working on now (and need help with)

#7 – I've only lived in one country so I can't give an opinion on this idea.

matt

There are a ton of blogs that give things away, it is actually kind of annoying. There are many blogs that deal with basic blogging too, a very saturated market. Self help always gets people, I voted 4

KimC

I vote for #1. Recurring giveaways may not be an incredibly original idea, but it's a very effective way to generate buzz and traffic. I know of several blogs already doing this successfully and I think it's a great formula.

Michael @herogasm.de

Number one is a really great idea. I thought about creating something similar by myself, but I stopped working on this project because of an ebook I'm writing.

Good luck Kirk!

Eric

I like #s 5 & 6. They are original and have great potential. If they don't win perhaps they should get together and do a co-blog. Both ideas are similar and would work well together.

Bitten

There's already enough metablogs in English so no for number two. Idea three sounds fun and original but Idea eight is the one that I want to see the most.

Lance

I like "Heartland Market", all the others I've already seen.

Genesis

I vote for number 8. I think it is an excellent idea, though there are several good ones in the list.

Chrissy

I like number 4 the best but there are definitely some copywrite issues with the book by the same name/same concept – This Book Will Change Your Life.

Sort that out and I'd visit the site… I think it could be very popular within the HUGE personal development community.

Haroon

Yea i too like the second idea

its different from the ideas posted.

Aneesh

I find the second idea quite interesting…

rahgav pandit

idea one is quite great a review of electronics gadets everyone is seraching for and when you give that product for free is the best ever a visitor could get

Daniel

I think four of them could be popular blogs if handed properly, we'll see!

Adam McKerlie

I think #2 will be the most successful and profitable.
Comments are closed.