Anyone Going to SMX Sao Paulo?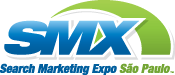 If you have been reading the blog for a while you probably know that I am Brazilian, and that currently I am living in Sao Paulo (I used to live in Italy, but moved back here around one year ago).
Anyway last week I was browsing through my RSS reader and came across a post mentioning that during August 7 and 8 we would have the SMX Sao Paulo event. If you are not familiar with it, SMX is the Search Marketing Expo conference organized in several cities around the world by Third Door Media, the company behind Search Engine Land.
This will be the first edition on Brazilian ground, and I think it will be pretty interesting. The speakers include:
Dr. Barney Pell, Founder and Chief Executive Officer, Powerset (a Microsoft company)
Susan Humphries, Head, Asia Pacific Latin America Sales Product Operations, Google
Melanie Mitchell, Ex-Vice President SEM/SEO, AOL
Bill Hunt, Director of Global Strategy, Neo@Ogilvy
It should be fun, I am pretty sure I will be there at least on Thursday. According to my traffic stats around 5% of our visitors are from Brazil (I wonder if I am the only one making that 5% since I visit the site very often…). So is anyone else going to attend the event? Let me know and we make sure to meet there.
Browse all articles on the General category
20 Responses to "Anyone Going to SMX Sao Paulo?"
medyum

Hi Daniel, you've just found your other (loyal) reader from Brazil! Your blog is a superb read! Parabéns.

Rajaie AlKorani

Not very close to Brazil at the moment, and even if I was, I think I'd be too young to attend the conference 😛

Daniel Scocco

@Bibi, no worries 🙂 .

@j. noronha, yeah it could be. It is always difficult to know the right numbers.

@Esvl, if you live in a big city they are pretty good. For $40 monthly you can get a 4 megabit connection. Sao Paulo has Fiber-to-the-Home already as well.

@Patricia, value.

patricia de miranda

nossaaaaaaaaa nunca pensei que vc era brasileiro ; ))
sou fã do seu blog!!!

esvl

I want to emmigrate to Brazil from South Africa. How are the internet connections there?

j. noronha

Another Brazilian here. I think your Brazilian audience is bigger than you think 😀 .

I live in RS, and most major events happen at Sao Paulo and Rio, too bad it's way too far for me.

Bibi

I would like to go (I'm from São Paulo too), but I didn't like the prices. My boyfriend has 3 invites from his company, but since I'm not a worker there… *sigh* He should thank me for reading your blog and remind him about it! BTW, thanks for the post.

And now you know you are not the only visiting your blog from Brazil.

BTW, I feel stupid for the e-mail I sent to you about desktops a while ago in English! 😀

Ultimate Blogging Experiment

sounds really interesting but I doubt I will be doing. Maybe next time but for now I need to keep blogging to keep readers interest.

Rui Cruz

I didnt know that you're a brasilian blogger…

In this case, what I can say is… SHOW DE BOLAAAAAAA! 😛

I'm Portuguese. 😉

Rui

Daniel Scocco

@Thierry,

I am not sure I can post about all the Brazilian events because that is a very small percentage of my audience, but I will do my best.

I don't have a blog in Portuguese.

Valeu pela força!

Thierry

I am half French and half Brazilian, and blogging from Brazil but in French, I didn't know that you were Brazilian,

I will not go to this event, but if you could keep us aware of other events of that type, this would be great, like wordpress camp type event in SP
I am blogging from Bln Camboriu (SC), going to SP is not a problem to catch a flight to SP, Do you have a blog in Portuguese

Abraços

Life is Colourful

May be next time you can hold a contest with prize of entry to these conferences 🙂

stetoscope

I wish I could too. But i am working hard in Paris this days… Hope I could get there next year.

Tony

Hi Daniel, you've just found your other (loyal) reader from Brazil! Your blog is a superb read! Parabéns!

Daniel Scocco

@Melvin, yeah SMX is not the cheapest of the conferences. The Sao Paulo edition costs around $850 for 2 days of content.

They seem to be going strong around the world though, so there must be some value there.

Melvin

isnt it they are very expensive….???

Mathieu

I wish I could go, but it's too far/too expensive for me to go. Perharps in the future, if they make it closer or if I'm richer. I'm sure I could learn a lot from it. I hope you do an article to report what you learn from it =)
Comments are closed.