Another Cool Tool To Optimize Your Site Loading Speed
As you probably know the loading speed of your site is a very important factor. Not only it affects the user experience, but it is also used as a search ranking parameter by Google now.
In the past I talked about some tools you can use to test and optimize the loading speed of your site, but a couple of weeks ago I came across a new one that is worth a mention, too.
You can find it on WebPageTest.org. First of all you need to input the URL of your website, choose a geographical location to perform the test, select a couple of options and then click on "Submit."
It takes 30 seconds or so to complete the test, and then you'll see a results page like this one: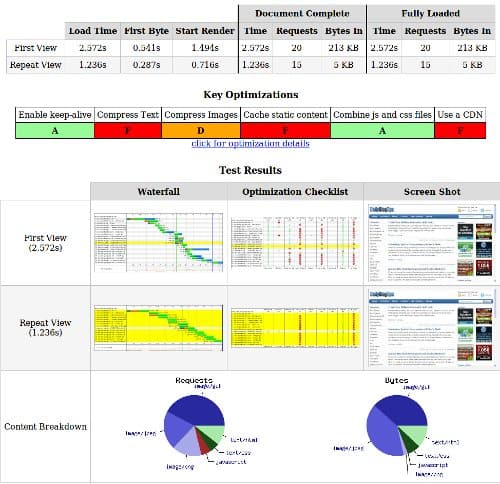 You'll get the loading time of your website on the first and second visit (these numbers will be different if you use caching. The tool also gives you a grade on 6 areas (Keep-alive, text compressions, image compressions, caching, CSS and JS combination, CDN), and detailed graphs explaining what optimization steps you failed at and what elements make most of your page's size.
Browse all articles on the Web Tools category
19 Responses to "Another Cool Tool To Optimize Your Site Loading Speed"
Michael (MKR)

I installed W3 Total Cache and got quite a boost, but have one concern. After installation, /pagename and /pagename/ are showing the same page. Does this matter as far as Google is concerned? If so, how do I fix it? I've been searching all around and couldn't find an answer.

harly

yiu have a great blog. i use the tool Web Page Analyzer – 0.98 for optimize the site. you have also a great tool.Thanks for share it with us.

Steve @ 2010 Taxes

That is a really cool tool. I could see it helping WordPress admins add plugins that improve their site's speed. For other CMS systems, fixes might be more limited.

Farouk

Daniel,
The benefits i got out of your blog up till now are tremendous
i am really glad this blog exists, please post more frequently 🙂

Web Marketing Tips

Yes Google included loading speed also an important factor for SEO and ranking.

Glen

Checking the site out now.

I was always using a plug-in for Mozilla Firefox Page speed and it just attaches its self to Firebug, it's a great tool for developers.

Damian Smith

Thanks for sharing your find Daniel. Really useful tool this and will be well used across my websites! Does anybody know how much Google actually takes load time into consideration?

There are so many useful programs out there for helping to reduce style-sheet size and organise any scripts into one compact file rather than separate files. Reduction of website size seems to be a rapidly growing craze, especially with CSS3 and HTML5 being implemented more and more.

Basant | Techno-Pulse

For my blog A, A, A, D, A, B 🙂 & it's hosted on free blogger platform.

Dinesh

I used this earlier too, but now I have an idea to compare my blog with yours ( which loads really quick in middle east).

Thanks for the share Daniel.

Dean Saliba

Although this sounds cool I managed to reduce my blog loading speed by simply altering the Google Adsense united and got them to just display text ads.

Teena

Wow this is a great tool, easier to understand. Thanks.

Nabeel | Create Your First Website

Hi Daniel,

Great tool. And it's funny that I got the exact same grades as you!

A F D F A F

Kindest,
Nabeel

Tinh

I am using MaxCDN wit W3 Total Cache and I use got B score that is awesome now. Thanks for great tool suggestion

Nabeel | Create Your First Website

You got a B in which area?

jason

I didn't know they figured in loading time, but it makes perfect sense. Will have to keep that in mind.

Daniel Scocco

Thanks for the heads up. You were right.

I find it weird that a site about optimization does not work with/without the trailing slash though 🙂 .

David

That's a nice tool. I think you're link is wrong though, there shouldn't be a trailing slash after "test". The site loads without it, but I get a 404 with it.

David

Gah!

you're => your

Onibalusi Bamidele

Wow, Really great post Daniel,

I use uptrends to monitor my site speed and I will surely give this one a trial.

Thanks a lot for the great post,
-Onibalusi
Comments are closed.