AdSense Profits Interview: How-to-Hide-IP.info
Every time I publish one of the AdSense Profits interview I get a bunch of emails asking when the course will re-open. I am glad to say I have a date already: February 14 (second Tuesday of February). I'll be giving more details about the course along the way, so stay tuned.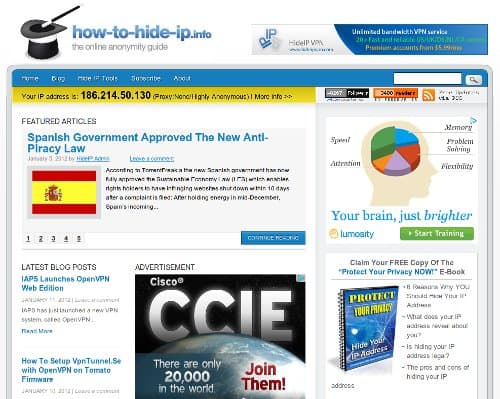 Today's interview is with Adrian Roman, who owns How-to-Hide-IP.info. As the name implies his blog is all about learning how to hide your IP address as well as how to protect your privacy online. It's a perfect example of a niche blog, so the interview should be interesting.
1. When and why did you start your blog?
I started the blog in December 2007 and to be honest I had no idea what a blog was about. I just liked the idea of having one. The topic was not important at that time, but, after about a year, I found out that the niche was good and I started to invest more time writing articles and promoting the blog.
2. How did you choose your niche/topic?
I was interested in the online anonymity field, so I started writing about it as a hobby. I never thought I would write on the topic for years, though. It's probably more fair to say that the niche chose me. 🙂
3. Were you planning to make money with the blog when you started it?
When I start building the blog I had no idea that it was possible to make money with it. For a while I believed that only "serious" sites with huge traffic could significant amount of money. Luckily this was wrong: it turns out that even small and targeted sites can make decent money!
4. When did you decided you should monetize it, and how did the first few months go?
The first WordPress theme that I used (back in 2007) included some ad spots. I created a Google Adsense account and added the code to my blog. In the first months, there revenues were about $30/month. Not much, but for someone who was not expecting any revenues it was a really nice surprise.
5. How did you promote the website, and what strategies worked well to increase your traffic in the past?
I have to be honest: for a long time I had no strategy at all. My only concern was to write articles and learn as much as I could about the niche, transmitting that information to my readers.
After a while, I run into the Online Profits course, and that opened my eyes. Learning about SEO, keyword research, link building helped my blog and my earnings a lot.
6. How much were you making before you joined the AdSense course? (i.e., March, April and May).
About $300-$350 per month. Here's the breakdown:
March 2011: $355
April 2011: $360
May 2011: $282
7. How much did you make in the months that followed the course? (i.e., July, August and September).
The revenues got significantly higher:
July 2011: $475
August 2011: $588
September 2011: $569
That's an average of $545 per month, equivalent to an 80% increase in earnings.
8. What concepts and strategies you learned in the course that you liked the most?
I wasn't new to AdSense when I took the course, but when Daniel looked at my blog and suggested a few changes the revenues went up by 30% instantly. After that I kept readers the lessons about ad placement and other optimization techniques and the earnings got even higher. Thank you, Daniel!
9. What tips do you have for those who want to get started with AdSense?
In order to make money with AdSense you need targeted traffic. The more targeted traffic you get, the higher the revenues, because your visitors will be interested in your ads (Google does a good job to only display related ads) and they will naturally click on them.
For this you need a good niche (the course explains how to pick one) and high quality and unique content. If these two are checked all that remains is optimization.
10. What plans do you have for your blog, and how much do you expect to reach in terms of monthly earnings?
The online anoynimity is a hot topic these days (see the SOPA issue) and there is a lot of buzz about it. My blog gets a good share. What I plan to do is to continue writing useful articles (I still believe in "Content is King"). Of course, with a little of SEO and other optimisations. In terms of revenues it would be really nice to reach the $1000/month threshold.
Do you want to start making some real money with AdSense as well? Then click here to join the AdSense Profits Course (doors stay open until Friday only).
Browse all articles on the Monetize category
13 Responses to "AdSense Profits Interview: How-to-Hide-IP.info"
Warren

Also interested in cost of course. Thanks for the interview. Some great tips for bloggers here. and straight from the mouth of a blogger. Not an SEO marketer making up an article for his SEO blog.

Daniel

Truly fantastic results. An 80% increase in returns is not something to be taken lightly.
Agree that you need targeted traffic to do well with Google Adsense.
The other alternative would be having massive traffic numbers that may take a really long time to build up, but may hardly convert into revenue at all.
Not being in the right niche could mean a lot of wasted time optimizing a site that just won't take off.

Web Marketing Tips

@ Edgar

Many mico niche site owner adds adsense from the very first article.

Web Marketing Tips

So in the 3 months you you got more than your invested amount, isn't ?

Jamie Northrup

Adsense works for me on most of my sites, but I also have landing page sites for CPA, Affiliate and my own products.

I make more with the landing pages, but enjoy the adsense sites most since they are on topics I really enjoy.

DK

Well I am trying more to improve my blog's niche. Hope to get 30,000 visitors by the end of this month.

Grim Cris

Great interview! I need to think again my AdSense banners positions. I think I can earn more.

Per

Great interview. Allways nice to hear from other people that are making money on adsense.

Andy

Great to know about the adsense course. Can you tell me about its fee and all the details.

William Lee – Earn Money From Blog 2.0

Hi, how much to join the course? I am interested to join. 🙂

Internet Techie

hmm, Same techniques,strategies, and Planning.. Nice Revenue absolutely awesome.. Probably i Don't like Adsense because it's useless. When you doing CPA Networks that was best.. probably when i look at it you're adsense revenue.. OMG awesome, i also give a try to my blog right now.. I have some decent visitors and pageviews per month.. i hope that i can get it 😀

Thanks
Mohamed Shajid

Adrian

You are right. Firstly you need to produce some good content, get some solid traffic and only then use AdSense.

Edgar

Good interview. Google Adsense is not good for websites that are just starting out, you have to remember when a visitor clicks on a google ad they leave your site.
Comments are closed.