I must confess that I was surprised with the results. When I launched the poll last Monday asking our readers whether or not they worked full time on the Internet, I was expecting at most 20% of them would say "Yes."
It turns out that almost 50% of our readers do work full time online (47% to be precise). We had a total of 371 people casting a vote, so the results should be somewhat meaningful. Another 40% of the readers who took the poll said that they don't work full time yet but are definitely planning to. Only 13% answered that they don't work full time on the Internet and don't want to.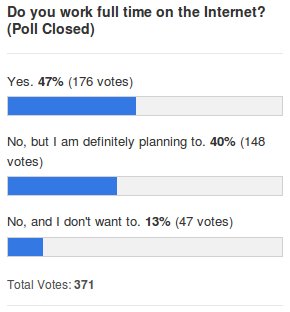 Interesting huh?
Anyway, I am glad to know that almost 90% of our readers are either working full time online or planning to. I firmly believe in this professional path (more on this on a future post).
Thanks for everyone who answered the poll, and stay tuned for the next one.