DBT is research-focused. When you buy through links on our site, we may earn an affiliate commission. Learn more
Are you trying to expand or create a successful Shopify store, but worried about the cost of web developers?
There's a solution on the horizon, and that is Zipify Pages.
Are you wondering if Zipify Pages is right for you? We've got you covered with our in-depth Zipify Pages review.
We'll give you the rundown on Zipify Pages to help you better understand what this app is, its most exciting features, pricing, and more.
We will also give you some pros and cons of utilizing Zipify Pages to help you decide if it's the right direction for your ecommerce store.
What is Zipify Pages?
At its most basic level, Zipify Pages is a landing page builder for Shopify stores.
It utilizes drag-and-drop technology to help you choose pages for your ecommerce store that other Shopify users have proven will make money.
The founder and CEO, Ezra Firestone of Zipify Pages has an 8-figure Shopify store, and he began Zipify Pages by utilizing his highly successful pages as the templates for your stores.
The templates that Zipify Pages offers are continually growing, making it easier to find one to fit your needs.
Zipify Pages Features
Zipify Pages has several features vital to the success of your store, and each makes it easy for you to use regardless of your experience level.
Let's dig a little deeper into some of the most exciting features they offer.
Native Shopify Integration
If you've been using Shopify for a while now, you're probably aware that native Shopify landing pages don't convert well.
Zipify Pages utilizes conversion-tested templates to ensure that you're ready for themes and pages to change or fade over time.
When you select a template, you'll notice that it originates from your URL, which keeps your page looking professional.
It publishes right into the pages section of your site and is easy to customize and add in just a few clicks. What used to take hours can now take you minutes.
Mobile Only Pages
Zipify Pages makes it simple to customize your pages for both mobile and desktop versions.
Doing so allows your customers to see the most effective version of your website regardless of where they are looking. It's a simple point-and-click process to customize every website block.
Drag-and-Drop Builder
Although templates are an excellent way to build your website based on other successful stores, that's not always the best route for every page or product.
You can also utilize the drag-and-drop builder through Zipify to fully customize a page or your whole site.
Other Features
Zipify Pages has several other incredible features, including a/b testing for plus members, Shopify blog integration, and a full reporting suite.
All of these features help create an easy-to-use website development tool for those who are newer to the industry.
Zipify Pages built their features to help you jump into ecommerce, but also to help you continue to grow once you're no longer new to the industry.
You can customize as much or as little as you want to create your ideal site.
Zipify Pages Pricing
There are two plans you can choose with Zipify Pages. Both come with a monthly charge after a short free trial period.
Here is a breakdown of those plans:
Zipify Pages Basic Monthly: $67/month
All features except a/b testing
Live chat and email support
Shopify Dynamic Product Connection
Scarcity timers
Native Shopify header/footer
Unlimited pages
Full reporting dashboard
Zipify Pages Plus Monthly: $97/month
Split A/B testing
Booster pages
All available features
Sticky headers
All features and abilities associated with the Basic plan
Who Should Use Zipify Pages?
Zipify Pages is an excellent resource for individuals who want to sell via Shopify, but aren't experts in web development or don't have the extra money to spend on continuously updating their Shopify site to match changing templates or pages.
Our Zipify Pages review found that this app is an excellent resource for those who have been in the ecommerce game for a while since it allows you to fully customize your website based on your business's needs.
FAQ's
Below you will find answers to some of the most frequently asked questions concerning Zipify Pages.
Yes. It's highly rated in the Shopify app store with a 4.8 out of 5-star score from real users.
If you upgrade to a Zipify Pages Plus membership, you can a/b test within the app, but if you're a basic member, you will have to use alternative technology to a/b test.
Currently, Zipify Pages integrates with Active Campaign, Aweber, GetResponse, MailChimp, Klaviyo, Infusionsoft, Drip, ConvertKit, and Ontraport, but it may integrate with others in the future.
Yes. It is a sales funnel builder and landing page specifically for Shopify.
Final Verdict
Zipify Pages has some excellent features to help create a customized Shopify experience based on proven templates from 8-figure earning Shopify stores.
It allows you to A/B test your pages, customizes each page for your products, and mobile or desktop versions of your site.
This app integrates with Facebook and Google Analytics flawlessly to increase your website views. It is simple, effective, and far cheaper than hiring someone to do the work for you.
Check out Zipify Pages' features for yourself with a free trial to see if they are the right choice.
Get started with Zipify Pages today to take your Shopify store to the next level and increase ecommerce sales.
---
Zipify Pages vs. Alternatives
---
There are no reviews yet. Be the first one to write one.
Zipify Pages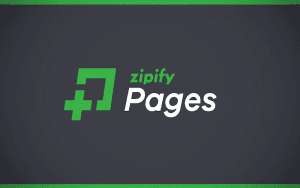 If you are currently running a Shopify store, Zipify pages is a must for individuals who want to design high converting landing pages on Shopify.
Product Brand: Zipify
Product In-Stock: InStock