WordPress 3.8 Released: Five Things You Need to Know
Last Thursday, December 12th, WordPress 3.8 was released – bringing a new default magazine-style theme (Twenty Fourteen) and a whole new look for your Dashboard.
Have you updated yet?
(If you're not sure how, it's easy: login to your Dashboard and there'll be a link right at the top of every page of your dashboard.
It's a good idea to backup your blog before updating, though problems are unlikely.)
#1: WordPress Now Works More Easily on Mobile Devices
We all access the internet in different ways. Smartphone, tablet, notebook, desktop — no matter what you use, WordPress will adapt and you'll feel right at home. (WordPress 3.8 "Parker", WordPress.org)
If you manage your blog from a phone or tablet, you should find that it's now a fair bit easier, particularly when it comes to adding widgets (you can tap an Available widget then choose where to place it, rather than dragging it – this works on your computer too).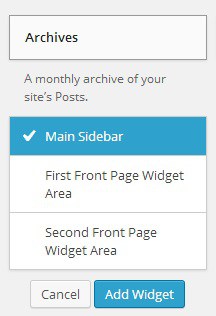 #2: The Dashboard Has a Fresh New Design
Thankfully, everything's still in the same place – but the WordPress dashboard has undergone a total redesign.
Here's how it looks: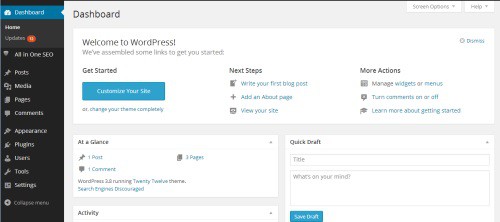 You can switch to a different colour scheme for your Dashboard, by going to Users –>Your Profile.

#3: You Can Manage Installed Themes More Easily
Go to Appearance –> Themes on your newly-updated blog and you'll see that things look a little different: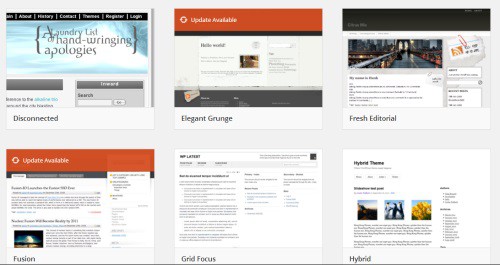 If you click on a theme to see the "Theme Details", you'll find that you can flip through the themes using arrows (either clicking the buttons on the screen or using the arrow keys on your keyboard):

#4: The Visual Editing Icons Have Changed
The visual editor or "WYSIWYG" (What You See Is What You Get) editor has a fresh new set of buttons.
Here's how it looked in 3.7:

And here's how it looks now:

Like the icons down the left-hand side of the Dashboard, the buttons are simplified and bolder in their look.
#5: Not Everyone's Happy
A number of WordPress users have voiced concerns about the changes, with the main complaint being the lack of an option to revert to the old-style Dashboard.
Several plugins are already in development to allow users to switch back, so it's likely this won't be a problem for too long.
Don't let the new design put you off upgrading, though – it's important to keep your WordPress version up to date to avoid security risks and bugs.
We'd love to hear what you think about WordPress 3.8, and about any new features that are helping (or hindering!) your blogging. Drop a comment below to tell us.
Browse all articles on the WordPress category
15 Responses to "WordPress 3.8 Released: Five Things You Need to Know"
Beate

This blog was very helpful to me- being totally new to blogging. I have the coolest theme ( Weaver 2) and my "theme maker" told me with the new changes to make a child version immediately. Tough that i am not that fast. I am working on that deal= It's all hieroglyphics to me.

I LOVE the new appearance of WordPress, that it is faster. However I was sad to see the MP6 plugin go, which made it terrific for me to navigate.

I hate changes ( I am an old woman and just learned internet stuff), but if I want to have an internet business I guess I have to suck it up my preferences. I am very happy WordPress is about making things better, since it was a royal pain to set up the .org part.

I also love your other helpful blogs- though I do not comment often, since I am way behind in my set up work as it is.
But I wish you the merriest christmas ever! Be blessed to be so helpful to people in your niche.
Beate

Linda

Hi,
Thank you for this post, everything is nice and clear now.
When I see there is an upgrade for WordPress, I upgrade immediately, for the sake of security issues, but then afterwards I think oh heck, what did they do now – then I feel lost in my own Dashboard. But in the end, I love the new features, it just takes getting used to and my WordPress is allot faster than it was, so that I love the most.
And most of all, change is as good as a holiday and I certainly need one of those, so in the end, change is just different until you get used to it – then it is good.
Bye 4 now

Kemila

Thank you for this. I was looking for something like this before I decide to upgrade my WP versions.

I will wait for probably a couple more months, after reading this blog. Thanks again.

Umer Iftikhar

Its good step from WordPress which I liked the most. But one things. I can't update my password from my profile page. Is it wordpress issue? or my hosting may have some error? or what?

Thanks Ali Luke.

Raspal Seni

Hi Ali,

Nice roundup of the new features in WP 3.8 . I didn't upgrade till I was sure this version wouldn't break or stop any of my plugins. So, I installed it first on a development blog and after a few days, I installed on my three blogs. And I surely backed up each of the blogs and their databases before upgrading.

I like the newly designed dashboard. I've also been looking at Ghost since a while. And, Shahzad is correct, Automattic is bringing new releases because it fears Ghost!

I'll reply to Sean Plitchard's question here: Yes, you can use any theme you like. It's just like any other version of WordPress, where you use whichever theme you want. Twenty Fourteen is just like the other default themes which come with WordPress. You can use Twenty Thirteen, Twenty Twelve or any other theme you like.

Shawn Gossman

I think the new WordPress Dashboard was one of the better features, honestly. It was time for a change, time for a modern look. Of course not everyone likes change. Thanks for posting this! 🙂

Georg

I updated to WP 3.8. and I am very exited about the mobile view. I think it was overdue!

Ali Luke

I've seen a few concerns that WordPress are bringing out updates too frequently — Mike, I agree that security should be more of a priority than pretty icons!

Shahzad — interesting point about Ghost, which will definitely be one to watch in the next few months.

Sean Pritchard

Hi Ali,
My question is when I used 3.7.1 version I used Twenty twelve Theme Can I use same theme on new version?

Amlan Biswas

Excellent write up. As the popularity of word press grows this information will be very helpful for bloggers.

Shahzad Saeed

Looks like Automattic wants to bring WordPress ahead of the competition. They are just getting ready for competing with the Ghost.org.

I think Ghost would be the main reason behind the QUICK release of 3.8 especially considering the fact that 3.8 is responsive and they revised many dashboard elements including QuickPress.

TIP: If you want to see drafts lists from dashboard, please note that on 3.8 you'll have to enable 'Quick Draft' from the screen options.

Caren Gittleman

I actually HATE IT. It is super hard to navigate in the text box when writing a blog….the box travels over into the options on the right hand side. I absolutely hate it.

Shawn Hartwell

I actually use a plugin to force the menu to be at the top, and this saves me screen real estate. I prefer this style and the new changes haven't really affected me.

I don't notice the changes all that much tbh, but it's good to know I'm up-to-date with security and speed.

Mike Panic

The breakneck speed that things are being developed and changed needs to stop. They aren't developing for the better 80% of the time, they are developing to develop. I usually wait 2-5 .versions to update wordpress because plugins break / themes have issues and those developers can't keep up fast enough.

I wish they'd put more time into nailing security the first time instead if pixel pushing changes to small wysiwyg buttons

John

I also had the problem, after upgrading, that the paid theme on my business site was broken. Two other sites I look after were fine, so it's not all themes (obviously) but it's something to be careful about.
Comments are closed.