Top Resource: "The Complete Guide to Building Your Blog Audience" from QuickSprout
Just in case you've not come across QuickSprout before, it's an excellent blog by Neil Patel (founder of Crazy Egg and KISSmetrics).
Neil's posts are generally in-depth and very useful, but with his series of guides, he's really taken it to a new level.
This one, The Complete Guide to Building Your Blog Audience, is a great beginner-friendly resource.
It's the equivalent of a whole ebook, produced as web pages. It's written by Neil Patel and Aaron Agius (a search, content and social marketer).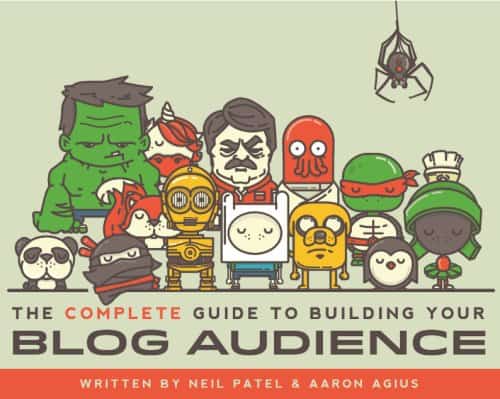 The guide covers:
Building a loyal community
Types of blog posts that will help grow your blog
Setting up your blog for search engine optimisation
… and lots more, including advanced topics like paid search, content syndication networks and repurposing content. (Even if you've been blogging for years, like me, you'll probably find some of this is new to you.)
It's a completely free guide — you don't even need to hand over your email address to get it.
You can even download the ebook by clicking the green Save icon at the top, then choosing Uberflip's "Download entire PDF" option. Many thanks to Tia who pointed this out in the comments (after I'd complained about the lack of a download option).
There's tons of great material in the guide, and it's well worth a read for pretty much every blogger.
If you're just starting out, you may want to stick with the first three chapters and not worry about the rest of the material yet; if you're more experienced, pick and choose to learn more about the topics that interest you most right now.
Browse all articles on the Strategy category
9 Responses to "Top Resource: "The Complete Guide to Building Your Blog Audience" from QuickSprout"
Vidushi

Downloaded :). Thanks for sharing this great resource. Will start reading from today. Lets see how useful it is for me 🙂

Ali Luke
Ali Luke

Tia, thank you! I totally missed that. I've updated the post accordingly.

Augustus

Neil is an authority is the SEO world, personally I love reading and citing his blog post on my blog, the in-depth of his write up is way beyond mediocrity (The same goes for you). Thanks for sharing this.

Tia Wood

QuickSprout is a great resource. Just started reading his blog and I didn't know about the eBook. Thank you for pointing it out! BTW, you can download the ebook. If you click on the green floppy drive icon then click the pdf icon in the top right it will give you the option to download.

Walter Pinem

I know Neil Patel's works from the very first time I started blogging.
Now this is my opportunity to learn more from him.
Thanks for this review though,

Daquan Wright

I was inspired by his tenacity to live well through his own means… 🙂

I definitely subscribed to his blog, so much awesome tips and posts. Can't help it, thanks for the link.

Web Marketing

You are absolutely right, Thank You 🙂

John

I'm missing any sort of link in this post for finding the resource.

Where are they?
Comments are closed.