Technorati's State of The Blogosphere 2008 Is Out
Almost one year passed since the last State of the Blogosphere report, but the new one is finally here. Not only that, but apparently this one is bigger and more comprehensive. So big they are breaking it down in 5 parts, one released each day of this week.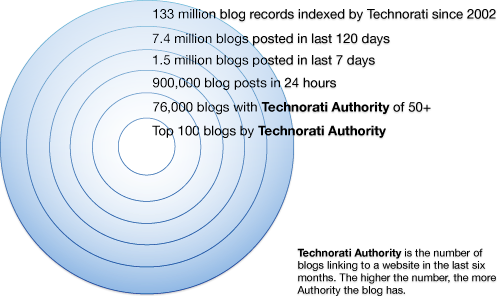 The first part of the report is titled "Who Are the Bloggers?"
Here are some of the findings that they are reporting:
Technorati is currently tracking 133 million blogs
7.4 Million blogs have posted in the last 120 days – that's 5.5% of all blogs we track.
1.5 Million blogs have posted at least once in the last 7 days.
There are now, on average, 900,000 blog posts tracked every 24 hours. That means 10.4 new blog posts per second!
The majority of bloggers we surveyed currently have advertising on their blogs. Among those with advertising, the mean annual investment in their blog is $1,800, but it's paying off.
The mean annual revenue is $6,000 with $75K+ in revenue for those with 100,000 or more unique visitors per month.
Median investment and revenue (which is listed in the full report) is significantly lower, around $100-$200 per year.
I will keep you guys updated as the other parts come out.
Browse all articles on the Blogosphere category
11 Responses to "Technorati's State of The Blogosphere 2008 Is Out"
Glen Allsopp

Interesting stats, I'm not sure how they are able to work out those earnings figures very accurately though

Cheers,
Glen

Ryan McLean

Wow this is really interesting a refreshing to read…

UltraRob

Technorati hasn't been indexing my blog correctly for several months now. I've had some links from 3 years ago show up as new links. I've seen traffic from several new links that they never show. I have another blog on the same domain and they always show it linking to each of my new posts even though they don't. Unless they get back on track, I don't think they'll matter much longer.

Rahul

Daniel, i think technorati & alexa both are worst systems, and bloggers should ignore their stuff cause no matter how hard you put into content & design of the blogyou'll still get lower ranking in alexa while Technorati updates very rarely, i have seen my friends tech blog updated very rarely even though he pings every week, but still technorati lags in that…

Daniel Scocco

@Ben, I think all of them exist. If they are active or not is another matter though.

@Sureh, good question.

@Ari, agreed they lost a bit of their authority lately, but I think they are still the company better positioned to report on the state of the blogosphere.

Ari Herzog

Hi Daniel, thanks for sharing this information with your readers… but it is important to point out that Technorati has been slacking off lately.

Ben has a point about abandoned blogs that Technorati is indexing, but it's more than that.

Last month, I wrote on a blog post of mine about the bloggerati of Technorati that a Google Blog search for "Michael Phelps" provided me 250,000 more results than a Technorati search for the swimmer's name.

I have faith that Technorati will get better… but it's no longer the "blog authority" it once was.

Rarst

I remember them offering me to complete online survey… Which was long, heavy, hang up in the middle and was reset to start after that.

Kinda makes less me makes trusting in those results.

suresh

The blog explosion is very much there and how many of this blogs are going to survive for long life ?

We have to wait and see.

Adam Singer

I blogged about this too tonight, if only to give some support to Technorati as they do alot for us.

Ben

Some interesting stats though I question how valid they are. For example, How many of those 133 million blogs still exsist?

Ruchir Chawdhry

Cool, thanks for the update! I didn't know about this.
Comments are closed.