State Of The Blogosphere 2010 Is Out
As you might remember, every year Technorati releases a report called "State of The Blogosphere." The 2010 edition is out already if you want to take a look.
The first thing I noticed is that they scattered the report in as many fragments as possible. The report is divided into four days (apparently they uploaded the content on separate days during the ad:tech conference), and each day is divided into three or more pages….
It would be cool of the whole thing was presented in a more user friendly way (e.g., in a PDF or single page), but I guess they need to generate as many page views as possible….
Anyway there are some interesting numbers around. Below you'll find a graph outlining how bloggers generate revenues: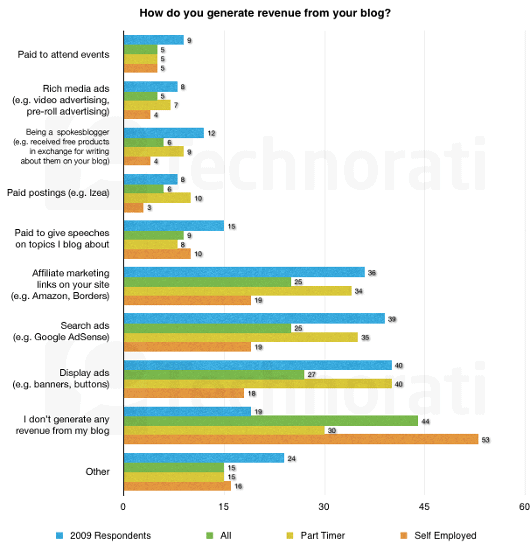 If you want to navigate around, Day 1 tries to understand who are the bloggers around the world, Day 2 tries to understand what topics and trends are being covered, and Day 3 what technology and monetization strategies are being used.
Browse all articles on the Blogosphere category
16 Responses to "State Of The Blogosphere 2010 Is Out"
Eric C

Maybe they divided the report up to get more pageviews. I mean, I clicked onto this from another page on Daily blog tips expecting it to go straight to the report, so same deal, right?

Web Marketing Tips

yes but most important way is definitely affiliate marketing.

Christian Guico

Are the numbers on the graph represents thousands? Maybe I should check on the article… Thanks for reminding us…

Web Marketing Tips

boy this one is really interesting to know.

Would love to make few notes on it.

sasha

This is pretty interesting but I'm having a hard time understanding this graphic. Are 'all' respondents from different years? Or different categories?

Web Marketing Tips

seems to me that maximum people are confuse with the graphics though these kind of graphics used to make things more understanding and all

Mike @ Blog Success Resource

Interesting to see chart in one, it is amazing to see how people are making money or not. I have to check this out more, thanks for the headsup.

Web Marketing Tips

yes this one is certainly going to help new bloggers.

Ivan Walsh

Hi Daniel,

Hope Technorati get their act together and kick start their site. I used to live on it in the past but it's faded away. They need to be careful.

Remember MySpace?

Gail Gardner

Thanks for the navigational tips, Daniel. That saves time honing in on what section we want.

Would you consider adding your Twitter username in a visible way in this blog? It saves time and many others like me will include it when writing reviews on StumbleUpon (as I did for this post) and when we share on FriendFeed, Facebook, etc.

John Soares

Daniel, thanks for sharing the Technorati info. I'll check it out at lunch.

Tweeting this post.

Web Marketing Tips

yes this one is quite useful and we can use it in many useful forms.

Keith Davis

Great way to present the info.
Only takes a few minutes to get an overview.

Web Marketing Tips

but many people are still confuse with this.

You never satisfy all people.

Jason

I completely forgot about Technorati. I thought they died out a long time ago.

Web Marketing Tips

they are still managing quote good alexa ranking and if your blog will be listed there than you can expect good amount of traffic as well.
Comments are closed.