Search for People on Twitter with TweepSearch
If you often search for people on Twitter, you should check TweepSearch out. It basically allows you to search for keywords inside the bio of other Twitter users. This is quite useful if you want to find Twitter users with a specific characteristic.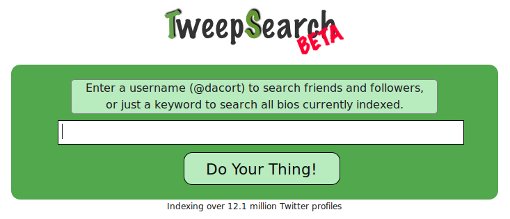 For example, if you are looking to hire an SEO for your website you could search on TweepSearch for "seo expert," and the tool would output a list of all the (supposed) SEO experts on Twitter.
There is also a feature to narrow the results to Twitter users following or being followed by a specific profile. For example, you could search for all the "seo experts" following or being followed by Matt Cutts (if they are not, after all, they can't be real SEO experts…). To use this feature you just need to search for the profile first (e.g., @johndoe), and then search for the keyword.
Browse all articles on the Web Tools category
17 Responses to "Search for People on Twitter with TweepSearch"
jaganmangat

thanks for the info about tweep search,i was searching for it,it works gr8….

ppc tips

Nice search tool. I wondered if there was something like this available. Thanks and Happy New Year.

Jeff Sabo

This is another sign that Twitter is trying to find different ways to maintain its status as one of the top forms of social media available. Friends have asked me if Twitter will go out of style and if they are making improvements and adding in features like this one, Twitter will be around for a long time.

Claus D Jensen

Didn't know TweepSearch. Always good to learn new stuff. Thanks for sharing!

Greetings,
Claus D Jensen

Kent @ Leawo

This could be very helpful to me. Another remarkable tool I learn from here. Thanks, Danial. 😀

Chester

Now this is one useful tool. Thanks for sharing.

Andrew @ WeBuildYourBlog.com

Thanks for sharing this. This is what I've been looking for. Really useful!

Blogger Den

Really useful advice here, and a very useful app to boot! I look forward to submitting your post to Blogger Den, I'm sure it'll draw a lot of attraction and you've got a sweet blog here!

Eric

I haven't tried this myself. I'll have to see what it's all about because this would come in handy when you're trying to find someone in a hurry.

I really like how fast you can find some great information on Twitter. It's awesome.

Young

The search results are a little out of dates, the latest tweets may be 5 days ago.

Steven Richardson

I thought this was basically going to be an advanced version of the Friend Finder feature that Twitter has on its site.

This could be very handy when I'm looking for a graphic designer.

Emz@IndoTravel

That's cool search site, will find the people and their news!

John Paul Aguiar

Cool tool.. thanks for the share.

Daniel Scocco

@Srirah, yeah they could add some features to the search results to make them more useful, but I am sure it's a matter of time.

Darni

Interesting and useful tools.Maybe I can use it to find a freelancer to write my blog. 🙂 I'll try it out.

Sriraj

I tried it before. The search is nice compared to the default twitter search (for people, when logged in). But the arrangement of results could have been better like, putting the person/business with more number of followers first and then move down…. But it doesn't seem so..

Henri @ Wake Up Cloud

Interesting. I've been searching for something like this, but I'm usually just lazy and don't look for it enough, but it always seems to land in my lap 😉
Comments are closed.