RSS Awareness Day Update
First of all a big thank you for everyone supporting the initiative. The website RSSDay.org is practically ready, and you can already find the banners there or link to it as a resource explaining to people what RSS is all about (if you have any criticism or suggestions for the site let me know).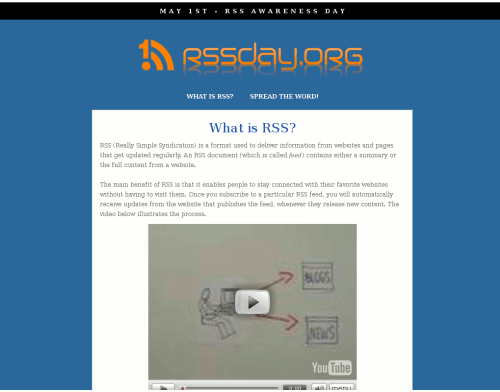 How to participate
It is easy to participate, all you need to do is to write something about RSS on May 1st. You could mention that it is the RSS Awareness Day or simply teach your readers about RSS. Write a poem about RSS, share your favorite RSS feeds and so on. Anything is welcomed, as long as it helps to raise the awareness about this wonderful format.
Help spread the word and win prizes
We have more sponsors on board now, for a total prize of almost $3000. Since the goal of the project is to get as many people as possible involved, we thought about giving out these prizes to people that will spread the word. Anyone writing about the RSS Awareness Day or using one of the banners until April 30 (May 1st won't count cause that is the event itself) will be included on a random draw for the following prizes:
5 $100 credit vouchers from Sponsored Reviews ($500)
6 $50 cash prizes via Paypal ($300)
$250 in credits from FlashDen ($250)
1 year of free web hosting from Doreo ($100)
5 registrations with 10,000 credits on 125 Exchange ($100)
3 copies of Landing Page Optimization: The Complete Guide ($300)
3 packages with 100,000 impressions from BlogUpp! ($200)
a 3-month enrollment to the SEOBook training program ($300)
3 single licenses to any iThemes Premium theme ($240)
3 $100 credit vouchers to buy links from TNX ($300)
5 copies of "Killer Domains: How to Find the Perfect Domain Name" ($100)
5 free banner designs from MiniBannersZen ($100)
3 single licenses to the Mimbo Pro Premium theme ($300)
Browse all articles on the Blog Projects category
42 Responses to "RSS Awareness Day Update"
Tordek

So, when will we ( ;P ) winners be announced?

Ken Stewart

I posted about RSS Day back on April 10 and am in the process of posting a quick article right now. Would love any links or participation as possible…great idea, already getting my shopping list ready for next years RSS Awareness Day.

Dave

I hope it is not too late to get in on the prizes. I published my post about RSS Awareness Day on April 30 at 10:30 Pacific time. It will be the lead post all day on May 1st… Check it out

Mrs S | 50 Book Challenge

Great idea – I don't know what I'd do without Google Reader and RSS – to think I used to spend hours checking blogs to see if they had any new posts!

Daniel Scocco

Christine, that is fine.

For the draw I will check all the links pointing to rssday.org (for the banners) as well as do a Google search for "rss awareness" for everyone who blogged about it.

Christine

You know I just re-read my comment and wouldn't ya know, I meant to put May 1st, not the 30th of April. Oops. 🙂

Chuck Anthony

Great idea, thanks. I'm on it.

Christine

Do we just let you know here that we will be placing the banner on our site?

All right then, I am posting my blog today and will place the banner on my blog until April 30.

Make sure I am in your hat for the random drawing. 🙂

Christine
AfflictedWithRSD.com

Andrew

I'm really like this idea. Every time I talk to one of my friends about RSS they look at me like I'm from the moon. I put one of the banners up on my sidebar and I intend to blog about RSS on May 1.

Aravind

I will spread the word for sure.
I too have felt the very same and in my current position i was not able to organize something like this.
Cheers, Daniel for initiating this.

Understanding the importance of RSS, i've read many persuading topics at many webforums i participate and in social networks.

You, Darren and many others have put RSS in simple terms and i find no point in writing another post on the same topic, BUT I WILL SURELY write promoting the importance of RSS especially on May 1st.
I've decided to write a short post linking off to some posts, that describe RSS well.

I've added the banners to my footer and on top of every post….

Daniel Scocco

Thanks guys, appreciated.

Eli

Not doing it for the prizes or anything, but I'm gonna make a quick post about it (don't care if it's on May 1st either) 😀

This is a good idea though.

Jake Bouma

Count me in.

Virtual Impax

Great PROMOTION!!!

I already had created a tutorial for my "tech challenged" clients. There are a LOT of people out there who still don't know what RSS is and how they can benefit from it. This will be a GREAT way to educate those who want to be "in the know"!

Kristen

I recently noticed that almost half of my readers subscribe through email! Time to get the word out about just how easy, efficient, and user-friendly RSS is… Count me in!

Nokiadou

Hi folks.

Very great iniciative indeed!

matt

count me in, I will post something on May 1.

Demifantasy

sorry for my misspelling – and mistake – of "withdrawing" above (you can erase this comment)!

Demifantasy

I posted a banner about the RSS Day, but please count me out from the withdrawing, I just want to let my friends know more about RSS!

And thank you!

redwall_hp

– Post announcing RSS Awareness Day. Check.
– Banner. Check.

Now I just need to finish-up the post I'm going to publish on May 1st.

Roleplay

Great stuff! You know we've announced it as how to keep up with the admins on our forums… but here's a small reminder. 🙂

Jay Francis Hunter

Super!

I'll be sure to let all my subscribers know… 😉

The Blogger Tips

Thanks for your initiative, I will add this to my blog on 1st May.

Daniel Scocco

Just write about the RSS Awareness Day or use one of the banners.

I will search via Google for all the people mentioning the "rss awareness" words, as well as trackbacks, so I should be able to find everyone participating.

Then I will just do a random draw and publish a list with the winners.

Scott Fillmer

Thanks for letting us know. I had seen this around but had forgotten about it, thanks.

Keith Wozniak

How do we get entered into the contest? Just link back to one of your posts or use a banner? I had been thinking about making a post to explain RSS to my readers and this is the perfect opportunity.

Siddharth

Great initiative Daniel, I am not surprised that you have done all this so well. I will sure participate in this and will show up the support banner on my website. Hope it will get as much as it can people to know and be aware about the May 1st RSS day. 🙂

Daniel Scocco

Yeah that is a problem I thought about Kevin, we need to preach to the right people and not just to bloggers.

The hope is that if enough people pick it some mainstream media might cover it as well.

Thanks for the support!

Kevin

Looks like RSS is picking up. I've added some ads to bloggingtips but hopefully non internet related blogs will post some ads and raise awareness too. At the end of the day, most webmasters are aware of RSS, its those who don't work on the web we should be trying to send this message to.

Good work Daniel 🙂
Comments are closed.