First of all a big thank you for everyone supporting the initiative. The website RSSDay.org is practically ready, and you can already find the banners there or link to it as a resource explaining to people what RSS is all about (if you have any criticism or suggestions for the site let me know).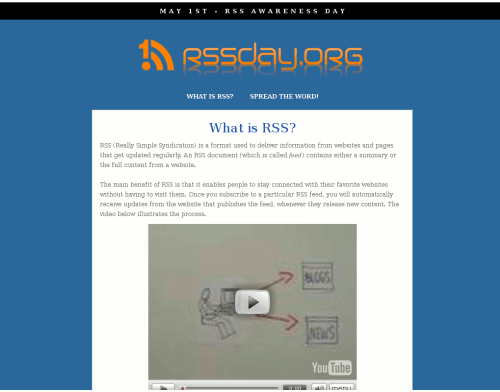 How to participate
It is easy to participate, all you need to do is to write something about RSS on May 1st. You could mention that it is the RSS Awareness Day or simply teach your readers about RSS. Write a poem about RSS, share your favorite RSS feeds and so on. Anything is welcomed, as long as it helps to raise the awareness about this wonderful format.
Help spread the word and win prizes
We have more sponsors on board now, for a total prize of almost $3000. Since the goal of the project is to get as many people as possible involved, we thought about giving out these prizes to people that will spread the word. Anyone writing about the RSS Awareness Day or using one of the banners until April 30 (May 1st won't count cause that is the event itself) will be included on a random draw for the following prizes:
My analysis of the industry
The latest trends and opportunities
Tips and tricks that I use on my sites
It's free!