Nine Blogging Milestones to Celebrate
You probably have some big goals (or dreams) for your blog.
Maybe you'd love to make a living online. Perhaps you hope to attract a large audience, or you're aiming to become well-known in your field.
These goals can sometimes seem a very long way off, though. For many bloggers, it takes months to start to get the results they're hoping for.
Instead of looking far ahead to a distant goal, focus on some of the milestones you've already achieved, and the ones which are coming up.
I've listed the milestones in roughly the order you're likely to achieve them, but no two blogs (and bloggers) are the same — so you might well find that you've skipped some or reached others in a different order.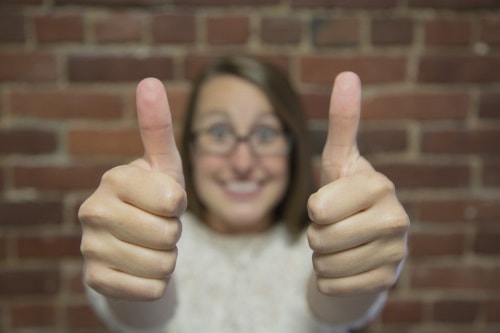 Milestone #1: Getting Your Blog Up and Running
Some people read about blogging, think about blogging, talk about blogging … but never get around to starting their blog.
The set-up stage can take a lot of time and thought — you may need to get your head around the techy side of things, or you might have tricky strategic decisions to make. If you've got yours online, that's a great achievement.
Milestone #2: Publishing Your Second Post
Once your blog's online, Post #1 is often not too tricky: you could, for instance, simply write a bit about the purpose of their blog and about who you are.
Post #2 is harder. I've seen a fair few blogs with just one post … ever. If you've got at least two posts on your blog, congratulations!
Milestone #3: Getting Your First Subscriber
You might get some initial traffic from Facebook friends or forum buddies, but it's when you get your first subscriber that you know you're on the right lines.
If someone's signed up to follow your blog by RSS or email, it's a safe bet that they liked what they saw. You've turned a casual visitor into a (hopefully) loyal reader.
Milestone #4: Getting Your First Tweet or Share
Once you have some readers, it's only a matter of time before someone (other than you!) tweets one of your posts, or shares it on Facebook … or on LinkedIn, Google+, etc.
To reach this milestone a little sooner, make sure you have social sharing buttons on your posts. There are plenty of WordPress plugins that can do this. You may want to focus on one or two specific social networks, rather than providing dozens of buttons.
Milestone #5: Getting Your First Comment
In the early weeks of blogging, it might feel like you're writing and writing … and no-one's reading. Getting your first comment proves that at least one person is not only reading, they're engaging.
If you're struggling to get comments, check out some of the links (and some of the great comments) here: Seven Ways to Get More Comments on Your Blog.
Milestone #6: Getting Your First Link
The first time another blogger links to you is real proof you're doing something right. It might be in their blogroll, in a weekly roundup post, or even in a post that tells their readers how much they're enjoying your blog.
You might be tempted to hurry this one along with a link exchange (asking another blogger to link to your blog in return for a link to theirs). Keep in mind that Google may penalise you if you do this too much, plus link exchange requests can be irritating to other bloggers.
Milestone #7: Making Your First Dollar
Even if you're not interested in making a living from your blogging, you might at least want to offset your hosting costs. The day you first make money from your blog — even if it's just a dollar — is one to savour.
If you're unsure how blogs make money, or if you're looking for an easy-to-implement method, try our post Seven Ways Blogs Make Money — Which is Right For You?
Milestone #8: Writing Your First Post for Another Blog
There's no rule saying that you have to guest post on other people's blogs … but I've never met a successful blogger who hasn't. Guest posts are a great way to get in front of a big audience, to build a relationship with well-known bloggers in your niche, and to get links.
You don't need to have lots of readers in order to guest post (in fact, you can guest post even without a blog of your own). If you need a helping hand, read our Step-by-Step Guide to Writing Your First Guest Post.
Milestone #9: Getting a "Thank You" Email from a Reader
Comments are great … but there's something particularly special about receiving an email from a reader to thank you for you post.
Maybe you wrote something that helped them solve a tricky problem in their life. Maybe your words encouraged them during a tough time. Whatever the situation, you made a difference — and that's something to be truly proud of.
What would your #10 be? And which of these milestones have you already reached? Let us know in the comments…
Browse all articles on the General category
14 Responses to "Nine Blogging Milestones to Celebrate"
Karen Marino

I'm really new to blogging, entering my second month. I've got over 40 posts up and I've gotten a few comments and subscribers – all of them were exciting. Now I'm waiting to see more traffic. My comments have become fewer so I'm trying to figure out how to re-engage my followers.

Fynola

Ali, thank you for this post! Now I have a 'path' to follow.

Ding Yang

As a freebie,I only achieved some of them,there is a long way ahead.I think getting your first subscriber should be in the list as a milestone.

Ankur Upadhyay

I have completed 5 of these milestones till now. Completing these milestones give a lot of satisfaction to any blogger. These milestones may not look like anything to established bloggers, but really mean a lot to newbie bloggers like me.

Shyam Chathuranga

I already achieved all 9 Milestones and I'm willing to see repeated 9th Milestone, because that is more valuable than a comment. That adds a strong happiness in continuing the writing part.

I'm having a great success with 9th Milestone in my Local Blog since there are not so many Internet Marketing Blogs in my local language.

I'm really happy about Daniel's dedication to DBT again. Few weeks ago I saw DBT is going over 11,000 Alexa Ranking and I was disappointed about it.

Now I'm really happy and feeling strong, because Daniel is up again. 😀

Best Wishes,
Shyam.

faisal

What about reaching 1000 RSS subscribers/views?

welmax

I Reached No 7…but rathar than I got a first dollar , I remember I got a first comment…

that's a happiest day in my blogging life…because I worried very much even I have a Nice blog those days…

And I start realiZing that I have a little improment in a visitor's traffic every month and year…so I planned to develop and build my website in professional way…Now I am also concentrating on YouTube after getting some experience from my website

Nice post Ali Luke…every milestone u listed are truly very essential for bloggers…I like ur post…

johnw

each and every milestones are the perfect to get success for your blog. I liked milestone #3 because getting a subscriber to our blog is most important factor. If we have maximum subscriber for our blog than i we can definitely get huge traffic.

Ali Luke

@Shawn — #9 is one of my favourites too. 🙂

@Ryan — glad this could bring back some good memories!

@dojo — congrats on reaching all of these! What's your next major goal?

@Wirtschaftsfachwirt — great additions, thanks!

Ajeet

Interesting milestones. I have achieved all of them, but in a very different sequence. What about a few more milestones, e.g., "Making your first million dollars from your blog?" 🙂

Wirtschaftsfachwirt

I would like to add some milestones which are very important for me- to reach the first #1 position for a keyword in google and to reach the 100 visitors per day.

dojo

I've been blogging for 6 years already, so these milestones have already been reached. There's still a lot of work though to conquer new ones, related to ad revenue, traffic etc.

Ryan Biddulph

Hi Ali,

5 and 7 were big for me.

I remember my first comment well.

Someone was listening!

I remember my first dollar well.

Someone wanted to pay for my product!

Both exciting.

Thanks for sharing!

Shawn Gossman

I think #9 is the best milestone out of them all. When my readers contact me to thank me for writing articles, that let's me know that people enjoy what I have to say and it motivates me to continue. Great post!
Comments are closed.