Make Sure Your Pop-Ups Aren't Breaking Your Site
As I wrote a while ago, the web (particularly the Internet marketing sphere) is going through a small pop-up mania. After some years in disgrace, the intrusive technique is back to vogue.
Personally I don't like pop-ups, but I also know that website owners have the right to use whatever techniques their want. Additionally, if they offer me outstanding content, sometimes I will bear the pain of closing a pop-up to read it.
From an Internet marketing point of view I also understand why people started using it again. The conversions are incredibly high, and the annoyance factor is not so bad as to have a tangible impact on your traffic (most of the times at least).
If you are using pop-ups, though, you must make sure that the code is working properly and not breaking your website. A good idea is to check it on different browsers, for example.
Just to give you an idea, today I was browsing on the site of Michel Fortin, one of the most famous copywriters around. Right after entering it the pop-up appeared, and the screen looked like this: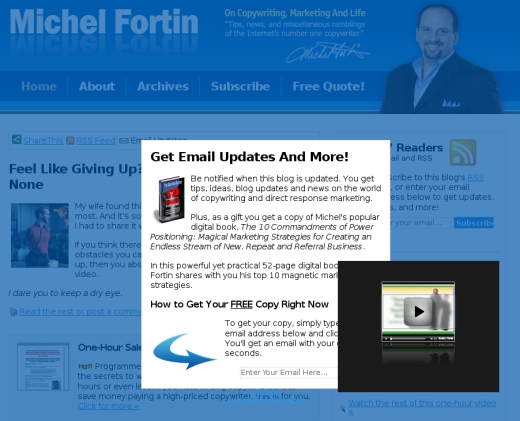 As you can see the YouTube video was overlapping with the pop-up. As a consequence, the "Close" button was hidden, and I couldn't do anything. I was literally blocked from visiting his website. I couldn't even use his contact form to let him know about the problem!

I have seen similar problems on many other sites too.

If you want to use pop-ups, therefore, run several tests to make sure they are working properly and that visitors will be able to close them easily.
Browse all articles on the Blog Design category
27 Responses to "Make Sure Your Pop-Ups Aren't Breaking Your Site"
medyum

I include a "related posts from around the web" section on each and every blog post to direct my readers to fresh sites.

Sean Davis

I've seen things like that before. You're making a good point. It doesn't matter if it's popups or not, I test everything on my sites. I also keep IE, Opera, Wyzo, Safari, Google Chrome and Firefox on my desktop to check browser compatibility. I have never understood why people wouldn't check everything that they do!

ayman

good work

Charlotte Web Design

Not so long ago one friend of mine have seen this marketing advertisement asking for pay per click. It has something to do with a pop up advertisement. He was confuse if will it be worthy or not but as I read through I think it is something the same like this. They will make your site appear on something related but through a pop up which I think will not be good at all cause everytime your site will pop up and be seen then that will be deducted on your credit. really bad I think.

Somehow I find pop up really annoying, thats why pop up blocker is created. But mostly some people still doesn't know how it really affects reader but I guess they should try to analyze things first before accepting advert offers.

Vonnick

Simple solution: Don't use pop-ups.

Actually, don't use any ads. People hates ads. We block them.

As for webmasters, I know at least 40% of you are just greedy bastards who use ads so you don't have to pay for the site yourself.

Dave

I find these pop ups a joke. I go on sites where they hide the close button on the ad, I get so frustrated that I leave the site. Some times I really want to use the site…one of the most annoying things on the net.

gendut

good advice…….take this strategy promation with full consideration, thanks

Mike Farris

I have always hated pop-up and never read them, but I think you are right if done right it can increase your conversion. Lot of great info on your blog, your doing a bang up job.

Be well and prosper,
Mike

Associate Money

I hate pop-ups and my first instinct is always to close it. You don't know if there is a virus or spy-ware hidden in the pop-up.

Thus, I really don't know what kind of advertising message pop-ups could deliver if people are so afraid of them.

Bushido

It doesn't really bother me, but I really hate websites with auto-play music.

~Kat~

9 times out of 10, if a site "pops up", I "pop out". It would have to be a site that I know and really want to read before I would stay to read the content.

Multiple pop ups, pop ups that ask me if I am sure I want to leave the website, pop ups that I can't close, all make me think the site is spammy and won't have anything I want to read.

(Can you tell I don't like pop ups 🙂 )

AlanGayandStraight

One site I liked started using pop-ups and it totally turned me off. I'm not sure I would stick with any site that have them. My reaction when I see them is the same with those with auto-play music…look for the X to close the window as fast as possible

Busby SEO Test Gary Viray

Yes the pop-ups are back and they have been creative in their presentation as well. I hope there's a feature that they can be better used when a visitor is about to exit your site like clicking an external link and that is where an offer is made.

B. Durant

I'm not a fan of them, but I have to ask at what point does one have enough traffic flow (that being new daily visitors) to make it worth while to use popups? Just wondering…

I guess I see the value in them for something like a special promotion or event, but day after day for no reason than to get people to subscribe to your RSS feed seems a little over the top.

Jeremy

Daniel, the example you have provided is because of a Flash issue in Linux. Neither Flash 9 nor Firefox 2 support the "wmode=transparent" option, which allows for Flash applets to be overlayed by other HTML content.

Both Flash 10 and Firefox 3 support wmode=transparent, so if you run both, the issue in the screenshot would be fixed.

Be warned: if you run 64-bit Firefox 3, and 32-bit Flash inside nspluginwrapper, wmode=transparent won't work, as nspluginwrapper doesn't support it.

However, the above "fix" is no excuse for Michael Fortin not to have checked his site on all three major operating systems. The very least he could have done is done a User-Agent check to turn off displaying Flash ads for visitors on Linux operating systems. (Which would be a wise idea, as you would get more ad views for raster-based ads, as I imagine many Linux users would not have Flash installed.)

Cleanse Body

I have seen this myself where a site will not load cause the pop-up is buggy. I was able to search the entire area of the browser window to find the mangled close X button and clicked it.

Sohail

Some bloggers are getting many subscribers this way but its annoying for users so not a good idea for user experience.

Tom – StandOutBlogger.com

This is something I'd never thought of…

izzat aziz

if it can detect the ip tha already subscribe it should be very nice, because even i already subscribe everytime i visit it still pop up asking me to subscribe, it not bother me but if there is such code or anything it would be very nice. or there is?

Blog Expert

It doesn't really bother me. But i guess it is about your visitors.

The Burnman

Subscription pop-ups which appear when you first visit the page, are obnoxious. If I haven't read the content yet, I am not going to subscribe to it. I usually leave websites which throw promotional or subscription begging pop-ups without reading further.

Advertising pop-ups… well, they were the reason pop-up blockers became so popular. Just about everyone hates those.

mike dibenedetto

@Adam I agree that an automatic pop up is always bad. I was just talking about pop up content elements…like the quick read button here:

Adam Singer

I include a "related posts from around the web" section on each and every blog post to direct my readers to fresh sites. I will NEVER include a blog that has a pop-up in that list, it is an instant turn off for me to send people to a site with a popup.

Consider that before adding a pop-up to your site — you may stop people from linking to you that can't stand pop-ups themselves. Many bloggers hate pop-ups, so if you're fine with turning away a whole bunch of link love, then go for it. Just be aware of what you're missing out on.

mike dibenedetto

What's the feeling of folks here on user initiated pop ups? I am thinking of the "Quick Read" button on the huffington post and other similar sites. Also, the reddit login page is actually a pop up. I find content elements that pop up really helpful as it saves me from having to navigate back to where I was.

Todor Christov

You've got a point, Daniel!

On my monitor, everything is OK with the "Close" button, but still it is quite strange and annoying to read something and all of a sudden – to be bombarder by a pop-up.

LGR

What is more annoying is he has more than one popup. One on the middle of the screen one that shows up at the bottom later.

Mr. I

Popups are really annoying! And this one is a bit more annoying! 😉
Comments are closed.