It Might Be Worth to Invest In .tv Domain Names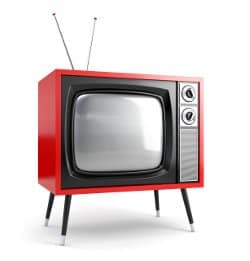 I am very conservative when it comes to domain name extensions, and as a result I almost never buy domains with the new extensions that appear once in a while (e.g., .co, .biz, .mobi). In fact 95% of my domains have a .com extension (the other 5% are .net domains for mini websites).
There is one that might be the exception though, and it's the .tv one.
I am not sure yet if those domains will become valuable or not, but they might. That is because I am starting to see a trend of major websites and publishers securing .tv domains to launch their online video shows. Examples include Twit.tv, TechCrunch.tv and FordModels.tv.
The other side of the trend is the popularization of Internet based television platforms, like Google TV and Apple TV. Those platforms are trying to bring online video to the living room of the average household, blurring the line between mainstream and Internet based television shows and videos.
The result could be an adoption of the .tv domain as the standard for websites that are compatible with Internet television (i.e., websites that have video content available and that are compatible with the Internet television platforms). This means whenever consumers were "browsing" on their televisions they would first try the .tv version of the domain they are looking for.
This is just a possible scenario though, and it's way too soon to forecast what will happen (read "Don't go out on a .tv buying spree and blame it on me later if the domains become worthless!).
That being said it could be a good idea to secure at least one .tv domain that you think would be suitable for you to create a video show on. If you like nutrition, for example, you could try to buy NutritionChannel.tv (which is available by the way). Then if the trend described above becomes true and online video explodes you could use that domain for a new project.
Thoughts?
Browse all articles on the Domain Names category
43 Responses to "It Might Be Worth to Invest In .tv Domain Names"
Web Marketing Tips

this is a good business to invest money on domains.

You just neeed sharp eyes and businessman mind.

Mike @ Blog Success Resource

I think if your blog or site is based on you tube or vimeo based or other videos, then .tv seemed to be best choice.

Imran

@ James You mentioned this: I think the fact that Google give a .TV name exactly the same measure as they do a .com is very encouraging

Can you share some references for this?

Web Marketing Tips

recently google give appproval to .co as well.

Domain world is expanding.

claude

I have a few myself including 60s.tv, Be.tv, Connect.tv, Ink.tv and Sexual.tv . I could not agree with you more. .tv really seems to be picking up steam. I've already sold a number for some pretty respectable figures. Good luck.

Claude

Web Marketing Tips

boy you have awesome set of domains.

I am sure they carry good amount of money value.

James

I think the fact that Google give a .TV name exactly the same measure as they do a .com is very encouraging.

The downside to .TV names is the renewal fees are about three times the price of .com names.

That said, I was able to get a .TV name I really wanted for $4500 when I would NEVER have been able to afford the $x,xxx,xxx equivalent in .com.

I saw that the prices are starting to go up as well. Didn't Business.tv sell for over $100k a few weeks ago?

smith

Very informative post ,i can guess now why this is getting success these days !! thank you for talking about this interesting topic..

Imran

apart from .tv, I find that people are investing a lot in .info domains as they are available very cheap and have a universal appeal. Would anyone like to share his/her experience about .info domains?

Illet

I've never visited an info site. If I did I'd thing is a copy of a sit already done or purely for money making and does not have actual great content.

Paul/diabetics

The only problem is that .tv cost too high. Maybe, it may be a worthwhile invest if you got a lot of money but for someone just starting out. I don't think that this would do.

Destination Infinity

The issue for individual publishers is about coming up with video related content – it takes a long time to understand and apply the video capturing and editing technologies and then if a very few people watch it, the publishers are disappointed. Its quite difficult to get visitors via organic search for video content unless its hosted on youtube or other such big sites.

While .tv might be the best choice for video content based website, its still in the future. For now, if .com is not available, i would happily choose .org especially for a text and image based content website.

Destination Infinity

Illet

But if you wait until the future, probably3yrs tech moves fast, the domain you may want will be taken. Buy before it becomes big. Who knows google tv might be really good one day and become a house hold name. (google.tv) Next thing you know everyone is hunting .tv

mano

Yup…. the global audience need .TV if they wanted to read less and watch more.

.TV should be the next wave of world internet address.

Get one, and you'll be part of the trend….cheers.

Akie A.

Crap, Someone already snagged up sex . tv!

Manuel Ignacio López Quintero

Google.tv domain is registered! I don't have any problem to recognise .tv domains.

I use the web service blip.tv and the extension isn't a problem for me.

But one thing is clear, page with domain. tv should be a TV specific page.

Leonard Britt

I would agree that for sites which are visually oriented i.e. images and photos a .TV domain makes a great fit. Given that close to 91 million .COM domains have already been registered it is virtually impossible to acquire a quality search-phrase .COM domain.

Snoop

People have been speculating on .tv domains now for well over 10 years and over that time the vast majority have lost money.

Over that time people have been predicting trends, talking about the merging of TV and the Internet and point out companies who use the extension but it never amounts to much demand for actual aftermarket domains. The actual level usage it isn't anywhere near enough to sustain a lot of speculation in this extension.

jason

Makes sense. I hope this is true, as this would open up the online real estate market.

Scott Fox, Author of e-Riches 2.0

I agree that .tv domains could become quite valuable.

I always advise my readers and clients to buy the .tv domain, especially if they have plans for online video marketing (and who doesn't these days?).

I use a .tv domain myself to extend my blog's brand from ScottFox.com (.com still rules) to ScottFox.tv where I post videos from my online marketing show.

.tv domains are a logical fit in people's minds for video content and there just aren't that many good .com names left these days.

Nice post, Daniel.

John Sherry

This I like Daniel. I hadn't understood the platform benefits until you put it in plain english. After all isn't the internet going that way? Soon we will all have our own tv channel broadcasting our personal various 'shows'. After all a blog is like a daily newspaper and who ever thought we'd all be writing our own rather than buying a USA Today instead? The future is tv and internet combined it seems!

Daniel Scocco

Indeed, and video already accounts for the majority of the traffic online if I am not wrong, so we are not that far away!

zaki alakhdar

Do you really think tha t is .net domains is for mini sites? I see in Arabic sites that some very big sites is .net domains such aljazeera.net and alarabiya.net, so I choose my domain to be .net, I think that is the value of domain depend on what is he more than what is its extension.

Daniel Scocco

There are some very big sites on .net, yeah, but those are the exception. The rule is to go with a .com.

In fact all the owners of big .net sites I know leak a lot of traffic to the .com version, and sooner or later they try to buy it.

zaki alakhdar

Of course you are right, but I like tell someting different about non-English language sites, lts visetors often not access site by wrighting thair domain name in browsing bar, but by wrighting the site name in Google, then access the right domain whatever it be, do you agree with this opinoin? for my site I have a lot visits come from keyword of its Arabic name.

Bamboo Forest – Tick Tock Timer

Your assessment is reasonable. Thanks for bringing this to our attention, you never leave your readers in the dark 😉

Adam Mello

Interesting inside Daniel, I think, in the future, there is a potential of .tv domains to rise. The reason is simple, as you mentioned, online television is a growing online market and lot of big companies see here an opportunity to engage the online users.

I would say if big companies enter a market that most likely means this market has a potential to grow, right?

Daniel Scocco

Well online video is definitely going to be huge. We are just not sure how users will consumer it (via .tv domains is one possibility, but there are many).

Jason.TV

I own a few of the best .tv domains on the web!

Nature . TV
National . TV
Creditcard . TV
Weed . TV
Pornstar . TV

thanks,

Jason

LagosHost.Com

Whaooo, those are wonderful names.

I never thought about getting some.

I will look into the name thing now.

Thank you,
Okoji

etipslibrary

But be aware of cybersquatting law while securing the .tv domain

Brent Stangel

This is very interesting. I didn't even know .tv domains existed. I am moving to almost 100% video production lately. (vs text ) It's so fast and easy and I can post them all over for free.

I'm going to go see if the .tv domain I want is available.

Keep up the good work!

Brent

Treathyl FOX

Regards .tv domains? My thoughts are, "Since you're going to be thinking anyway might as well THINK BIG!" Borrowed that quote from Donald Trump. It definitely applies to your remarks about the .tv domain names. I bought a .info as opposed to a .com cause it was cheaper! But I'm thinking your lead to check out .tv domains is good thinking!

Morgan

The reasoning your gave makes a lot of sense. Too bad we didn't use it for that reason, though now I'm definitely considering it. Thanks!

Zove

yes,.tv is a nice domain extension

Albert

Why no tv.dailyblogtips.com instead spending extra on dailyblogtips.tv?
We can have a script to auto detect browser version and redirect tv browser.

Daniel Scocco

That is an option.

If i were to start a new project based on online video, though, I would want it to have its own domain (either on a .com or on a .tv).

LagosHost.Com

This is very correct but the fact is that many people never bothered to look into this.

I have picked the .tv of my domain name long ago.

I wish all blogger can look into this.

Okoji

David Walker

Hi Daniel,

I think you could be onto something here – which is great news for me as I registered my blog on a .TV domain, although that was largely to do with the .com, .net etc. already being taken up!

But, if I go down the route of producing more video related blog posts, the .tv suffix will be a perfect fit!

David

Geet | HobbyPainting

Though noone can predict the future, You've made a convincing case in favor of .tv domain name. The way internet, broadband & video is proliferating the world over it is highly likely that .tv will become a rage in near future. Moreover Internet is getting device independent & the new gen may habituate it self with something other than .com…who knows it might be .tv 🙂
Comments are closed.