How To Use Site-Targeted Google AdWords
First things first, what are site-targeted AdWords campaigns? According to Google:
Site targeting lets AdWords advertisers choose individual sites in the Google content network where they'd like their ads to appear. You handpick your audience, big or small. The AdWords matching system does the rest, analyzing your input and creating a list of available content network sites for you to choose from.
You have probably seen some of those ads around the blogosphere. Some time ago John Chow was using them on Problogger, they looked like this: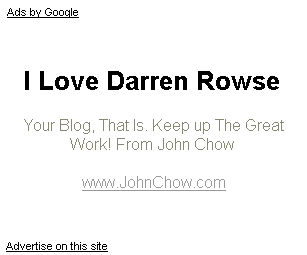 The site-targeting feature of Google AdWords can be a very efficient way to promote your blog. First of all because it allows you to select specific sites to display your ads. Secondly because you can customize the ads and make them appealing or "intriguing" for that particular audience.
The main difference between keywords-targeted and site-targed AdWords campaigns is that the former has a cost-per-click (CPC) pricing structure, while the latter has a cost per 1000 impressions (CPM) pricing structure. Below you will find a step by step guide to create a site-targeted campaign.
Creating a Site-Targeted Campaign
In order to create a site-targeted campaign you obviously need to be a Google AdWords advertiser (if you are not you will need to register up, the setup fee is $5 and you need a credit card to finance the campaigns).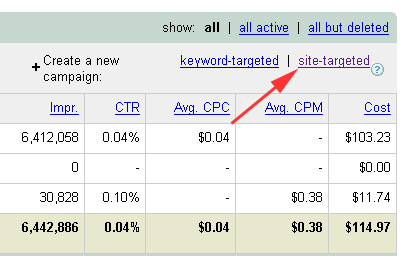 Log into your account and go to "Campaign Summary", under the "Campaign Management" tab. On the right side of the screen you will have the option to create new campaigns, both keywords-targeted and site-targeted. Click on the latter.
1. Target Customers
Google will now guide you through the process of setting up your campaign. The first step is to name your campaign and specify what customers you want to target. If you are aiming for a specific geographical location just select "All Countries and Territories".
2. Create the Ad
The second step is to create the actual ad that will be displayed on the targeted sites. It is a good idea to target one site at a time (creating one campaign for each site) so that you can customize the ad unit.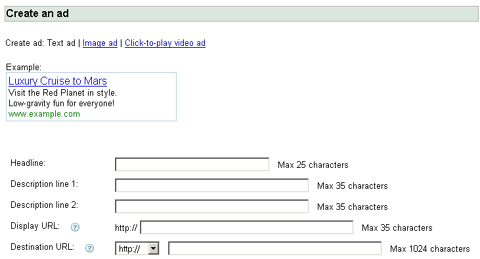 You can get as creative as you want on this phase. Try using the name of the author or the name of the site. Ask a question to that audience. Make a funny statement.
3. Select the Sites
The third step is to select the sites that you want to target. You have four options here: browsing around categories of sites, using keywords to find related sites, manually inserting the URL of the sites or selecting demographics.
Ideally, as we mentioned before, you already know what site you want to target, so choose the third option and enter the URL manually.
4. Setting the Price
The fourth step is to set the price. The minimum cost per 1000 impressions is $0.25. I would recommend that you start with that minimum bid and check whether your ad will be displayed or not. If is not being displayed raise the bid by $0.05, wait some time and check again. Repeat this process until your ads start showing on the targeted site.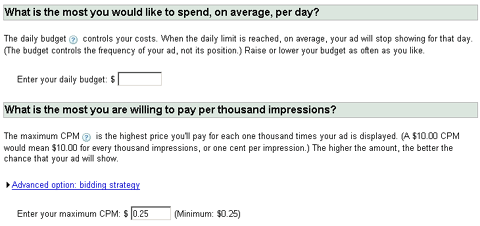 5. Reviewing and Saving the Campaign
Finally you will be presented with a summary of the campaign you created. Review the details, and if they are correct save it. This will activate the campaign.
Consider that the cost per visitor with a site-targeted campaign will be somewhat higher than with the keywords-targeted method. Depending on the click-through rate that your ad will receive, each visitor will cost from $0.1 up to $1 or more. Keywords-targeted campaigns, on the other hand, can bring visitors for as low as $0.01 if tweaked correctly.
Do not get discouraged by this price difference, though. A well structured site-targeted campaign will bring to your site visitors that are looking exactly for the content you have to offer, meaning that they are much more likely to become loyal readers.
Browse all articles on the Promotion category
13 Responses to "How To Use Site-Targeted Google AdWords"
Bang Kritikus

Thanks for your tips

Netvalar

I was just thinking with content based sites such as blogs. You could run your site targeting ad for a specific post with the ad clicking through to a specific post on your own site.

This would be similar to a costly commenting of blog posts. However why not do both. After all if you have great addition to what is being said then running that post targeted ad could be well worth while.

Jeff Bode

I found that using the describe topic section works the best
Then once you find a site with good ad placement add it and choose to find other sites with similar ad placement
There should be a link right below your added sites.

Good ad placement is very important for using CPM ads
You want to get the most clicks so make sure the site has good related content, the ad blends in and is at the top of the page.

Jasmine

Excellent notes you have given

Clinton Walker III

Thank for this ad because this process can be very confusing.

Lee

Trouble is, fine if you are doing it for business.
If you are just desperate and work part time and want visitors it is costing me a small fortune in a way.

Actually yesterday was not bad, 22,675 impressions and 13 click through.

However today is not so good, doubled in cost.

In fact I actually dropped one because it was costing, though it was delivering click throughs.

Maybe that was my mistake with today showing only 6 click through with over 21,000 impressions.

I was priced out of the keywords too, so stopped that campaign.
In fact despite what many say for business, because they are looking to get a return, make a profit, so on, I found content network often gave me more clicks.

For the average person like myself, for personal uses, forget it, can almost seem like a con.

I had one ad refused because of the URL address, fuss being made that it was too long and not ending in the right such and such .this, or dot that.
I wanted it to link to my radio station not my website homepage for once.

So I was somewhat miffed.

It's a tough market out there.
Unless you have a few grand sitting around in your back pocket and doing it for business, I would not recommend anyone start their own website with their own domain name today.
Times have changed now, very tough to get recognized and to do so costs the earth, or lots of hours every day plugging your site signing free for all links and guest-books and mailing and so on.

Thanks, Lee.

Shaine

This is an awesome tip. Thanks.

GpsNews

Great post Daniel. With your suggestions I'll test with our site the performance of this kind of advertise.

Daniel

That is true. In fact the best thing would be to find a complementary and not competitive site to run your ads.

Cherran

Hi Daniel,
I noticed one thing when we target related sites, most of the sites banned ads from competitive sites(same niche sites).

Daniel Scocco

There is no minimum budget, you can spend only $5 monthly if you wish.

AdWords is a good source of traffic if you are launching a blog. If the quality content is there it is very likely that those incoming visitors will become loyal readers.

I also think it is worth to learn how to play with it, you can use the service for a wide range of online-projects.

Dj Flush

Hey Daniel

Whats the minimum budget required to use Adwords?

and is it proving good in terms of getting traffic?
Comments are closed.