How To Build A Successful Blog Business, For Real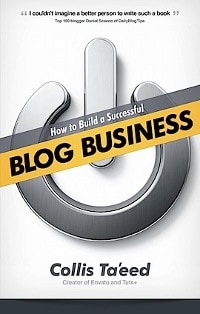 I started following the work of Collis Ta'eed around three years ago, when he launched a blog called Freelance Switch.
I suspected Collis would rock the blogosphere for a couple of reasons. He knew how to choose his niches wisely, his content was outstanding, and other aspects like design or monetization were perfectly integrated.
Fast forward to today, that one blog grew into a blogging empire called Envato. Collis is the CEO, and he leads a team of over 50 full-time people. All the online properties combined generate over 20 million monthly page views, yielding a seven figure yearly revenue.
Crazy huh?
But why am I telling you all this stuff? Because Collis recently launched his book, titled How To Build A Successful Blog Business, and I just wanted to show that he is the real deal.
I am not an affiliate for the book, so I won't earn anything whether you buy it or not. Collis sent me a review copy a while ago, however, and I felt like the book would be useful to many of you guys, hence the review.
So what is inside? Everything you need to build a blog business, and I mean it. Just consider that the book has 327 pages….
Here is the table of contents:
Chapter 1: Blogging as a Business
Opportunities in Blogging
Risk and Rewards
A Sketch of a Blog Business
Your Role & Blogging Experience
Setting up as a Business
Capital and Investment
Co-founders
Your Mission and Vision
Business Planning
Chapter 2: Planning and Researching
Niches
Researching a Niche
Competitive Analysis
Understanding the Niche
Planning Your Content
Your Overall Strategy
Chapter 3: Creating a Brand
What is a Brand?
Naming Considerations
Domain Names
Visual Branding
Web Design
Other Elements of Branding
Chapter 4: Staff
Freelance and Salaried Staff
Freelancer Basics
Employee Basics
Finding and Identifying Good People
What to Pay
Working with Remote Staff
Setting Parameters and Focusing on Results
Other Staff Issues
Roles
Chapter 5: Planning Content
Writing for the Web
Making Content Valuable
Editing
The Editing Process
Know What You're Talking About
Lists & Popular Content
Frequency
Quality Evergreen Content
News Content
Filler Posts
Images & Diagrams
Headlines
Style and Tone
Chapter 6: Generating Traffic
Google Analytics
Basic Techniques for Generating Traffic
Social Media Basics
Guest Posts
Content Aggregators
Buying Traffic
Giving Away Free Stuff
Leveraging Your Existing Network & Assets
Consistency & Momentum
Linking Out to Generate & Keep Traffic
Search Traffic
A Basic Guide to SEO
Chapter 7: Monetization
General Tips on Monetization
Advertising
Affiliate Sales
Premium Content
Selling Products
Ad Services
Selling Your Expertise
Creating and Selling Web Apps
Blending, Iterating and Experimenting
Chapter 8: Long Term Strategies
Building a Long Term Business
From One Blog to Many
Using a Blog to Build Other Businesses
Valuing and Selling a Blog
The Case Studies
Case Study 1: FreelanceSwitch
Case Study 2: Psdtuts+
Case Study 3: AppStorm
I think this book is really solid for one main reason: while there are dozens of books about how to make money blogging (i.e., how to build, promote and monetize a blog), this book is pretty much the only one about how to build a business with blogs (e.g., how to choose niches to enter, hire people, manage writers, scale everything and so on).
One part I liked were the case studies. Collis has written the complete story behind his most successful blogs, including screenshots of his traffic levels, income sources and so on. As I told him via email, I think the case studies alone are worth the price of the book.
If you are planning to build an online business with blogs, this book is a must read. You can get a free sample with the first chapter in the sales page too, so check it out.
Browse all articles on the Strategy category
18 Responses to "How To Build A Successful Blog Business, For Real"
Motivatory

Thanks for this piece of information. i have to lay my hands on this quality book.

harly

It can sometimes be easy to get carried away with writing, as blogging is after all another vent for self expression, but it is crucial to post articles that are relevant for your given industry or business. People are looking for useful information, so providing a unique or new insights into subjects can provide great value for your website visitors. Such examples might include upcoming tourism events that could be attended by potential visitors to your hospitality website or explanations of new legislation or industry changes that highlight the need for your particular business good or service. Use your knowledge to become an expert on your chosen topic.

Web Marketing Tips

I like the design of page … this is simply awesome and beautiful …

samuel

lol awesome! i gotta check it out thanks man!

Stuart McMinigal

It looks like a very informative piece of work, what I would have loved to have found when I was starting out.
I spent (well wasted really) quite a bit of money on a good few eBooks and they didnt really pull it off for me, waste of money and time.

Stuart

Michelle

In my opinion, Blogs are great inbound link magnets. Blogs are easily linked to other blogs while also being easily associated to social media networks and plug ins. The basic rule of SEO is that the more you are linked, the higher the inbound links to your site, which is maximum in the case of blogs. As you keep providing more and more plug ins on different blog and social media sites, you are attracting more and more people from these sites to visit your blog and website, which ultimately results in improving SEO.

Customer Care Rep

Did not get a chance to grab a copy yet but do you think a personal blog, that tackles flexible topics from entertainment to travel & living, would be successful as a business blog?

Ruth

It sounds a very comprehensive volume. I may just be tempted to put it on my shopping list. Thanks for letting us know about it.

Schmidty – Man Vs. Style

This book looks awesome… thanks Daniel.

Going over to order it right away.

Cheers,

Schmidty

Syuxx

Just bought this ebook few days ago.
Now gotta find a good time to begin reading it 😉

Jeff Bode

I've been working a lot more on my blogs – I just might have to pick this up, although I know a lot of the subjects covered in the book… judging from the table of contents

anyways, thanks for sharing… always on the lookout for good honest reviews and what products are good to buy

jason

This may be my first ebook purchase. Just by looking at the cover, it looks great. Thanks for info.

Dev – Technshare.com

Hey Daniel,

The ebook looks killer ….!!

Thanks for the sharing.

~Dev

BlogTech Online

Hi Daniel,
I t's a very usefull book every blogger who is starting up.He covers everything in blogging.It's a treasure for Blogger's like me.

Josh Garcia

Hey Daniel,

Just by looking at the Table of Content it looks like this book is the real deal.

Thanks for mentioning it.

Josh

Nabeel | Create Your First Website

Hi,

The eBook does really look amazing and the best in its class.

I also read some other reviews on this book, but no one provided the table of contents. The table of contents alone give the impression that the book is jammed pack with awesome information.

Kindest,
Nabeel

Daniel Scocco

Yeah, I wonder how long it tool for Collis to write it. Probably close to one year.

collis

Just over a year and a half actually! But admittedly most of the time I was not working on it 🙂 I did a lot of the writing while I was on holiday over Christmas hehe!

Thanks so much for the review Daniel!!
Comments are closed.