DBT is research-focused. When you buy through links on our site, we may earn an affiliate commission. Learn more
Pros & Cons
Here are some of the primary advantages and disadvantages of choosing GreenGeeks as your web or WordPress Hosting provider:
Hence the name, GreenGeeks is by far one of the most eco-friendly hosting providers on the internet.
The company equalizes 300% of their energy costs, all the while offering extremely affordable and reliable web hosting plans for businesses worldwide.
GreenGeeks is known for having lightning-fast load times, outstanding upkeep, and numerous other useful features.
But is GreenGeeks the right hosting provider for your business?
In this GreenGeeks review, we'll cover everything you need to know about the company and its hosting plans to see whether it's suitable for your web hosting needs.
Without further ado, here's a comprehensive review of GreenGeeks web hosting.
About GreenGeeks
GreenGeeks first opened its doors in 2007 by company founder Trey Gardner. Since its launch, GreenGeeks has hosted over 600,000 websites.
The entire GreenGeeks management team has nearly four decades of experience in the industry, and the company doesn't seem to be slowing down anytime soon.
Whenever someone purchases one of the hosting plans, GreenGeeks purchases 3 wind credits to offset energy consumption. As a result, the company is giving back roughly three times the amount of energy it takes to run your account.
GreenGeeks promises to offer its users a complete web hosting solution suitable for businesses of all sizes. Not only do they continuously refine their hosting capabilities, but they also continue to improve their customer experience.
GreenGeeks has a team of customer support and hosting sales specialists ready to assist any current or potential customers.
GreenGeeks Hosting Features
When compared to other web hosting providers, GreenGeeks offers a wide range of unique features to its users. The company has several plans to choose from (see below), the cheapest one being their Lite plan ($2.95 per month).
With the Lite plan, you get:
If you choose a more expensive plan, you can expect to get more storage space, email accounts, and faster performance. All of GreenGeeks' features are nestled neatly within their extremely easy-to-use cPanel.
Here, you can manage your email accounts, site performance, content management system (CMS), and numerous other aspects of your site.
GreenGeeks Hosting Plans & Pricing
Above, we mention that GreenGeeks has multiple hosting plans to choose from. For brevity purposes, we'll only cover their three most popular options.
GreenGeeks Lite Plan (2.95/month)
We covered all of the features in the Lite plan above, but we'll speak a little bit more about the advantages/disadvantages of choosing this option.
With the Lite plan, you only get the GreenGeeks standard performance promise. That said, GreenGeeks is known for having lightning-fast sites and optimal load times. We find that even with standard performance, your site should operate extremely efficiently.
However, the biggest drawback of choosing the Lite plan is you only get one website. If you're a blogger or a small business and a single website is all you need, then this shouldn't be a huge problem.
You can always scale your hosting service as your company grows.
GreenGeeks Pro Plan ($4.95/month)
If you want to take your website to the next level, you can consider going with the Pro plan as it's only $2 more per month.
You essentially get everything the Lite plan comes with, but with unlimited storage, email accounts, and overall better site performance. One reason this plan is good for growing businesses is that you can host as many domains as you want.
If you're a web design agency and you're creating websites for your clients, you'll need to get at least a Pro plan if you decide to go with GreenGeeks. The company also claims that this is their most popular option.
GreenGeeks Premium Plan ($8.95/month)
The GreenGeeks Premium plan is one of their top-tier hosting products. Not every business will need hosting that's this comprehensive, but it may be suitable if you're looking to take your business to new heights.
Out of all the GreenGeeks plans, the Premium one takes the cake in terms of performance. The company promises that this is their highest performing hosting product, offering almost four times the speed of the Lite package.
One other feature unique to the Premium plan is an AlphaSSL certificate. This type of
SSL certificate
is much more secure and 100% compatible across all browsers.
FAQ's
Here are some of the internet's most asked questions about GreenGeeks web hosting:
In short, GreenGeeks is a reliable hosting provider suitable for most business types. To determine whether it's the right hosting provider for you, will highly depend on your goals.
There's a small section below that indicates who would benefit the most from GreenGeeks web hosting.
In terms of performance, customer service, affordability, and an intuitive cPanel, GreenGeeks can be an excellent choice of web hosting for beginners.
Even with a GreenGeeks Lite plan, you get everything you need to launch and manage your website.
GreenGeeks has WordPress exclusive hosting options. Since the WordPress hosting options are managed directly by GreenGeeks, you don't need to worry about any of the technicalities such as site migration, WordPress updates, security, and protection from DDoS attacks.
Another useful feature of choosing WordPress hosting through GreenGeeks is that all of your site data is stored in private servers. As a result, you get better customer service whenever issues do arise.
GreenGeeks has several data center locations, such as Toronto, Amsterdam, Chicago, and Phoenix, Arizona.
Who Should Use GreenGeeks?
GreenGeeks is an extremely versatile web hosting provider with a wide range of features to get your site up and running. While it may not be the number one hosting provider for your business, it's suitable if you are:
Looking for lightning-fast affordable web hosting plans for your business
Wanting an eco-friendly hosting provider to help reduce the carbon footprint
You want to launch a single site and don't have a lot of technical experience
Care a lot about site security
A business where most of your visitors come from Europe or the United States
Final Verdict
GreenGeeks as a company is extremely dependable and truly goes the extra mile in terms of performance, customer service, and security.
All of their plans come with enough features to launch a website and manage it efficiently using their user-friendly cPanel.
If your business really cares a lot about the environmental impact the internet has on our planet, you can't go wrong by selecting GreenGeeks as they offset 300% of their energy costs to renewable wind energy.
We hope this GreenGeeks review was helpful and you now know everything you need to know before choosing them as your web hosting provider.
GreenGeeks is specially engineered for speed, security & scalability while being eco-friendly. Backed by 24/7 expert support.
---
GreenGeeks vs. Competitors
There are no reviews yet. Be the first one to write one.
GreenGeeks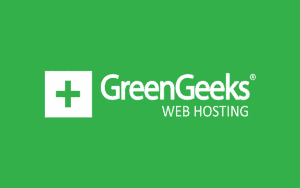 GreenGeeks is specially engineered for speed, security & scalability while being eco-friendly. Backed by 24/7 expert support.
Product In-Stock: InStock