Google's URL Shortener Is Here, And I Like It
Google just lowered its hammer on another web segment: URL shorteners. And as usual, they hammered it hard, because the new product works like a charm and will probably become the market leader soon.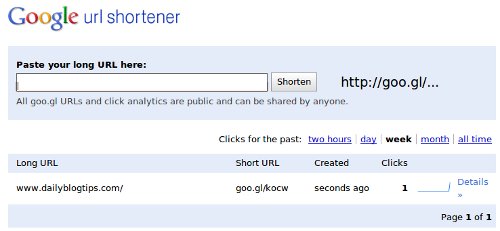 It's called Goo.gl, and according to Google it has several advantages over competing services. Here is a quote from the announcement post:
There are many shorteners out there with great features, so some people may wonder whether the world really needs yet another. As we said late last year, we built goo.gl with a focus on quality. With goo.gl, every time you shorten a URL, you know it will work, it will work fast, and it will keep working. You also know that when you click a goo.gl shortened URL, you're protected against malware, phishing and spam using the same industry-leading technology we use in search and other products.
I tested it briefly and I must say I really like it. The security aspect alone would be enough to make me switch, but the redirect also worked much faster when compared to other URL shorteners, and Goo.gl is connected to your Google account, so it will track clicks for you automatically.
Check it out if you haven't yet.
Browse all articles on the Web Tools category
34 Responses to "Google's URL Shortener Is Here, And I Like It"
Ronald Redito

With google's shortener service, I think bit.ly's end is near. Because it is owned by the search engine, it is definitely safer and assured that it is here to stay.

Peter J

Yep, another great service from google. To bad for bit.ly – i think i'm moving 😀

Vince

Google has been very busy outdoing their great rivals, Yahoo, MSN, AOL, etc…

By the way, is this service FREE???

Steve @ Technology

I just created my bit.ly account and am likely the tracking and all. Now Google wants to put all the shorteners out of business.

sujith

Yes, It's surprising that why Google has made such a long delay to launch this service, since they keep almost every URL in their directory.

David

That is good, but why would google want to start their own url shortening service? It is already a big company and they could go with already existing services too right?

Sarbjit Singh

I don't think that security alone can make people switch from service like bit.ly to Google's url shortener. If they provide something interesting in analytics, they stand a good chance.

Alex Dumitru

It's nice, though just another URL shortner

Alan @ Work From Home

Hey Daniel,

This looks pretty cool. I currently use bit.ly, but if goo.gl is much faster and secure, then I might as well make the switch.

People may be resentful towards Google for trying to take over everything, but hey, if they're going to do it better than everyone else, then kudos to them, IMO.

Elias

One issue here is that with url shorteners you cannot really see what you are clicking on.

Elias

GrimCris

Goo.gl seems to be much faster that bit.ly. I talk about redirecting and statistics. In bit.ly, clicks appear with a delay. Here, number of clicks is instant. That's cool.

Now we wait for TweetDeck to implement that.

secrpa

I think there is something missing, maybe a bookmarklet

Gloson

Yeah, I agree. I will use goo.gl only if there was a handy convenient bookmarklet.

Mani Viswanathan

Probably they should make a system which connects goo.gl with our Analytics Dashboard. Rather than having a separate analytics page on goo.gl.

Rahul @ MazaKaro

I want to know one thing that how URL shortener websites earn money?

Daniel Scocco

Google won't monetize that probably, but other shorteners earn some money by offering value added services (e.g., analytics and what not). But yeah not a solid business model.

Web Marketing Tips

May be in future you can see when they will redirect to the original URL you can see Google ads in the header.

But they will go for this once this service will be total hit.

Josh Garcia

I love using bit.ly, I'm going to check this one out. I have to say, Google does put out great tools.

Peter Mello

I am wondering where Google going to be in 10 – 20 years? Would there be any online space for others or will Internet become a private Google playground?

BTW I like this new shortener:)

Cheers,

Peter Mello

carolee Sperry

Something new to check out- ahhhhh…….

Jean Sarauer

Sometimes I feel skittish about the control I'm giving to Google by using so many of their products, but they're so darn good!

Web Marketing Tips

Yes I think in similar way … but the quality of these people are good and hence force us to adopt that one.

Ben from offtoeurope.com

Thanks for the heads up! I am currently using bit.ly but love Google's products and will be using Goo.gl from now on.

chris

is their an api for it yet? so we can generate urls for our blog sites automatically instead of going to the url?

RJ from Peter Pan Fan Club

This is great to hear. It's so convenient to have all the services that Google provides available under one account. Plus, like you said, Daniel, the sense of security you get with Google is the icing on the cake.

Thanks for sharing this news.

Web Marketing Tips

Some time this one is scary as well … as we are giving all power to one big corporate.

What do you think ?

Farouk

what are those guys planning to do

Daniel Scocco

Dominate the world?

Web Marketing Tips

And they are taking small steps toward that one as they do not want to scare people.

Lye Kuek Hin

Hi Daniel,

I just have a try and compared it with bit.ly shortener and Goo.gl is much faster in redirecting.

Thanks for the recommendation.

Junaid

this is a nice service.. and most of us will like it

Web Marketing Tips

If they want to get success immediately than they should target twitter first.

Because maximum short URL has been using at there.

They should be in all twitter plugin as well.

Trues @ MazaKaro

google is looking for some publicity (at back end) of out of twitter's space. 😉
Comments are closed.