Free Alternative to Screen Capture Camtasia
The best screen capture software on the market is Camtasia Studio, there is no denying in that. It has a lot of advanced featured, both on the screen capturing and on the editing process. The problem is that the software is not cheap. The latest version costs $299.
If you are going to produce videos from your screen frequently, it could be worth the investment. If you just want to record your desktop sessions once in a while and to experiment with it, though, a free version should suffice right?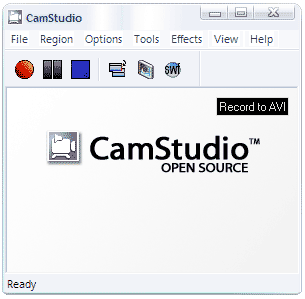 Well, thanks to the open source movement now you have one. CamStudio is an open source alternative to Camstasia, and the project just released version 2.5, which solved many bugs that were present on the older versions.

It does not bring all the features of the paid software, but it should get the job done, so give it a try.
Browse all articles on the Software category
25 Responses to "Free Alternative to Screen Capture Camtasia"
8 yr Old

well my cousin says camtasia studio is the lamest he has seen.
and he went on using that damn CamStudio.
plus he thinks windows 7 is the fastest(not true Windows 8 is)
then XP(vista is) and Vista the last(just because he has XP)

8 yr Old

Ok I am working on a Website even tough I am only 8. And i actually have camtasia studio 7. Because i need it to create tutorials for my coming website. The website that is posted is much lamer then my new on that is coming soon which i have used Adobe Dreamweaver CS5. And that's a :"promise:"

Anita

Thanks for posting this. I was looking at CamStudio the other day but was wondering how well it did being free. So I'm happy to hear that others like it.

Does anyone happen to have a video they've created with CamStudio that I can take a peek at?

Scott-TheBrewClub

Thanks for putting up this post. I was looking for something free to play around with, and this seems to do the trick. Thanks for the other suggestions in the comments as well! Its great to have more than one option!

container

and I just replicated the bug!! CamStudio seems to throw away your recording if you record for a long time. how long? dunno, an hour or so.

great shame, that this doesn't work.

container

well, yes camstudio is free. Today I have conducted an interview using it and after a 1h long interview when I tried to save the thing it said something "I cannot open this file" and the program just lost all the recorded data.
I hate it so much when the software turns back on me like this. Damn, I'm angry so much.

raunaq

thanx guys i really needed this kinda software…….

Accounting Teacher

This is a good free alternative to camtasia. But camtasia is rich with features.

educad

Vern, look at doing a meeting in dimdim and capturing the meeting. This would give you the ability to whiteboard, go to websites and run video from them and then either talk over that directly, or edit in your talk over that later.

vishal

I need a setting/software that can record screen movements + 2 way voice recording audio calls.
These all should get combine in a single file may be .dat,.flv,.mpeg

Vern at AimforAwesome

I've been trying to evaluate whether Camtasia is worth the money. Does anyone know of e-learning videos made with Camtasia that feature maybe a whiteboard, text paragraphs and video all at the same time? Or, is it more – the camtasia s/w must be focused on one part at a time? Could I do a video where I'm talking about how to free dive and have a chart next to me – a graphic that is illustrating the points I"m talking about…? And, at the same time as all that could I have a paragraph of text that is detailing my whole video conversation -but, printed out?

Examples of some state of the art e-learning would be killer. Even if only for a minute so I can see what's possible with it.

HM

Hi there,
Has anyone come across the issue with Camtasia v5.0 whereby after publishing the files to the Internet, the Camtasia controls are really slow to load – is there anyway around this? It can take upto 4 minutes depending on broadband speed and it doesn't seem to be realted to the file size as we uploaded the slides an audio directly without the camtasia controls and its much faster?
Any help would be appreciated.
Thanks,
Heather

Nathan C.

If you have every used captivate by adobe then you will like wink. This works very well, but the narration can be low, so when I use it I also use audacity to make voice overs. It can be exported to variety of formats.

LiviuX

It's really good, if you want a simple program.

Thierry

I use Screenflick and I am very happy with it. It works on Mac (10.5 compatible), offers a lot of options you don't find in other softwares (it records in the movies the shortcuts that you are typing…) and though it's not free, 29 $ is a bargain (especially at the actual Dollars/euro conversion rate). ScreenRecord and Snapz Pro are also interesting but Screenflick is my favourite and open source alternatives did not manage to convince me.

abhishek

didn't knew about it…thanks for sharing.

Beth

Thank you for this post! I have Camtasia 3.0 and find it to be a wonderful product, but to find it in Open Source! Now I can recommend it to people who would really benefit from CamStudio and can't think of affording Camtasia. I'm most anxious to try the voice changer.

I agree that Jing is a good product, but the video is limited to 5 minutes. I like having choices…thanks for CamStudio!

Erica DeWolf

This is a great screen capture alternative! I was lucky enough to find a free version of Camtasia out there (it was for a limited amount of time), and use that- it works great and I love it.

I heard that the newest version of Camtasia, though, is incredible. My dad has a copy- I should get on and play around with it a little…

Rajaie AlKorani

I am constantly looking for software like this, thanks for sharing.

JACKIE JACKSON

'Screen Capture Professional' is another great option, and importantly free as well. Should try it !

Daniel Scocco

@Nathan, didnt know about the Jing project, thanks for sharing.

@LearningNerd, I need to test recording the audio separately. On Camtasia I find it works good enough though.

@Bilingual Blogger, not sure, lets hope some Mac users will share if they know.

Bilingual Blogger

This doesn't work for Mac. Does anyone know of a free alternative for Mac?

LearningNerd

I love CamStudio! I use it for all my video tutorials.

I've found the best way to make it more professional is not to use the Flash format option, but to record and save as AVI files and then stick those into a video editor. You can then edit the screencast like any other video, as if it was from your video camera.

CamStudio lets you record voice and video at the same time, but I find the sound comes out better if I record the voiceover separately in the free program Audacity, and then add the voice to the video afterwards.

Todd Andrews

Good stuff, thanks

Technotip.org

Hi Daniel,
its very nice info, but I would like to see a review of this software from you.
I have tried using many such softwares, but I always had problem with the audio recording. Audio will be very low in all recording.I have very good mic and audio system, but still.
Comments are closed.