Firebug for Firefox
There were several friends advicing me to use the Firebug extension for Firefox, and now I know why. If you are often fixing code here and there, or tweaking the performance of your website, this tool is perfect.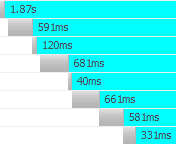 Here is a list of things that you will be able to do with Firebug:
Monitor the loading time of the different elements on your site
Inspect CSS and HTML on any website
Find and correct CSS or HTML errors
Explore the Document Object Model (DOM)
Tweak anything related to Javascripts
The interesting thing is that you can monitor and edit all the information while visualizing the web pages. It does take some time to learn the functionalities, but it is definitely worth it.
Browse all articles on the Software category
15 Responses to "Firebug for Firefox"
medyum

I really need to learn the real-time editing features, they look really great.

Bang Kritikus

Thanks for your information.

Max

Thanks!

ashwin

10 essential firefox extensions for Bloggers-

Scott Townsend

Does Firefox have a Favorites button?

egon

I've been using Firebug for the site timer functionality but I really need to learn the real-time editing features, they look really great.

Rishi

Daniel, You must have noticed that the COMPETE rank checker or any of the PR or Alexa checker doesn't works!

dalez

Everyone should be using Firefox. Firebug is a mush have tool for theme development. Firebug needs an IE extension so you can fix the stuff that already works in Firefox.

Daniel

Nice list of extensions there LGR.

I use 4 of them, will definitely check the others.

engtech

I've still barely begun to crack this one. Firebug is awesome, but has a bit of a learning curve (like most things that are awesome).

I have found some cool tricks like how to use Firebug to debug Greasemonkey scripts that I should publish.

Greg

In my experience Firebug is the most important Firefox extension for web development after the Web Developer extension. If you are using Ajax, it is even more important.

LGR

Firebug is also great for working on AJAX sites. You can see all the requests and responses as they happen. A great add-on. Take a look at my top nine webmaster add-ons for Firefox, and suggest others.

Daniel

What do you mean by "not very compatible"? I am using it with SearchStatus, and I have not had problems so far.

Rishi

This is good add-on but the problem is it is not very compatible with some other add-ons like the famous Alexa toolbar replacement for Firefox – SearchStatus. Removing it, this plugin really rocks.
Comments are closed.