DownThemAll: Download Manager for Firefox
It has been a long time since I wrote about a Firefox extension, so here we go again. This week I was downloading many Linux distributions to test them out, but I was having problems with the downloads because my Internet connection was very unstable.
In order to solve the problem I started researching for a download manager. I was thinking about a desktop application initially, but then I came across DownThemAll!, a Firefox extension that does pretty much all you need for downloads.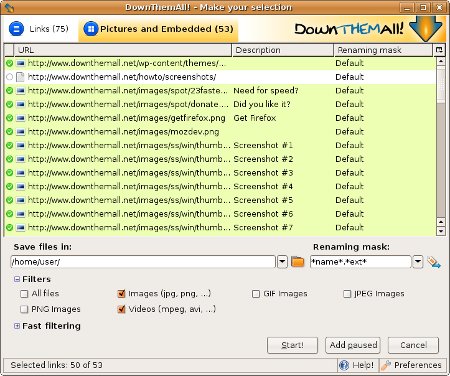 The feature that I was looking for was the "pause/resume download" one, but after exploring the extension I realized that it can do much more than that. For example, you can use it to download links, images and objects from web pages, create special filters to download only some files and rename them on the fly. Highly recommended.
Browse all articles on the Software category
12 Responses to "DownThemAll: Download Manager for Firefox"
Bill

love dTa – use it on my own developments, and use images from everywhere and then use it to down-them-all into one folder then i uplod folder and voila – completed… saves me from (in development) having to move files constantly – when the design changes so much… so i wait till the end… BUT!!!

i use css almost exclusively now… is there ANY WAY it can retrieve the background images from my css styling's with background-image: url(blahblah.png); ?????

this would be even a MORE huge time save.

Wordpreneur

I've been using dTa for a while now. What took you so long to find it? 🙂

Yes, absiolutely wonderful tool. Although I never really timed it (I usually let dTa do its thing in the background), I believe Ankur's right… it does seem to really zoom through those downloads!

Good post.
ees

Luis Lopez

I love this extension is really useful and since some months i've been using it and I like its speed.
Thanks for the recommendation

Tom Bradshaw

This looks really useful, thanks for the tip!

Ankur Jain

I have been using this for a long time now. Other than the features you mentioned, one thing that is worth a mention is its lightening download speed.

Just test its speed of download vis-a-vis the normal download and you will understand what I mean.

Christina Crowe

Wow, sounds pretty neat. During the summer when I'm not off at college but instead here at home, my internet connection can get very unstable, even though I use varizon wireless.

I've always loved Firefox and can't imagine myself using another browser. I'm going to try this extension out. Thanks for the tiips!

excITingIP.com

Nice. Recently, I had to download a 46 MB update on Ubuntu!! and the power went off halfway. I already use Scribefire for writing my blog, and this should be useful too, I guess. Thanks for sharing.

excITingIP.com

Daniel Scocco

@Liane, on Google.

Nicholas Z. Cardot

I've been using this extension for a while also. Great tool!

GoBusiness101

This is a very nice feature!

Liane YoungBlogger

Wow. Neat daniel! How on earth did you find this?

Zemalf

I've using dTa for quite some time already. Just the possibility that you can close my firefox and downloads still continue is worth the download and installing this addon. And if something goes wrong on that big download, just continue/re-start. Good stuff!
Comments are closed.