Down on Blogging? How to Beat the Blogging Blues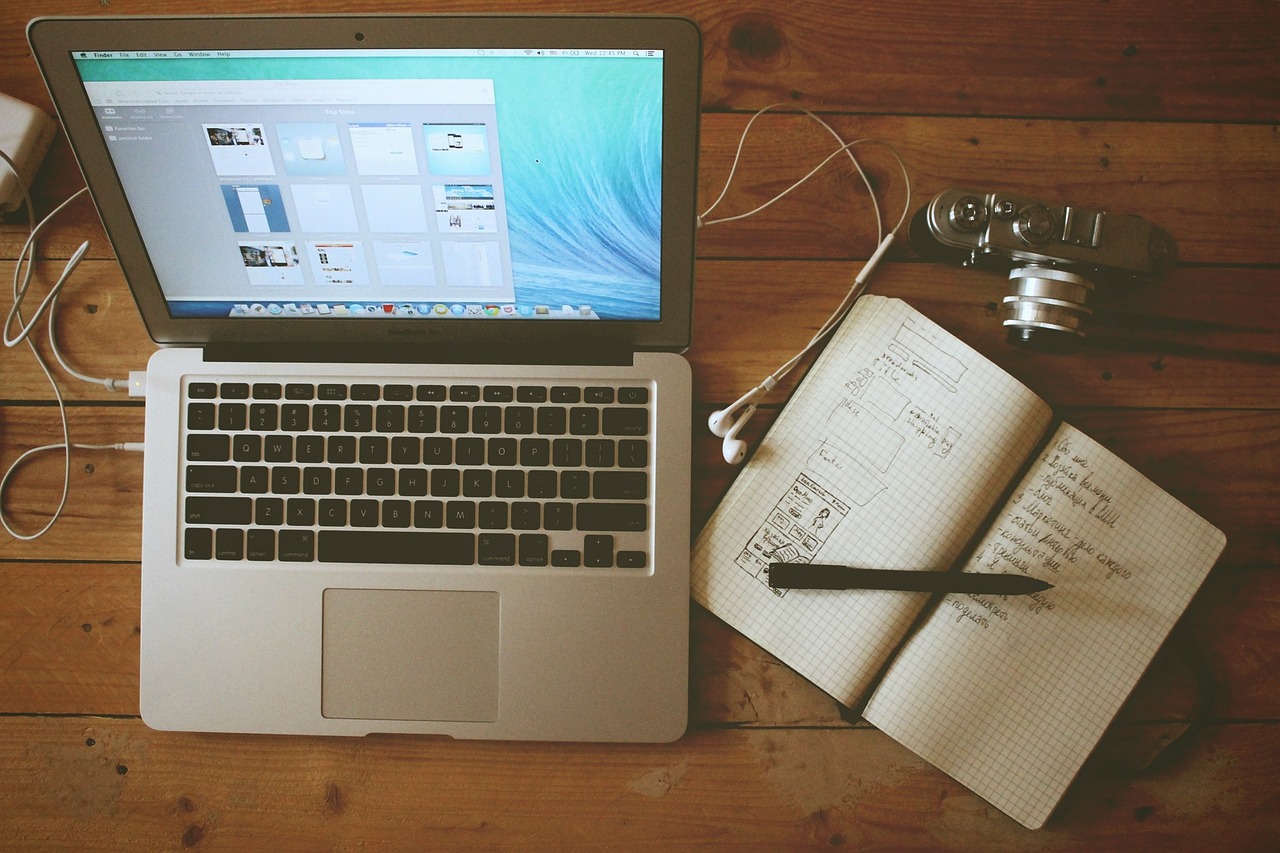 "I am tired of blogging," a friend told me.
As I resisted the urge to play him the world's tiniest violin, I asked him why he was tired.
"I am out of ideas," he told me.
"Blog about that," I told him. "Write about how you are out of ideas."
"You're messing with me aren't you," my friend asked me.
"Always," I told him. "But I'm also serious."
I like to tease my friend, but the reality is we've all been where he is at some point in our blogging lives. It can often feel as though you've said everything you can possibly say, and tried every trick you can possibly try.
This is why bloggers give up. They throw in the towel. They come down with what I call "the blogging blues" and assume there is no remedy.
Well, I'm no doctor, but I do know a thing or two about the blogging blues.
If you're tired of blogging, try the following four techniques. At the end of the post in my bio section, I'll show you where you can get four more.
Ready? Let's go.
1. Read your old blog posts
If you've been blogging for any length of time, you have quite the collection of posts in your archives. And, if you're like me, you've forgotten some of the things you wrote.
Read through them.
In addition to potentially giving you new ideas (maybe you will find a post you can update, or a bullet point you could flesh out into a post of its very own), reading your old posts will reconnect you to the days when you weren't down on blogging.
You'll see the joy you once poured into your writing, and you may just get to experience this joy all over again.
2. Focus on the blogs of others and leave comments
Sometimes the best way to beat being down on your blog is to shift focus away from your blog and onto the blogs of others.
Forget about writing. Forget about brainstorming new topics. Forget about your blog altogether.
Go visit the blogs you already read and enjoy, or go find new ones. Read their posts. And don't just skim through them. Read them.
After you've read them, leave detailed, insightful, helpful comments.
What's the point?
Well, for starters, you're taking pressure off of yourself. Freed from the burden of conjuring topic ideas for posts, you can relax.
But secondly, you're getting back to the core concept of blogging, which is interacting and engaging with others.
When you concentrate solely on leaving great comments on other blogs, you're no longer thinking about yourself and your own work. You're shining the light onto others.
Plus, you might just think of a few topic ideas during this process.
3. Tweak your blog design
It's been a said a new coat of paint can transform a room. If it's good for your kitchen, why not your blog?
Unless you've already abandoned it, the reality is no one looks at your blog and its design as much as you do.
Mix it up.
Change your color scheme. Play around with a new logo or header. Add that cool gadget to your sidebar you've seen on other blogs.
Changing the way your blog looks could change the way you're currently feeling about your blog. And if what you're feeling is negative, change can only be a good thing.
4. Write something off topic and fun
It's true. Some of the people who blog don't even like blogging. It's a job to them.
But for most of us?
We got into it because we enjoy it! Sure, we want to be successful, and many of us try to make some money from it, but deep down blogging is something we love to do.
However, when writer's block or the blogging blues hits, blogging stops being fun. It becomes work, and boring work at that.
What to do?
Get back to the root of why you love blogging in the first place. Tell a story. It doesn't have to be on topic. In fact, it's best if it's completely off topic.
Need an example?
I once wrote a story about camping. Except it wasn't "me" writing it. It was a bear writing it. A bear who called himself "Bob Human" and who was, you guessed it, pretending to be a human. The bear was trying to trick campers into doing things like smothering themselves in honey so he could eat them.
It was crazy. It was hilarious. And it helped me get through the blogging blues I was experiencing at the time.
Whatever off-topic story you write about, make it fun. You should laugh while writing it.
And no, you don't have to publish it. But do share your humorous masterpiece with family and friends.
Over to you
What tricks have you used to get over the blogging blues? Let me know in a comment below.
Kevin J. Duncan is the Blog Editor for Jon Morrow's Smart Blogger — an online magazine that teaches you how to start a blog, get more readers, and earn a passive income.
Browse all articles on the Blogging Basics category
26 Responses to "Down on Blogging? How to Beat the Blogging Blues"
Kevin Duncan

Hi Steven,

Good to see you here, my friend. Thank you for stopping by and commenting!

Definitely, an "evergreen" post which NEVER needs updating is truly, truly rare. I'm not sure such a thing exists, in fact! So, going back and reading old posts, updating them as necessary, is a great tip even if you aren't tapped for ideas.

Appreciate you coming over, Steven. Hope your weekend is an awesome one!

– Kevin

Kevin Duncan

Hi gen,

I'm glad the post was timely for you! It certainly CAN be overwhelming with so much "blog" information out there. Sometimes, simply taking a break (by reading personal blogs, going for a walk, etc) is the best thing.

Appreciate you taking the time to comment, gen.

– Kevin

Kevin Duncan

Hi Catherine,

Thanks for coming over to DBT and commenting! It's good to see you here.

I'm glad you enjoyed it. The "design" tip is one of my favorites, too. (Maybe because web development is what I do. It's difficult for me NOT to want to be constantly tweaking the design of my blog.) 🙂

Thanks for stopping by, Catherine!

– Kevin

Steven J Wilson

Hi Kevin,

Excellent tips and one I think anyone who creates content will benefit from. That is one of our long term challenges for sure.

We never know when our creative juices will decide to take a break. These tips are sure to help get things flowing again.

I think that looking through and even updating your old post is a great strategy. It's pretty hard to write on a topic that is evergreen and will not need a little touching up here and there.

You made a HUGE statement in your last tip. I think more of us need to add more 'fun' to our projects. That is an easy way to take off the pressure for sure.

Thanks for this Kevin!

Kevin Duncan

Hi Richard,

Thanks for coming over and commenting!

Yes, like I mentioned in my comment to Carol above, "taking a break" could have easily been included on my list. (I think I only omitted it because I included it in my writer's block tips in a previous post.)

But you're right. Sometimes, we all need a break. Sadly, for most people this break turns into an indefinite one! Haha. And those are the people I hope I helped with this post.

Great advice, though. Thanks, Richard. Hope you have a great Thursday.

– Kevin

Kevin Duncan

Hi Rizvia,

Thanks! I'm glad you enjoyed the tips and found them useful. That makes me smile.

Have a great Thursday, Rizvia.

– Kevin

Kevin Duncan

Hi Carol,

Good to see you here! Thank you for stopping by and commenting.

I'm so glad you enjoyed the tips I shared. I'm glad you mentioned "take time off from the computer," because that's a tip I easily could have added. Sometimes, just stepping away and going for a walk can make you feel better about things!

Appreciate you visiting, Carol. Hope you have a great rest of your week!

– Kevin

Kevin Duncan

Hi Vincent,

You're speaking to Daniel in your comment, but I'm actually the one who wrote this post. (Hi! Nice to meet you. I'm Kevin.)

I definitely agree blogging should be fun. My idea #4 touches on the idea. My writing something random and, yes, silly, you can bring some FUN back into your blogging!

Thanks for commenting, Vincent. Hope you have a good day.

– Kevin

Kevin Duncan

Hi Sarah,

Thank you! I'm glad you liked it.

Your suggestion is certainly a good one (and one I didn't touch on in either my post or the bonus content I included in my bio at the end) for small business owners. Thanks for including it.

– Kevin

gen

Oh man this was timely for me. well, we do need some time-out for awhile. I do some of the list up there and I found out reading personal blogs keeps me on. Getting overwhelmed by so much information in the net about doing blog.

Thanks for this post again. This was my first comment since I became your reader.

Catherine Holt

It's amazing how stepping away from a blog can really help you move forward with it! It's not all about the posting, but the connection building, and like you say – the design.

Sometimes spending a few hours focusing purely on the design will give you new inspiration to keep going.

Blog commenting is also a great way of helping new ideas come to head, and is definitely a way of beating those blogging blues!

Great ideas shared here Kevin.

Richard

Hi Kevin.

Some really nice tips here. I especially like the going back to your old blog posts idea.

For me, when I am tired of blogging, like your friend, I simply stop.

Just for a couple of days or so, I don't do anything on the blog apart from respond to comments. No tweaking anything, no reading old posts, no creating any new ones.

Last week I took an extended weekend – it started on a Friday evening, and finished on Wednesday. In that time, I did the bare minimum so my online businesses would tick over.

I needed the break. We all do sometimes.

I compare it to running and exercise. Since last year I have increased my exercise regime. But sometimes, I get tired of it. When I get tired of it, or down about it, I stop for a week. Once that week has passed, I feel re-energised and I have a renewed focus.

And it was the same with my extended weekend. Once I was rested, and had taken a break, I felt refreshed and far more positive about things.

Rizvia

All are great tips.Write something unique is a good tip for blogging.Thank you for sharing it.It will be very useful for me.

Kevin Duncan

Hey Renard,

I'm the same way. If I start tweaking my blog's theme, I can't stop for an entire week!

Glad you liked the post! Thanks for commenting.

– Kevin

Kevin Duncan

Hey Ryan,

Good to see you here. Thanks for commenting.

I was looking forward to reading your "blogging funk" post, but I'm very intrigued by the sound of the post you're doing tomorrow instead.

Sounds like this Kevin Duncan guy who inspired your upcoming anecdote-filled post is pretty cool. And I bet he's looking forward to reading it. 🙂

Thanks again for the comment and the Tweet, Ryan. Talk to you again soon.

– Kevin

Renard Moreau

[ Smiles ] Tweaking one's theme is always a good idea; however, in my case, it takes up a lot of my time.

Great pointers!

Ryan Biddulph

Hi Kevin,

Spot on tips. I love #2. My fave from the list although all rock.

Example; I'm putting back 1 blog post idea I had on the shelf for a few days – which I shared with you recently – to write a post about telling short stories, to lead off the post. Yep, I'll be putting the blogging funk post off until Friday, I think.

I read a post which inspired me to write a story/anecdote laden post; some Kevin Duncan guy who's ALWAYS coming up with interesting anecdotes inspired me to do it…..and it'll go live on Wednesday at 8:05 AM, EST. Brilliant post you wrote, and it motivated me to share 5 of my craziest travel experiences, all prefaced by anecdotes, and then, the lessons they teach us bloggers.

The post resonated strongly with me. I wouldn't have thought of this idea, if I didn't read your blog, and if I didn't organize my thoughts through your comments section.

Expose yourself to bloggers and you'll beat the blogging blues quickly. So much inspiration out there, being shared with us by our buddies.

Thanks so much Kevin, great share.

Tweeting in a bit.

Ryan

Kevin Duncan

Hi Andrew,

Good to see you here, my friend. Thanks for stopping by and commenting.

Like you, tips #1 and #2 are my go-to's. Whenever I need inspiration, I look at what I've already written (tip #1) and what others have written (tip #2). Reading your "old" content doesn't help new bloggers, but for those of us who have been blogging for any length of time there are a lot of inspiration possibilities hiding within our archives!

If you ever do hit a low point, do try #4. There's nothing like a fun creative writing exercise to recharge your batteries!

Thanks, Andrew. I'm thankful to Daniel for letting me write for DBT. It was a lot of fun!

You too! Talk to you soon.

– Kevin

Carol Amato

Hi Kevin,

Awesome topic for discussion and so very relevant! Loved your tips here and can really relate to the suggestions you gave.

I've often read old posts and see the holes in them and where I could elaborate or cover the topic in a more complete way, whether it's because things have changed, or simply that my knowledge has increased. Yep, have often crafted a new blog post or video that way. Awesome tip!

I've focused on other blogs to connect, but not really to get idea before, will have to try that one. What I have done is take time off from the computer – completely get away out into nature, and that really inspires me with new content also.

Tweaking a blog design or at least the core elements to spice things up is a great suggestion, and really works. It's similar to tidying up your office and putting something warm and comforting nearby to make it an enjoyable place to be…

I've written some seemingly off topic posts this summer, but they always revert back to a lesson for business with the meaning given. I think you're spot on to recommending changing it up and not being to rigid in structure all the time.

Great post and I will be sharing. 🙂 Hope you have an awesome Tuesday.

– Carol

Andrew M. Warner

Hey Kevin,

Great job here. If I had the blogging blues, the first two suggestions would be what I would be doing. Especially the second one because by reading other people's posts, and leaving great comments, like you said "you're no longer thinking about yourself and your own work. You're shining the light onto others."

Doing that can really help spark some good ideas … especially if you take time to read the other comments that people left. That's a potential goldmine of topics that many people don't know about.

Change is good and I believe that the third tip can really play a difference. The fourth tip I never tried. I might have to just do that as maybe a creative writing exercise or something.

As far as what I do, I really just visit websites and read some of their most popular blog posts, see what they were talking about that made it so popular and hopefully get ideas from it.

Also, I break down my list posts and create an entire topic on one of the things on the list. For instance, if I previously wrote 20 ways to write a blog post, I would then dedicate an entire post to one of those ways in the future and break it down step-by-step or something.

Works for me.

Anyway, great post here and congrats on the guest post here. Looking forward to more in the future.

Have a great week.

– Andrew

Kevin Duncan

Marc,

Good to see you here! Thank you for stopping by and leaving a comment.

Agreed. Of the ones listed here, "read old posts" is the trick I use most often. Even if you don't find new topic ideas you could cover, you usually find a typo or info you can update in the old post! And anything you can do to make your posts more "evergreen" is a good thing.

Thanks again, Marc.

– Kevin

Kevin Duncan

Stefan,

Thanks for commenting! That's an interesting idea. Is that something you've tried? How did it work out for you?

Appreciate your taking the time to comment on my guest post. Thanks, Stefan.

– Kevin

Marc

Kevin,
All of these tips are great advice. I think reading through old posts is great for finding topics that you can cover in more depth or update. I do this from time-to-time and it always produces several ideas for new posts.

Stefan Nilsson

A lot of people take a lot of time and thought to comment on other blogs. If you're running out of content, you could develop your thought and publish the blog comment as a post instead and then reach out to the author on Twitter. He'll probably appreciate it and share your link.

vincent

I wish to add that blogging should be a fun and a duty. When you see it that way you will never run out of ideas. So read and read because the BIBLE said that out of the abundance of the heart the mouth speaks. In other words, when your heart is full you will never run out of ideas but if it is empty nothing will flow.

As Daniel has said in no.2. "Focus on the blogs of others and leave comments" but the point is that your heart must equally be full before you can make quality and meaningful comments.

In addition, visiting and engaging in various forum discussions as well as activities will help spark of many ideas of what to write. Daniel, your friend seems to be a lone Ranger that is why he is feed up blogging because you can't interact with other bloggers without getting ideas of what to write. In other words, one should relate and interact with other bloggers and above all, one need to have a mentor to help and guide in time like this.

Finally, i highly recommend registering with online training program like the one Daniel is running. Myself, i hope to benefit from that program in future.

Sarah Harris

Great post Kevin, I like your advice. I own a blog writing and management service and I deal with a lot of small business owners that get burnt out on managing their blogs and keeping them updated with fresh and engaging content. While I agree with all 5 methods you suggested for beating the blogging blues, there's always the option of outsourcing your blog to professionals such as myself.
Comments are closed.