Dictionary Extensions for Firefox
If you spend a good part of your day reading on the Internet, you probably come across unknown words once in a while. Having a dictionary extension on Firefox can speed up the process of searching the meaning for such words. Below you will find 3 available solutions:
Dict: In order to use it, you need to highlight the word, right click on it and select "Define" from the menu. The meaning of the word will appear on a pop-up window.
DictionarySearch: Similar to the previous extension, but the result appears on a new tab, and it is based on The Free Dictionary.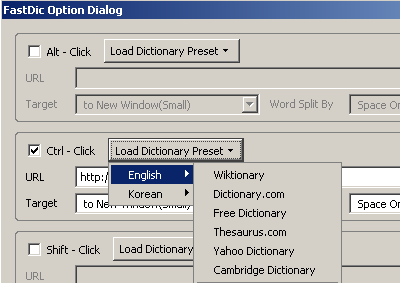 FastDict: The most advanced out of the three. This extension allows you to customize how the dictionary should be accessed (Alt+Click, Ctrl+Click or Shift+Click), what dictionary should be used (Wiktionary, The Free Dictionary, Dictionary.com and so) and how the results should be displayed (new window, new tab, sidebar).
Browse all articles on the Software category
14 Responses to "Dictionary Extensions for Firefox"
ayman

good work

ashwin

10 essential extensions for pro bloggers –

Ameyjah

but i will continue to use my desktop based wordweb dictionary

Daniel

Thanks foXtensor.

foXtensor

Here a complete list of dictionaries, idiomatic and similar extensions (in Spanish):

La Torre de Babel en Firefox: diccionarios y extensiones idiomáticas

Jennifer

Or, if you have a mac with OS 10.4, you have "Look Up In Dictionary" built right in to your contextual menus at the system level, meaning across your entire OS, not just your browser! Mwahaha. (sublimGETAMACinal message)

GoddessCarlie

Thanks for these, I've been wanting a better dictionary plugin but haven't gotten around to finding one.

Ramkarthik

I normally set my own definitions for words according to the sentence which i know is a very bad habit. I'll change it soon. Thanks for the extensions Daniel.

Articler.com – Free Articles Directory

Thanks for share.. I will post in my blog with your link.

Daniel

Luciano, that is pretty much what FastDict does, but you also have the flexibility to choose other engines or dictionaries to be used.

Luciano Passuello

I find the Answers.com Firefox Add-on really great. You can Alt+Click any word and have the definition either as a pop-up or as a page loading on a new tab.

engtech @ internet duct tape

I use the Google Toolbar to look up definitions.

"define: blah"

OneYearGoal.com – $100,000 online

Thanks for the heads up

mercury

Cool. For offline work I like using Word web dictionary. Select the word and hit ctrl+alt+w or in the quick launch tool bar of windows.
Comments are closed.