DBT is research-focused. When you buy through links on our site, we may earn an affiliate commission. Learn more
A ClickFunnels review wouldn't be complete without revealing the good, the bad, and the ugly:
Are you a marketer or entrepreneur who feels frustrated by losing possible sales leads?
Do you wish you could have beautiful sales websites but don't understand HTML and CSS?
We all know how crucial engaging landing pages can be for holding onto potential customers.
Still, it can be challenging to build effective tools without an experienced web developer on your team.
With an effective sales funnel, also known as a conversion funnel or purchase funnel, prospective customers turn into continued sales by progressing through four major stages: awareness, interest, desire, and action.
Sales funnels are nothing new—in fact, the earliest explanation of this model was in 1898.
But over a century later, the tools needed to accomplish this process in the digital age have become complicated and overwhelming.
ClickFunnels is a sales funnel builder that simplifies the conversion process into a beautiful website without requiring a single line of code.
In this ClickFunnels review, we'll take a look at what ClickFunnels is offering, who is using it, and whether or not it may be the right choice for you.
What is ClickFunnels?
ClickFunnels helps entrepreneurs build sales funnels quickly, efficiently, and effectively.
Instead of wasting time struggling to create every little piece of a funnel, marketers can construct the entire thing in one integrated platform.
Since it is fully customizable, ClickFunnels can work well for many business goals, including lead generation, sales, and even running an online event.
With easy-to-use templates, you can make a funnel in as little as 10 minutes, or spend time editing every piece to make it perfect for you.
Does this sound too good to be true? Keep reading this ClickFunnels review to learn more about the product, including how much it costs.
ClickFunnels Features
ClickFunnels offers many convenient tools to help entrepreneurs market, sell, and deliver their products.
One-Stop-Shop for Sales Funnels
ClickFunnels combines many different parts of the sales funnel into one service, so you don't have to build every piece on your own.
Drag and Drop Editor
If you can point and click, you can build with ClickFunnels—no knowledge of web development required.
Smart Shopping Cart
Potential customers can check out right inside your ClickFunnel. You can also build in upsells to earn even more per paying customer.
Follow-Up Funnels
The best funnels don't finish when the sale is over. Follow-up funnels help you retarget and reconnect with your customers.
ClickFunnels Pricing
ClickFunnels starts with a completely free 14-day trial so that customers can test the system without having to spend anything.
After that, the company offers three main plans:
Who Should Use ClickFunnels?
ClickFunnels is a good fit for a variety of entrepreneurs who are mystified by design and code and don't have a developer team to help them.
Customers including freelancers, e-commerce businesses, small businesses, non-profits, B2B businesses, and bloggers rely on ClickFunnels to build their sales funnels.
FAQ's
Check out some commonly asked questions about ClickFunnels.
We know it's hard to sift through the scams to find trustworthy tools, but ClickFunnels is a safe and secure service that does not require any long-term commitment.
You can cancel anytime! And with a 14-day free trial, there is no risk of giving ClickFunnels a test drive.
No hefty software installation or constant updates necessary. You can access all of ClickFunnels' tools within your web browser of choice.
Yes and no. You can't access the funnels you build without an active ClickFunnels account. You can export some of your data or create a backup if you decide to go back to ClickFunnels.
Final Verdict
In this ClickFunnels review, we covered what ClickFunnels can do, who it is built for, and some of its main benefits and drawbacks.
You also now know how the different pricing plans stack up, and you may have an idea of which one could fit best for you.
Even with all of this information, just reading a ClickFunnels review can't compare to actually using the service. You don't just have to take our word for it!
Today, you can start your 14-day free trial to see all of these key features (including the drag-and-drop builder, shopping cart, and customization tools) in action and make the decision for yourself.
Your entire marketing and sales team in one tool. Create your website and highly converting sales funnels in minutes.
---
ClickFunnels vs. Alternatives
---
There are no reviews yet. Be the first one to write one.
ClickFunnels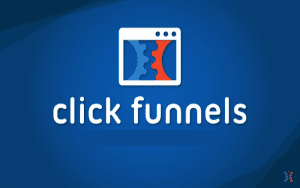 ClickFunnels offers a simple platform to build entire sales funnels without any technological know-how.
Product Brand: ClickFunnels
Product In-Stock: InStock