Careful When Asking for Stumbles!
This is a guest post by maxyRO.
Just a month or two ago, StumbleUpon has started doing some spring cleaning by banning accounts that discovered spam websites and submitted them to the system. If you skipped that part of the Terms & Conditions, know that StumbleUpon forbids the use of one's account for incentivization or promotion of websites. Inviting users to vote for one website or exchanging stumbles is also strictly frowned upon.
The crusade against spammers is not over. Up until now, the only website banned from the StumbleUpon system was Digital Point, a forum previously infamous for the exchange of stumble or diggs (they now forbid it). StumbleUpon goes further this time, by banning websites with certain voting patterns. In brief, the website received votes from the same group over and over again. One example is Zedomax (you can try to stumble it).
Here is the dreaded message you receive if a websites has been banned by StumbleUpon: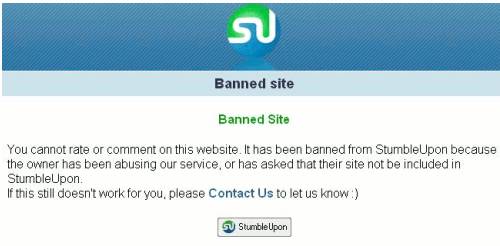 But what does lead to this extreme measure? If you have used your account so far for promoting your website, both your account and your website might be already flagged. If you've been trying to fake a system that delivers impressive results, it's time to get clean and start using it properly.
Actively contribute to the StumbleUpon community! Take at least 30 minutes to build up your profile. Try to discover interesting articles, which can turn popular on their own.
It's a social website, so start socializing! Make friends, review their profiles, and communicate. Find people that share common interests, befriend them or simply say hi. It will pay off in the long run.
Prove some altruism — be less about yourself and more about the community. Don't submit your own articles; focus on the quality and less on the traffic. If you have a good piece, people will be naturally inclined to stumble it.
Note from Daniel: I believe we can summary this on the following way: do not try to game the system. StumbleUpon has an inbuilt feature that lets you send content to your contacts (the "Send to"), so I am pretty sure they are fine with friends sharing stories with friends. But only get the help of friends to get the ball rolling and not to artificially pump your stories; other StumbleUpon users will gladly promote your content if its worth it.
The author, maxyRO is a social media enthusiast, and active on most social bookmarking sites. You can read more articles from him on his blog maxyRO.com.
Browse all articles on the Social Media category
36 Responses to "Careful When Asking for Stumbles!"
medyum

Dude, I wasn't criticizing, just pointing out that we are human. And if we write or find something cool, we want to share it.

I prefer flesh and blood to concrete angels, as they say.

Medyum

SEO Genius

Very interesting, i was wondering why DP took away the review exchanges that you could do

Austin

Stumbleupon traffic does not deliver you ad clicks is the problem…

Xander

I started blogging for my last company and submitted every post I wrote to StumbleUpon for the first three months. I stopped doing it not for fear of being banned, but simply because the traffic decreased drastically after six or so submissions.

I've built up a pretty decent SU account (I really love it) and have since moved companies, blogs, and IP addresses. I submitted my first post for my new company to SU and got a ton of traffic. Too bad it won't be that easy soon 🙁

teddyhcraig

I always give a thumbs down to sites that have offensive content, which I have no desire to see, that do show up on occasion. I guess the people running them simply fail to see they are their own worst enemies when they fail to disclose their sites have adult material!

Alfred Saforo

This is what I have observed about Stumbleupon.

A stumble from the same person/IP address, for the same website over and over , will trigger a flag and traffic to this site will reduce significantly up to 90% with time.

Stumble exchanges are increasingly ineffective over time, unless the exchanges are one sided and one party is not getting any back in return.

One or two isolated stumbles by two or three isolated unused/unpopular stumble accounts will result in little or no traffic.

To become popular, a web page once stumbled should receive several Stumbles from well known or good Stumblers within a short space of time . Normally less than 24 hours.

Placing your web page/ site in the wrong category using keywords will get you the wrong sort of traffic and will eventually kill of your traffic as multiple users begin to thumb you down.

But i still love it!

Vineetgupta

Quick question – How are you expected to get your website noticed if you don't add it to sites like Digg and StumbleUpon? After all, authors don't have editors coming to them asking for submissions – Its the authors who have to send submissions to editors.

Treat me as a total newbie. I wonder if someone can clue me into how the "system" is supposed to work?

Dee

Isn't part of having a website, self promotion? WTF? I can see not sending SPAM and insipid aggresive promoting, but damn…you should be able to show off a bit.

Bas

You know if you first send an undiscovered article to a friend and then do a thumbs up, you will not be listed as the person who discovered it? This bug could be exploited by people wanting to stumble their own pages. SU should look at it.

Rakshit

This is really very important post for most of us. I knew this before but not about the blogs and websites getting banned. So, its time we start taking it seriously.

Thanks for sharing. Stumbled!!!

😀

Adam

Ha- zedomax recently posted an article on their site about how Stumbleupon is leeching off of your posts. Guess someone is a bit sore, eh?

caTcode

i believe that someday to submit an article become more difficult and difficult. there is some rules we have to pass to submit an article..
its disaster for an ordinary people like me..

Bagrep

I don't Stumble Upon even though I have an account. When I first registered, I thought it would be fun but after a while, I realised that nothing is special about Stumble Upon. Maybe it's just me.

Keith L. Dick

I have to admit I was one of those at DP that was just having fun stumbling others sites then having them stumble mine (one of my sites pages). Some days it was maybe 2 to 5 times and at the time we did not think it was going to be a problem because we were not doing something like trying to cheat Adsense asking for clicks or something like that, we were just getting a kick out of getting a bunch of traffic from the stumbles.

When I first joined SU I stumbled a lot of my bookmarks because they were cool video game sites, tech sites, news sites, science sites, scifi sites, etc. and unusual sites all the stuff I was interested in. Then I started joining in on the Stumble Parade with other DP members plus I still stumbled some of the cooler sites I ran across and tried most of the times to leave a good description (review) of the site if I thought it was really good.

I hadn't stumbled in a few months and I then got a email from Stumbleupon saying my account is under review and I can no longer sign in.

So I'd have to say, Stumbling your own sites pages and getting others to do the same is a very bad idea.

exfatguy

Stumble and Digg are indeed one of the famous Social Bookmarking. I just don't get it, why do some people take advantages to this sites. Even if they do stumble so much for a site would it make a different to their traffics?

jon

Good! Please don't let SU turn into the popularity contest like so many other web 2.0 apps/sites.

/gives glare to digg.com

Ajith Edassery

Thanks for the info… StumbleUpon is the third biggest traffic source for me – even better than digg.

Any idea whether stumbling own posts will attract the ban?

Ajith

oraxor

we come here to enjoy stumbleupon , we do not want advertisment in it!

Social Bookmarking Expert

Good for SU to start sifting through the rubbish. For those that are offering quality and not gaming the system, this is not such bad news 🙂 Great post, btw.

Maria Reyes-McDavis

DJ @ Fermentarium

Actually this would be a good thing. If you cannot spam the system, there will be fewer articles in the system. The number of people shouldn't go down, so stumbled articles should be seen by more people.

Oliver Taco

Dude, I wasn't criticizing, just pointing out that we are human. And if we write or find something cool, we want to share it.

I prefer flesh and blood to concrete angels, as they say.

-OT

Tamar Weinberg

"(though the community do not like this behavior)."

Not necessarily. But doing it TOO much is where the problem is.

I have a friend who was banned from SU because all he was doing was promoting his own site. As you said, Daniel, you do the math. If he's not adding any value, it's understandable that his account had been flagged.

The best case scenario is to ask other people to submit your content for you (rather, let them be the judge of whether the content is Stumbleworthy).

Muscle Post

Yea I'd say it is best to just not try and get around this one. You certainly don't want to be banned from a site with as much traffic generating potential as StumbleUpon.

Rubab

Very useful tips.. i was initially blocked to submit articles from my own site, then i realized i was submitting too much.. but i then filtered all my Stumble Blog and now i am able to post, though i dont post anything from my site

Sumesh

I've personally refrained from stumbling a post of my own before anyone else does so. The aim is to get natural votes before I stumble it. Of course, if the post is not worthy of a stumble, I don't stumble it either.

The first thing that I did was to connect with my friends and stumble a few useful posts from my feed reader. Just contributing to the community 😉

Daniel Scocco

@badstumbler, I don't think submitting your articles will get you banned (though the community do not like this behavior).

What should happen is that your own votes will no longer count for your own websites.

badstumbler?

so submitting your own articles is a bad thing? I actively stumble and participate, I'm not just using SU for my own website, but i have never seen anything wrong with submitting my articles. in the end the SU community decides wether or not the article is worthy.

should i stop submitting my articles to avoid getting my site banned?

maxyRO

A smart stumbler is the one that identifies good content and tries to get it out in the spotlight.
Personally, I would stay away from that toolbar function, since I don't see much good coming from it.

Daniel Scocco

@Oliver Taco, StumbleUpon has a feature which lets you tell your friends about your stories or the stories you like.

If they didn't want people to share stories with their friends they would not have this in built feature, right?

As for self promotion, well I guess I stumbled my own stories 10 times if so, and I thumbed other interesting stories from around the web over 1500 times. You make the math.

Oliver Taco

It's good that the stumble guys are cleaning out the crows and wasps and other ugly bits, but they won't catch the smart people using the system for self promotion.

-OT
Comments are closed.