Building a Community Around Your Blog
If readers have a personal attachment to you and other readers of your blog they'll be more likely to return again and again (or read your feed), talk about you in glowing terms elsewhere, and help you when you need it. Unfortunately, the only sense of community on most blogs is created in the comments section, and even then it's severely limited. Readers are encouraged to discuss only the topic at hand, not talk and interact for the sake of it.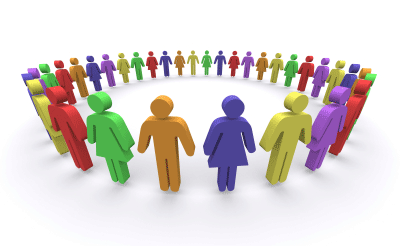 In this post, I want to suggest seven ways to step outside the comments section as we've known it and start building a community around your blog.
What are the benefits?
your blog will feel different to other blogs
interactivity engages readers and creates a positive impression
interactivity grabs attention — encouraging links, comments, and so on
a sense of community creates loyal readers
readers who like you will help you out in various ways
Where do I start?
These are some ideas you can experiment with. Feel free to add your own in the comments section or ask for more information on any ideas that pique your interest.
1. Pick experts
Segment your blog into its main topics and pick a reader to become the designated 'expert' on each topic. The expert agrees to answer reader questions on their topic via email and, in return, gets a link back to their site on the 'experts' page. This allows loyal readers to effectively become part of the blog while alleviating some of your work load. It also provides a means for new visitors to get their questions answered.
2. Group chats
You could set aside one hour a week for web chats on your blog's IRC channel (after you make one, of course!). Let your visitors know what time you'll be available for chatting and make sure to explain your timezone so international readers can determine when they need to show up. This could be a great way for your readers to get to know you and each other.
3. Elevate commenters to bloggers
After all, The Huffington Post is doing it. You could select the month's best commenter (chosen either by yourself or by the community) and allow them a guest-posting spot on your blog. Readers may aspire to winning the guest-post spot and make a greater effort to comment regularly and intelligently.
4. Put your heads together
Your readers can be an incredible source of knowledge. Write a post with them collaboratively by asking them for tips on a certain topic. Allow them to submit their short tips via the comments section. Publish the tips as a list post, adding in your own points. This allows readers to have a role in creating the content they usually passively consume. Group projects can also result in projects with a depth that would have been difficult for a time-strapped blogger.
5. Add a forum to your blog
You can either host a forum or use one of the many free forum services available online. If your forum grows to be quite popular it can become a defining community and meeting place within your niche. Even if it's only small it can provide you with an opportunity to get to know your readers. Remember, though, that your forum is a reflection on your blog. If you make it, take care of it.
6. Stop speaking and listen
Every so often take the time to ask questions rather than provide answers. Ask your readers what they like about your blog, and what they don't like so much. Ask them what they would like you to write about, and what their favorite posts were. Most importantly, take action as a result of the answers you get. You certainly don't have to radically change the focus of your blog, but do show that you have taken the answers on board. You might do this by writing about some of the suggested topics, or by not writing about some of the things readers expressed disinterest in.
7. Let comments be the content
You could create a weekly post in which you and your readers are encouraged to chat about anything and everything in the comments section, or perhaps provide a broad topic. The post would contain no content other than stating that the comments are open for discussion. Readers could use the post as an opportunity to ask questions and to get to know you and each other. The Guardian Gamesblog seems to make one of these Chatterbox posts each day and they've proven incredibly popular (often reaching 400 comments).
Over to you
What do you do to build a sense of community around your blog?
Do you have any additional ideas about how this could be done?
Browse all articles on the Blogosphere category
20 Responses to "Building a Community Around Your Blog"
Ted Apostoleris

I'm not sure how many bloggers go to a blog and check back. It is a challenge to actually grow a community around your blog. You have to offer something to your guests. That is hard to do, when most commenters are merely looking for a back-link.

Case Ernsting

These are all great ideas, but like Bruski said, I think they are more suited for the big blogs. I understand your response and think you can leverage 1 strategy at a time.

I blog for MetaSpring.com and we have a respectable, impassioned following. Therefore, I might go after a live chat once a month or something. Does that make sense?…sort of a build towards the bigger goals.

George

Great and am struck by one line stop speaking and listen, when writing most of the time we overlook our readers desires and comments
Thanks

SEO Genius

Great tips this is an issue i have had for sometime now, i do not have a comments section and i am currently in the developing stages of one so that readers can feel more a part of the website rather than passers by, i want to be able to educate and learn from my readers and not feel like i am using them for income or success.

Master

Thanks for giving such useful tips to novice bloggers like me!

Graines de cannabis

Les graines de cannabis vendues par High Supplies – Cannabis Seeds Shop sont toujours fraîches et n'ont pas été achetées en vrac. Nous vérifions chaque graine de cannabis avant d'envoyer les graines à  nos clients.

Raymond Chua

Thanks for the tip #6.

That's exactly what I should do. 🙂

Brian Auer

— sorry, last comment posted unexpectedly.

I think there's a lot of good information in this article. Take a look at Darren Rowse's blogs (digital Photography School, for example). He has a forum, he's had several of us commenters guest blog for him, and he often poses open-ended questions that spark much conversation. So I'm guessing that most of these ideas are worth a shot at growing a community.

Brian Auer

I think there's a lot o

Brown Baron

Good solid tips. Building a community around my blog is my main goal so this is a great read for me. Thanks Daniel.

60 in 3

I've often posted up articles that were made up of reader's tips. Sometimes I get these tips from the comments sections and other times people will email them directly, but I've always found them to be very useful and great resource.

Gal

happiegrrrl

My blog is about my personal life as a rock climber, and it started as an avenue to keep others apprised of what I've been doing. As weird as that sounds, whenever I went on a trip, I'd get emails from people I had met saying "Don't forget a TR(trip report)!" or Send me (personally) a TR!" I am very active in the online climbing community, and it passes over to life on the 3rd Rock, because I've met so many people through the online stuff.

Adding a forum forum is a good idea for me…. I actually already HAVE a forum going(it's on life support….). THAT forum was created to help drive traffic to my cafepress t-shirt shop.

I've been knowing I needed to integrate the t-shirt shop more into the blog, but hadn't thought about the forum, so this suggestion is a great one for me. My readership is very small, though growing steadily….. If anyone wants to use my situation as a guinea pig or an example of how they MIGHT be able to integrate tactics for themselves(by looking at mine and seeing where I've missed opportunities!)…..I'd LOVE the input and also be glad to see my stuff being useful to others. I've put up a cursory post about the discussion forum on my blog as a starter, so if you want to take a gander…I'd appreciate it.

Eber

I have been doing exactly this on my blog about cars. Creating a community around it. I want people to stick around, and get used to visit me every day. Thanks.

Daniel

Christine, that is a nice example. Looks like a pretty active forum as well.

Horny Ang Moh

Hallo! Tq for all the information & advice. Now I know what a 'community' is for! But I blog on anythings & everything but it seem when I blog on 'horny' subject it attract more reader! BTW tq for dropping at my site! Have a nice day!

Christine Miserandino

When I started the message boards and chat room on my site/ blog I noticed a HUGE increase in readership, then on top of that– some of our top posters to the message boards- became writers/ bloggers on the site. Now one feeds the other.

Skellie

@ bruski: I think every point except 5 would work fine even if your readership is relatively small. I agree that forums are something you might implement later on but I think the other steps would work quite well on any blog with a few loyal readers.

bruski

I think that this is all good advice, but it only seems viable if you have a very popular blog to begin with and an already strong readership.

Daniel

There is an ongoing discussion on that topic.

For one thing you sure need to have a popular blog before considering integrating a forum into it.

That said many blogs did it successfully. The reason is become a percentage of the readers are really active and would like to keep interacting with fellow readers.

If you have 10,000 readers, even if just 10% would hang around in the forums that is already a very active forum under most standards.

Even smaller blogs have somewhat successful forums.

But yeah I agree this step needs to be considered carefully in order to avoid dilluting the focus of the site (that is also why I have been reluctant to add a forum here).

Iantrepreneur

creating a forum for a blog – that would hard wouldnt it? if you have X amount of traffic what would be the percentage to join when your comment section acts as a form of discussion?

forum for a blog I think may be hard just because the fact of creating a grown community into another…
Comments are closed.