Book Review: The New Community Rules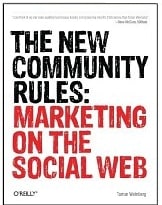 Today I will kick start a new column: the book review. These days I am reading around two books per month, and most of them are related to marketing, social media and the Internet, so I figured that you guys could like to read reviews about them. I will use Amazon affiliate links on the posts, but all the money earned will be re-invested in new books. I will also try to be as transparent as possible on the reviews, using four elements to evaluate each book.
The first book that I want to talk about is titled The New Community Rules. I got it around four weeks ago, and I finished reading it this weekend. The author is Tamar Weinberg, one of the persons who better understands social media marketing (in fact I invited her to be the social media mentor on my Online Profits training program).
1. The book: The New Community Rules has 332 pages. The design and typography are very clean, which makes it easy to read. Since it talks extensively about websites and online tools it also comes with many screenshots and illustrations.
2. The content: Social media is much broader than MySpace or Facebook, and Tamar is well aware of that. Throughout the book she coves pretty much all aspects of marketing on the social web. Here are the chapters that you will find inside:
Introduction to Social Media Marketing
Goal Setting in a Social Environment
Networking and Implementing Strategy
Participation is Marketing: Getting into the Game
Using Blogs to Communicate, Influence and Learn from your Constituents
Microblogging Magic: How Twitter Can Transform Your Business
Getting Social: Facebook, MySpace, LinkedIn and Other Social Networks
Informing Your Public: The Informational Social Networks
Leaving Your Mark: How to Rock the Social Bookmarking Space
Social News Brings You Pageviews
New Media Tactics: Photography, Video and Podcasting
Sealing the Deal: Putting it All Together
Tamar assumes that you have no prior knowledge on each topic, so even beginners should be able to follow and understand the information presented.
On each chapter you will also find real examples that illustrate the concepts and give you ideas to implement on your own projects.
3. What I liked: I liked the structure of the book. Since social media is such a broad and new term, it is important to have rigor when talking about its different facets, and Tamar did that well. For example, she makes a separation between social bookmarking and social news sites. The differences are small, but they can be important if you are trying to promote your business using those channels.
I also quite liked the fact that Tamar mentioned me and Daily Blog Tips under the blogging chapter (page 116). That is a surefire way to grab my attention!
Finally, there are plenty of footnotes and references that you can use to expand on each topic.
4. Who would benefit from this book: People who want to learn more about the Internet, understand all the facets of social media and use social media marketing to promote a product or business. I would also recommend it to people who are just getting started with their blogs or websites, as social media marketing can be very useful to promote it.
Browse all articles on the General category
12 Responses to "Book Review: The New Community Rules"
Robomaster

Great idea on starting to write book reviews, it could add a bunch of new topics for you to talk about and is really expanding your horizons! I think you're missing once crucial thing in your reviews, however:

What you DIDN'T like in the book. You don't have to state it that strongly, but it doesn't benefit the readers or the author if you don't give whatever critique came to mind while reading the book.

And if the author refuses to make a deal with you because you aren't giving them a 100% positive review, tough luck to them. Very few people can write an absolutely perfect book: a good author should take the advice and become a better writer through it.

Also, telling what you didn't like in the book adds a huge degree of depth to your review; it shows that you aren't afraid to state your real opinion.

Of course, if you didn't notice anything wrong, then say that! Hope the advice is helpful! Keep up the good work, Daniel!

Chris

Thanks for this review. I'm going to put it on my "I want" list. nice layout for the review btw.

Chester

This review is helpful. I might consider buying the book. Been always interested in marketing online.

Tamar Weinberg

Blake, I'm not sure I'd advocate following everyone who follows you. Try to see if they are interested in what you say first. Try to see if you're interested in what they say too. The issue here is quality, not quantity. Having 5000 followers is great, but are they actually interested? If not, how are you gaining from it?

The great thing about Twitter is that it's an opt-in relationship. The book I wrote talks about social media marketing, and I talk about understanding the communities you pitch to. If you want to succeed as a social media marketer, you don't spam. If you're on the receiving end and feel spammed, the greatest asset you have is the ability to ignore those people. They won't get anywhere.

If you understand your community, however, your marketing goals can go so much farther.

LetUpdate

It is interesting to find out how blog can get benefit from social media. And this book seems have the answer.

Syed Akram

Thanks for the reviews. I love people who can help people understand about product before they decide to buy it.

Uncle Sam

I started to search amazon for books by authors before I purchased their $1000 courses online. Some of the site developers have books for $20. Quite a savings to see if you really feel the author has good material.

zauberer berlin

thanks for the review. day´s are defently to short, i just started to read your "make money blogging" and so i´m looking forward what kind of books you present here. the thing about my site is – it´s only in german and for a small special group of people, but if i see your readers hereits everytime motivation to go on. if i order the book i use youre affiliate link that´s the circle of life …

thanks for the great tips here 🙂

Blake @ Props Blog

There do seem to be an absolute ton of spammers on twitter especially. I always follow people that ad me (except the obvious spam), but if I notice someone does nothing but spam links to their affiliates, I just unfollow them. Make Use Of had an awesome article about how to optimize who you follow back using a variety of tools. Good read.

I really like the idea of book reviews. I was actually considering doing something similar, but I honestly don't have the experience to verify if the content is accurate or not. I am really excited to read what you have to say and hear your recommendations.

Blake

Jason Yormark

Thanks for the review Daniel. Agree with your assessment, I felt the book had more of a "reference tool" read then a typical start to finish piece. It's definitely more geared for beginners as well, but did stumble across a few nuggets that were helpful especially in the section on Twitter.

Daniel Scocco

@Brent, she does talk about managing your friends and relationships on different social media sites, though not specifically about how to avoid spammers.

If you are referring to Twitter followers, though, I don't see how they affect your use of the tool, since you don't need to follow them back or read their updates.

Brent Riggs

Do they address the rampant spamming on Social sites? As a bigger blog, the vast majority of new followers I'm seeing now are nothing but spammers in friends clothing….

Brent Riggs
Comments are closed.