Best Firefox Add-ons: PrintPDF
Sooner or later we all need to save web pages locally. Maybe it's a page with a tutorial for something you'll need to do in the future, maybe it's the sales page that you think has great copywriting and are not sure for how long it will stay online.
Regardless of the reason, saving the page as an HTML file is not an effective solution. That is because you'll need to save both page and the respective files (which usually go in a separate folder), and because when trying to open it again it might be displayed incorrectly on your browser.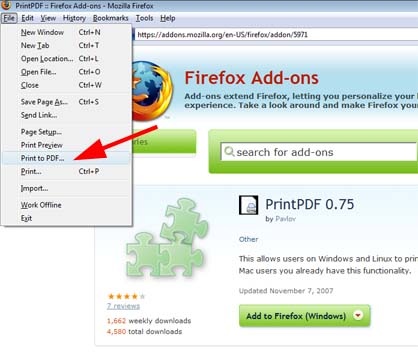 A better solution is to use a Firefox extension called PrintPDF. Once installed you'll be able to save web pages directly into your computer as a PDF file.
It works both on Windows and Linux, and the only missing functionality right now is that links will not be present in the PDF. I believe the developer will be adding this feature soon though.
Finally, yes I know Mac users can do this by default, so no need to brag about it!
Browse all articles on the Software category
8 Responses to "Best Firefox Add-ons: PrintPDF"
AndyD.Org

I really like this and will definitely use it when I need to save the text and comments of a web page. It's helpful for when you want to save a link without bookmarking it (and risk losing it if the site ever goes down). I just wanted to point out that the pages will look like they do when they are printed (as a Print Preview/hard copy), not necessarily what they look like on the screen. This is not a screen grab tool. There's another add-on for that called Screengrab.

Web Marketing Tips

Daniel you picked another useful and valuable pearl from the ocean really appreciate it.

Winning Ideas

This is fantastic add-on. I just installed it and works great.
PDFs are always great way to read content.

Thanks for sharing this Daniel.

Web Marketing Tips

aaahhh I simply love pdf while reading important and useful ebook and all.

hubpk

Nice sharing.You print the webpage and read in the ground or bus stop where you free.its help you.

Larry James

Thanks for sharing this, I will give it a try. I have been using a google chrome extension called pdfdownload, and the links in the pdf work.

zaki alakhdar

I think it is a good idea to save files as PDF, its better than some other sigle webpage files such as webarchives, becuase they also might displayed incorrectly on browser, also there is some virtual PDF printers for all programs not only for firefox.

Alex

You can also use the Safari browser, on either Mac or PC, which will save HTML pages as PDF's with links intact.
Comments are closed.