Best Firefox Add-ons: Firebug
If you do any kind of web design and development, or are planning to get started, then you must install this add-on. It's called Firebug, and it adds a wide range of functionalities to Firefox.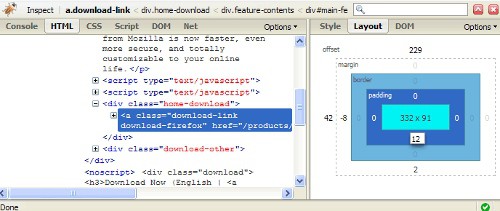 Here is a list of things you'll be able to do with the extension:
Monitor and analyze network performance, to understand what elements might be slowing your website down.
Inspect the HTML code by viewing the source of any page in real time, filtering specific elements and editing them if necessary.
Inspect and edit CSS and Javascript as well.
Test your pages to see if they contain errors, and debug them with the help of Firebug.
Use the Firebug rulers and and boxes to analyze and optimize the layout on your pages.
It's worth a look, so check it out.
Browse all articles on the Software category
15 Responses to "Best Firefox Add-ons: Firebug"
Tony

Adblock!!!

Web Marketing Tips

Yes read about this add ons and many of them compliments about it.

Its worthy and must for every website developer … specially if you are learning new.

Michele @ NewBizBlogger

Firebug is great. I'm biased to Chris Pederick's Web Developer though. It's made specifically for Firefox and Sea Monkey and I love it! Has been a huge help for me with making changes to my site.

Thanks for sharing!

Christina ( @CashCampfire )

I personally LOVE Firebug. My boyfriend had originally showed it to me. It helps a lot (especially for non css savvy peeps like myself) in trying to figure out what's causing random issuues on my blog or what class an element uses.

Of course, I could always ask my boyfriend about a css problem (I'm not completely dim witted when it comes to css; I do know the basics) since he's a programmer, but part of the reason he had me download the plugin was because he was so sick of me bugging him about css questions. I don't blame him! 😉

Anyway, I recommend it to everyone!

Christina

Web Marketing Tips

So seems to me that you pick the right boy … lollzzz

Josh Garcia

Hey Daniel,

I love this plugin!

Michael (MKR)

I use it and YSlow. Pretty much the best thing ever.

AstroFix

Firebug is indispensable.

Abhishek-seekersfind.com

Hi
This is great firebug i use it in designing and adding something in my blog which I found useful on other blog.Firebug is very easy to use make so much work easy for me

Thanks For Sharing
Abhishek

Web Marketing Tips

Yes if you are coder than this will be like another useful assistant to you.

Susanne Myers

Very neat looking plugin. I hadn't come across it before but it sounds like it would be worth a try just for the html code functionality alone. I look at source code all the time to figure out how other bloggers and webmasters are doing certain things and it sounds like this would make it a lot simpler.

Lou Sparx

I'm currently using Google Chrome with built in "Inspect Element" and it's very quick and does the job.

I'm gonna give FireBug a try. These tools are a must for designers/bloggers.

Lou

Michael (MKR)

The thing about Firebug is that other tools plug in to it. I don't know if Chrome's inspector has that.

Alex Dumitru

I don't think it has, though this one's also pretty good. Anyway I still have Firefox just for the FireBug tool 🙂

Web Marketing Tips

@ Lou

We would love to hear your reply once you tried firebug as well and please let us know which one is better …
Comments are closed.