Awesome Tool to Improve Your Website Speed
Recently I started trying to optimize the loading speed of my websites, after the number of people using mobile devices and 3G or similar connections is exploding, and those connections are not the fastest.
One of the best tools I came across for this purpose is called GTMetrix.com. You just need to input your website URL and it will run a very comprehensive speed test.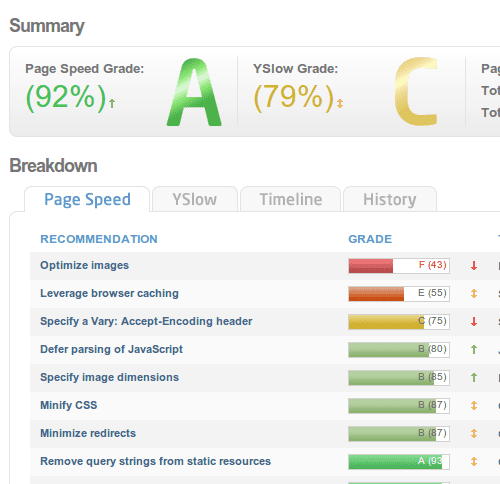 Once the test is complete you'll get a grade and recommendations from both Google's Page Speed and Yahoo's YSlow plugins. Going through both list of recommendations will certainly give you many pointers to start working on.
Check it out!
Browse all articles on the Web Tools category
15 Responses to "Awesome Tool to Improve Your Website Speed"
Jay Wilson

Thanks for sharing this info. I tried GTmetrix.com and yes it gave a comprehensive list after the speed test. Now I need to work on it. Without this I wouldn't have known where the problem lies.
Jay

Alex Residences

You can install a plugin called WP Smush it to compress your images and to delete all meta data for image optimisation if yours is F!

Ray Carter

Thanks for sharing this tool. It is nice pre-launch site tool to help you see where your site stands in terms of optimization and speed.

Julian Watesh

I have never heard of this tool before. I have to try it out today and I hope it works

Jason Miller

Good advice – and definitely something worth looking in to BEFORE your site gets finalized!

Cameo Photography

This makes a lot of sense. We have some very long scrolling pages on our blog with images that could definitely be optimized further – sometimes up to 100 images loading at a time, at 950px in width!
Thanks for the advice

IPL

My Page Speed Grade is D…..

IPL

Thanks, My website is very slow, but i dont know what to do. I think I have a wrong code. I am thinking to solve it.

rehmankhan

For improving the speed of site the website designer most use coding than images and banner. If more the things is in coding than it is light weight. and domestically it improves the loading speed.

Shawn Gossman

Great tool, Daniel! Thanks for sharing it 🙂 It looks like most of my F's come from image problems. I will have to look into that since I pay quite a bit for the dedicated server and all – I would like it to work the best it can possibly work!

mohin

Oh nice post. web site speed tool is more important matters.thank for your creation.

Aura M

Hi Daniel, Thank you for sharing this valuable tool. I knew my page loading speed was an issue, but I did not realize my site was so slow or why, until using this tool!

Apparently I have some work to do. I will be looking to tackle the problem areas GTMetrix reported on my site.

I had been looking for a reliable way to measure page loading speed and this definitely fits the bill. Great find thank you again!

Aura

Balazs Hende

Hi Daniel,

I've checked my site and it gives: Pagespeed – C; Yslow – B. Is it enough? Unfortunately I cannot combine css and js files because the theme doesn't work with combined files.

Thanks for sharing anyway! GTMetrix is new to me.

Balazs

Ryan Biddulph

Hi Daniel,

I was blessed to have a good friend totally revamp my theme, plugins and blog. He did a performance check and sped up my site dramatically.

Beforehand my blog was painfully slow, and it sucked on the mobile side of things. The change was quick.

This tool looks like it rocks. I might take a look in a few to get my metrics because I still have some improving to do.

Thanks for sharing Daniel and have a fun day.

Ryan

Jeremy Myers

I use it too. The YSlow grade is frustrating though, because a few of the things it gives me an "F" on, I actually have implemented on my site. I cannot figure out why it cannot "see" them, namely the Expires headers and the CDN it says I do not use (even though I do).
Comments are closed.