6 Uses for Google AdWords You Had Never Considered
Google AdWords is Google's advertising platform that allows advertisers to display text ads on Google's search results. Advertisers can choose what keywords should trigger their ads, and how much they are willing to pay for each click on their ads. The ads usually appear on top and to the right of normal search results. The image below is one example of an AdWords ad: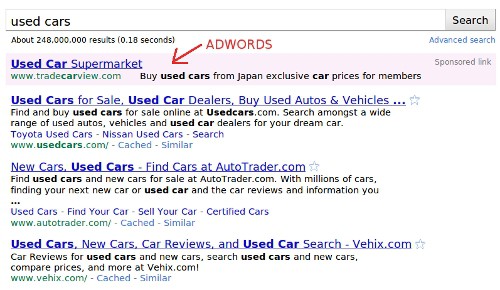 Traditionally the AdWords platform has been used by large advertisers and companies that want to promote their products, services, get more traffic to their websites and so on.
However, even individuals can become AdWords advertisers (creating an account is free, and just requires a valid credit card), and by spending $10 or so you should be able to accomplish some pretty useful things. Below you'll find 6 of them.
1. Sell Your Car
The Internet has completed displaced the newspaper classifieds section. If you want to sell your car today, you should put an ad on Craigslist.com, AutoTrader.com, Cars.com and so on. The problem with this method is that you'll be competing with tens of thousands of people who are also putting ads on these sites to sell their cars.
Can you do something to get an edge? Yes, and that is where Google AdWords comes into play. You can create a couple of ads, and target very specific keywords, so that when people search for them on Google they will click on your ad and end up visiting the page describing your car.
Let's suppose you are trying to sell your Toyota Corolla. The first step would be to put it for sale on Craigslist.com (or on any other website you prefer). Once that is done, you'll go to your AdWords account and create a couple of ads targeting terms like: "used corolla", "buy used corolla", "used corolla los angeles", "corolla lost angeles" and so on. Finally, just make the ads point to your car's page on Craigslist.
You will probably need to bid $2 or more per click to get your ads appearing on Google search results, but it sure will be worth the money, as these visitors will have a good chance of purchasing your car.
2. Sell Your House/Apartment
Just like you can use Google AdWords to sell your car, you can also use it to sell your house/apartment. In fact it will be even more effective here, because the return you'll have is larger, so your advertising budget should be larger too.
The process is the same. You start by creating an ad for your house on some online marketplace (e.g., HouseHunt.com). After that you'll create some ads on Google AdWords, and target keywords that people looking for houses might be using. Examples include "apartment new york", "buy apartment new york", "apartment washington heights ny", "two bedroom apartment nyc" and so on.
Given the value of a house you could also consider creating a website to sell it. This would allow you to customize the visual elements, with more pictures, a larger description and so on. You would then drive traffic to your website using the Google AdWords ads.
3. Land A New Job
Picture this: the manager of the company you want to work for, Mark Smith, is on Google, and he decides to run a search for his name (who doesn't do it these days?). Surprising as it sounds, the very first results says something like this: "Hey Mark Smith, Googling your name is fun, and hiring me will be fun too!".
Upon clicking on that results the manager would be taken to a page with your resume and an explanation of why you want to work for his company, and why he should hire you.
This neat trick would certainly increase your chances of getting hired huh? You can do it with Google AdWords (e.g., by creating ads targeting the name of the manager you want to hire you). In fact this idea is not mine, and one guy already used it successfully. He landed 5 interviews with top advertising agencies in New York, and three of them offered him a position.
4. Get Accepted Into College
The same trick can be used to improve your chances of getting accepted into college. Having a high GPA or high SAT scores is not enough these days, as competition for the prestigious colleges is fierce. Often times the creativity and entrepreneurial spirit of the applicant might make all the different.
You would just need to create some AdWords ads targeting the names of the staff who review the applications of the college you want to attend, pointing them to a website where you explain who you are and why they should accept you.
You could create ads targeting the name of the college too, with a headline like "Do you work at Stanford? Then You Got Know About This Kid!". The more creative the better.
5. Get A Date
If you are into online dating, Google AdWords can certainly boost the number of contacts you'll get. First of all you could use it to drive traffic to your profile page on existing dating sites (e.g., PlentyOfFish.com, Match.com and so on).
Second, you can also create a website to advertise yourself (including your bio, pictures and what not) and them use AdWords to drive traffic there.
As for the keywords, you can target dating related ones (e.g., "singles in nyc"), but also interest related keywords. For instance, you could target the keyword "punk band seattle" with an ad saying "Are you a girl who likes Punk music? You might be my soul mate then!". You get the idea.
6. Prank Friends and Family
As you saw in point 4, the ability to target people's name is Google AdWords opens a wide range of possibilities. Pranking your friends and family members is one of them!
For example, you could create an ad targeting the name of a friend or cousin, with a headline like "Hey Bob Jones, I Know What You Did Last Summer…". The ad would then point to a page where you describe something your friend did in the past, mentioning that you'll be sending it to a local newspaper or something like that.
Just make it clear it is a prank at some point, or your friend might call the police on you!
Over To The Raders: What other clever/innovative uses of Google AdWords have you seen around?
Browse all articles on the Promotion category
23 Responses to "6 Uses for Google AdWords You Had Never Considered"
Web Marketing Tips

So Daniel …

Have you used any this kind of ideas in your real life as well.

Daniel Scocco

Yes, the first one. I used AdWords to help selling my car, and then the other ideas came to me.

Customer Care Rep

Nice idea! We actually need to be creative with the keywords we use and we don't have to stick to business-y terms every time yet we still have to stick to our niche.

Alan @ Work From Home

Hey Daniel,

Those are some eccentric ideas for using Google Adwords. I haven't even thought about using them in these ways. Very interesting!

Do you know anyone that has used Adwords for any of the examples you gave?

Daniel Scocco

I used it for the first idea, and the "finding a job" one actually came from a guy who used it successfully (there is a link there)

Dinesh

You almost covered all.
I got one more idea, what about doing something in social service? like,
Directing to any page or community site to raise funds for ' Pakistan Flood', ' China Earth quake', ' help handicaps' …etc.

Even if we cant donate to them, just spending 10$ per month to direct some donors to them by adwords.

How is this idea?

Daniel Scocco

That would be another good way to use AdWords.

lesley

Very entertaining post with ideas I hadn;t thought of regarding Google adwords. With so many companies providing unlimited domains, it would be so easy to create a single page to sell something and if you kept a general domain for the purpose, I don't suppose it would cost much either.
Fascinating idea.

jason

I love using google adwords. One of the great things about google adwords is that it helps you to find new ideas to blog about before you would have even thought to blog about them yourself.

Josh Garcia

Hey Daniel,

This is awesome! You just gave me an idea…

Chat with you later…
Josh

Christina

Wow, these ideas are fantastic! I would have never thought about getting accepted into college, landing a date and pranking using Google Adwords. Very clever!

Thanks for the entertaining read!

Christina

Chad Kettner

Somehow, I don't think "You Got Know About This Kid!" will get anybody into Stanford 😉

Daniel Scocco

It depends what will be on the other side of the ad 🙂 .

Oliver

One my friend want to release a campaign with local ads for his lost dog. We will see how it will going

Andy

Very cool post, think you can use adwords to ask for Donation you cud be lucky and get some bucks. or to ask a top company manager for appointment or interview.

Onibalusi Bamidele

Wow! This is cool Daniel,

This post is really great and at the same time funny.

Adwords can really be effectively used to sell of some of your properties 😉

tom

Ultra-targeted, low-volume adverts seem like a good way to use up those $75 adwords coupons Google is always sending out. And with Craigslist charging $10 for certain classifides, it makes fiscal sense for low-volume advertisers to look into this. Thanks for the great ideas.

Jens P. Berget

I have thought about using Adwords to surprise my wife. I'm not sure how just yet, but I'll figure out something.

I know what she's using google to search for, I'm just looking for what I want to do with my ad 🙂

farouk

looooooooool @ number 5 & 6 😀

Dev – Technshare.com

Hey Daniel,

Great Post. I never though of using adwords for dating.
These are awesome ideas.

Thanks for sharing this great Post.

~Dev

Rison Simon

Wow. This is like using adwords for anything and everything. Using adwords to get a date is really funny in a sense.

Nabeel | Create Your First Website

Hey,

Great and clever ideas for using Adwords 'out of the box'.

I had some idea of some of them, but not all.

Great share!

Nabeel

Web Marketing Tips

Your head is really a factory of these kind of ideas … would love to hire this factory for 100 years … lollzz
Comments are closed.