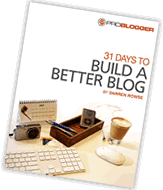 Last time I checked Darren had sold over 15,000 copies of his "31 Days to Build a Better Blog" workbook. All those people can't be wrong, huh? Anyway, to celebrate the 5th anniversary of Problogger Darren is running a promotion for 24 hours where you can get the work book for half the price (or $9.97 instead of $19.95). You just need to proceed to buy the ebook normally and then use the discount code probloggeris5.
If you are not familiar with the ebook, it basically gives you 31 tasks to revitalize your blog. Each task comes with an explanation of the concepts and an action plan. Follow one task per day and by the end of the month I can guarantee your blog will have made good progress.
The discount code is valid until 8pm MST on 24th September, so check it out.