30 Beautiful Blog Designs
The folks from Smashing Magazine are always looking for beautiful designs around the Internet, and this time they published a list with 30 blogs that feature an appealing and unique look.
If you need some inspiration to make your own design more appealing, check them out. Below you will find my favorite three:
Adrian Pintilie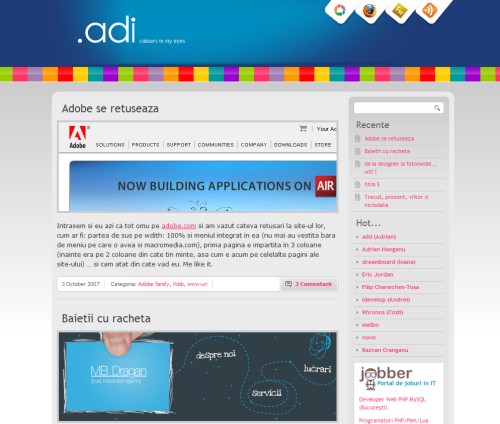 PSDTuts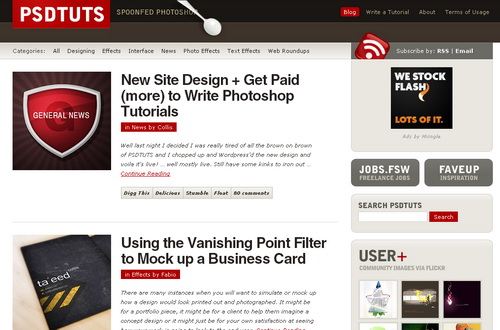 Eleven3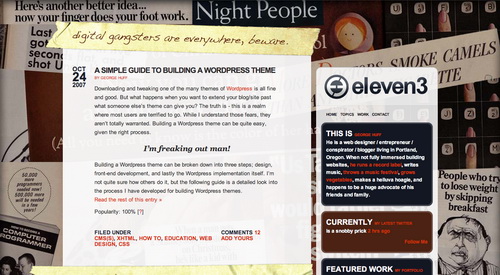 Browse all articles on the Blog Design category
24 Responses to "30 Beautiful Blog Designs"
Nits

Incredible theme for personal blog i dont belive eleven3 is free

DJ München Blog

Very nice designs – is there any chance to use them with Blogger or WordPress?

DJ Service München

I am building a new blog actually, so i am very glad to find your site. I think i will use a template from here.

Alleinunterhalter Berlin

Hi there,

currently I'm building a blog with the theme – Alleinunterhalter Berlin.

I hope ya dont mind if I have a peak about what other people thik about design – just to get more of a clue.

Thanks for this page

DJ München

Great Designs, some of them are bit overdesigned on my point of view. An easy template (like yours) is sometimes better.

Sylvester

This is simply incredible, looks too good to be true. Keep it up!
Sylvester.

HopeChestJewelry

I am very glad to find this site. I am trying to build a blog that should be interesting and different in design. I did a little search and found this site. Now I am reading everyone's comments. Thank you for sharing.

himi

Those sure are attractive designs!

TheBloggerTips

Daniel,

Thanks for your recommendation. I will take note on your recommendation.

I just installed the Structure Theme yesterday released by Justin Tadlock. It is a news/magazine style theme. Many people can't believe he release to public for free.
You can take a look the new theme installed in my site and maybe you can provide me your valuable comments for the sitebars placement or some other customs design improvement.

If you think it's wonderful premium design, you can recomment to your readers and insert as a tips for them in your dailyblogtips.com

Daniel

TheBloggerTips, if you want to make money with your blog invest in a good design. With $100 you can already buy some nice premium WP themes. I personally love the work of Brian Gardner.

Swaggie Coleman

I am looking for assistance to make my blog site earn money and professionalism. Can you help?

TheBloggerTips

Any suggestion to get a free design or payable design for blog? Do you have any recommendation for professional 3 to 4 column design?

Planet Malaysia

Yeah! I strongly agreed with you. Nice design….

Eric

absolutely great design. cool man!

Reverse Funnel System Blog

Wow, amazing blog templates, thanks for sharing.

Wayne Liew

Smashing Mag always put a great effort in compiling all these designs, tools and themes and this is what makes me visit them. They take the whole thing and put it under their blog.

A great blog indeed.

Eli

Saw this on Smashing Magazine before, then on Digg. It's really easy link bait for them – even though all of these designs can be seen on CSS/design galleries such as WebCreme or CSSMania 🙂

Daniel

Yeah I knew it was your design Collis, good stuff.

Maki

Haven't read Smash mag in ages… looks like they're still doing the same old baits.

On the other hand, good to see Collis (PSDTuts) getting some love, his designs are fantastic.

Collis

Hooray, I designed one of those!! Thanks Daniel!
Comments are closed.