Making Money Online and Trust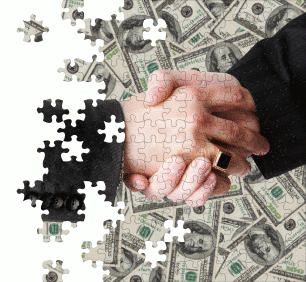 Trust plays a very important role for people wanting to make money online. Simply put, readers who trust you will be more likely to purchase products you recommend, buy your eBook, take your reviews seriously, click your links or hire you for some other service.
Fortunately, there are a number of methods available to help establish yourself as trustworthy, and in doing so, increase your earnings.
Trust is particularly important on the web because there is such a lack of it. In the face-to-face world we make purchases from established brands, mediated by (hopefully) knowledgeable and competent salespeople. We can clearly and transparently observe transactions being made. We can also return or exchange products we buy that fail to meet our needs.
Most of these things are lost on the web, and as bloggers, we will rarely have the chance to even meet those we hope to buy from us, either directly or indirectly.
Here are some methods you can use to counterbalance this initial lack of trust.
Being objective
The risk when writing things like paid reviews is that readers will immediately assume your views will be biased toward the product. It seems logical that a company would only pay for a review if it could safely assume the result would create a favorable impression of their brand.
If your review sounds like an advertisement, however, you will lose the element of trust that might have encouraged readers to investigate the product. It seems counter-intuitive, but writing a glowing review may indirectly decrease sales.
This does not mean you should take the opposite tack and trash the product (unless it's well and truly deserving). Instead, try to temper the positive points in your review by including some possible draw-backs, or by explaining why the product or service might not be suitable for certain types of people.
Not only does this make your review seem more trustworthy and objective, but it can help insure you against disgruntled buyers. Those who do read your overwhelmingly positive review and buy the product, only to find that it is not at all suited to them, will direct their anger against the person who recommended it to them in the first place: you.
Being honest about affiliates
A good rule of thumb is to let your readers know when you have the potential to profit from a link. Readers might not appreciate being profited from without their consent, particularly if their initial level of trust is low.
I have seen some bloggers insert (aff link) in brackets after the link to let readers know they're linking to an affiliate. This is not the method I would choose. It tells readers you will make a profit from anything purchased, but it does not explain on what terms. My main criticism, however, would be that only a small percentage of web users are familiar with affiliate marketing schemes. Many readers will not understand what you mean by aff link.
Another option would be to include a disclaimer at the beginning or end of your post, linking to a page explaining how and why affiliate links are used. For example:
This post contains affiliate links for the product _____. To learn more about how and why affiliate links are used on this site, or how they help to support the blog, feel free to browse my Disclosure Policy (link).
You do have one, right?
Disclose
It's not necessary to have a special page for your disclosures, but it might be a good idea. Another method could be to add a disclosure policy to your About page, or if the idea of a policy seems too formal, simply create a page explaining how your blog supports itself. You can link to this from any post you use affiliate links and explain to readers that:
you only link to products and services you truly recommend
you stand to make a few dollars from each item sold
this money helps you keep the blog afloat
Loyal readers who learn that buying products through links on your blog will help you keep blogging may actually be more likely to click affiliate links once they know this information, simply as a way of saying thanks for what you do.
Tell readers how they can support you
'Support This Site' links generally lead to a donation page, but what if your site doesn't accept donations? It really can't hurt to create a page explaining how readers can support your site through its existing monetization strategies.
On this page you could explain how interacting with advertisements or purchasing products you've recommended generates revenue to help you pay domain name and hosting costs and keep the blog afloat. You could even explain how specific actions will benefit you (for example, "I could receive up to a dollar from Google if you download and install Firefox via the link below.")
Be sure to make yourself familiar with the rules and requirements of each monetization strategy you use before constructing such a page. It is against AdSense terms of service, for example, to encourage visitors to click on AdSense ads.
Explaining the part visitors play in keeping your blog afloat makes clear your motivations for monetizing and provides an opportunity for you to be honest about where the money goes. This can only help to build reader trust.
Over to you
What methods do you use to demonstrate you are a trustworthy blogger?
How transparent are you about monetizing your blog?
As a reader, what determines your trust in a blogger?
Browse all articles on the Monetize category
14 Responses to "Making Money Online and Trust"
Jaykay Bak

I dint comment in a article most of the time, but this article makes me do it, and its so good for all readers like me. It help me learn something of what I'm looking for. Thank you…

Robert Watson

I only comment on an article if it is worth for me to read, and this one makes me do it… For the one who created this article or what they call it "blog" I would say Thanks Thanks Thanks for the wonderful content… you rock! 🙂

Daniel Thomas

I would like to find out more about your sponsor Copytrust. I like their idea. The internet is simply swarming with intellectual property thieves.

I was looking at some auctions on DN Forum for minisites that generate income and found a couple that looked interesting. Then I ran their links through Copyscape and noticed that ALL of the sites' content was plagiarized!

I go through a lot of trouble to research and produce original content. I am fortunate that I can create decent content almost as fast as I can type once I am well acquainted with the subject matter. Nothing infuriates me more than having some spam-happy creting steal my content!

I have created a page about where to copyright (wheretocopyright.com) since it is not so straightforward outside of the USA. Many folks have asked me how and where to do this, but I would really like to find a simple way to hand the whole troublesome mess over to some nasty lawyers who will ruin the lives of these pesky Intellectual Property thieves… or at least make them shut down their sites packed with reams of stolen material!

Mike Pedersen Golf

I'm really trying to "dive in" to blogging in the golf niche. I've had over a dozen sites in that niche the past 7 years and found it really hard to improve online conversions, and am hoping a more personal blog will connect with my visitors. This is one of the last things I'm giving a go with this very frustrating online ride I've been on the past 7 years, so anything I can learn about being the best blogger I can be is much appreciated.

Daniel

I agree.

In fact I try to be 100% transparent with all the things I do on the blog (and on my life for the matter of fact).

If you step into shady or doubtful territory you will need to explain yourself sooner or later.

Skellie

I agree with you, Jeremy. I think a lot of bloggers have this idea that the only way to make money off visitors is to do it without their knowledge.

Personally, I'm much more likely to trust a blogger and respect their monetizing strategies when I understand on what terms they operate.

Jeremy Steele

Yeah it is a good idea to always say when you get paid. I think it's pretty sick how some bloggers tell people to hide their affiliate links – despite the fact that is pretty immoral and even the FTC says you're better off letting people know when you are getting paid.
Comments are closed.