Boost Your Blogging Productivity With Post Templates
This is a guest post by Alik Levin.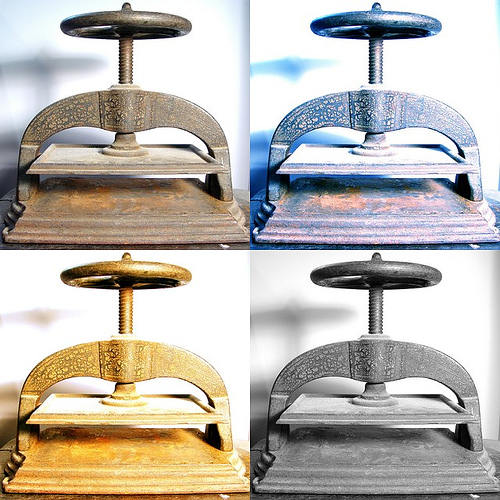 Image by 802
Blog post templates save you time
Care about your time? here is how blog post templates can save you few extra minutes.
It is GTD in action. The template is almost finished post, half work is already done. Instantly. You can almost see your work done. Saved few minutes?
It is a checklist. Your mind gets freed for doing more intellectual work. Mechanical work must not consume time. Checklists are of great help. Saved few minutes?
It is guidance. You can boost your intellectual power by asking right questions along the way. The lesser mistakes the lesser time spent on editing. Saved few minutes?
It focuses you. It helps you implement Stephen King's Greatest Lesson for Writers – avoiding to come lightly to the blank page.
Blog post templates build your style
Is your blog just a brain dump recycle bin or you are building your style and brand?
Common look and feel. There is a reason why there are so many WordPress themes. It is hard to overestimate the importance of the blog's overall template. JD is of great help with his awesome guide on How To Choose an Effective Blog Template or Theme. But it is not enough. post template must be styled to.
AdSense. I am not in monetization mood so far but I know it is important to place AdSense ads just right in order to get more clicks – Steve Pavlina was talking about this in his guide on How to Make Money From Your Blog:"You can easily double or triple your Adsense revenue by converting a poor layout into a better one."
Blog post templates save time your readers
One of the PracticeThis.com's values is Time. Both the reader's and my time.
Readers do not read. They scan the web. Blog post templates help readers to be more effective while reading (ehm.. scanning) your posts. They can skip directly to the part they usually read and save few minutes.
Memorizing, building memory malls. Well formed/chunked posts are easier to remember and it is great value for the readers. Readers can easily build their Personal Memory House or Landscape out of your well formed posts.
Cannibalizing. If the post is a value packed stuff, it is easier to cannibalize it when it is well formed with good post template. Readers can easily chunk up your posts and reuse it in their work – be it their blogs or other related work.
This post was written using the following template and guidelines. Adopt it as is, change it, or create your own. The idea is not adopting/adapting my post template. The idea is adopting the post template practice.
======== MY BLOG POST TEAMPLATE STARTS HERE =========
[TITLE TITLE TITLE – Review Writing Headlines for Regular Readers, Search Engines, and Social Media – TITLE TITLE TITLE]
[First Line. Hook. Ask questions. Say something intriguing. Get your potential reader hooked to make her read on.]
[Answer the questions. Make your statement. Think of sub headline in the newspaper article that generally says the essence of the post. This should make the reader read on to find out "how" or details on your take]
[insert picture from flkr. More flkr stuff – A Complete Guide to Finding and Using Incredible Flickr Images]
[do not forget to give credit on picture]
[Heading – help readers to scan the post]
[body and details – consider giving link love]
Bullet 1. Explanation.
Bullet 2. Explanation
[Heading – help readers to scan the post]
[body and details]
Bullet 1. Explanation
Bullet 2. Explanation
[quote would be nice]
Search quotes here
[My related posts – promote yourself]
**CHECK YOUR WORK – DELETE IT AFTER THE CHECK**
How to Avoid Fool's Gold and Create Value-packed Content
It doesn't alleviate problems a little – it solves them.
It doesn't make your readership think about doing things differently – it changes the way they act.
It's audacious – it tries to do many things at once.
It expresses something your target audience didn't already know.
It answers a question your target audience didn't know how to ask.
It makes your target audience feel better about themselves.
the post surprises the reader.
check for stickiness.
You can read more from Alik on his blog PracticeThis.com.

Browse all articles on the Writing Content category
37 Responses to "Boost Your Blogging Productivity With Post Templates"
Alexander Lukjanenko

Great tip,

I find your template very useful.
I start using it right now.

Thanks.

Alik Levin | PracticeThis.com

ALX,
Whoa!! – thanks for the support!
BTW, I was using these templates and it was very effective and efficient. I am publishing ~10 posts a week. No sweat. 😉
And the readership gets climbing.

Thanks again

ALX

To all the detractors of using a template: try changing the word "template" for "method". A method is a series of steps that have proven being succesful for a specific task. The article template should not be a "cookie-cutter for blog posts" (which will certainly provide articles of little value) but:
* a logical structure that makes sense
* a checklist for aspects to cover and issues to avoid
* a reminder for good tips that have worked before
* a set of tools to jump-start your creativity
* a structure that reflects your own personal writing style

In the end, the template helps YOU write and YOUR READERS read, because the KNOWLEDGE embedded in it has proven value before, and since you have it there already, you don't need to reinvent it every time.

How can this be bad/useless/non-valid for ANY written piece, be it a repetitive type of articles (like structured reviews) or a unique piece of deep, personal thoughts. It's just a matter of using the RIGHT template, the one that makes sense to each author and type of article. If you write for an established publication, chances are the template (or guidelines or whatever) are given to you. If not, why not try to build your own template? Rather than numbing your creativity, it might empower it by helping you understand what triggers it and what makes your writing successful.

And in the end, it's still you who needs to write the post.

charles
Alik | PracticeThis.com

Ross, that is interesting question… few more bloggers asked that too, may be i should look into creating WP plugin for that purpose
Thanks for the idea
alikl

Ross Goodman

Is there an easy way to implement this in WordPress ?

Ross

Vered – MomGrind

I agree that online readers scan rather than read, and that it's important to save everyone time – the blogger as well as the readers.

Interesting concept!

Adam Diver

Not sure why I dint think of this before. Great advice. I think it was a case of working IN the blog and not ON the blog. Anything that saves me time is gold!

shawal

A very good idea and i think this tactic will save a lot of blogger time…

Kathy

I've got to say, I'm surprised at the "resistance" to this in other comments.

Blogging is like traditional publishing. Trust me when I tell you that every magazine/newspaper has such an underlying foundation to each and every article.

Thanks for sharing yours!!! This is something I haven't been doing and need to be doing!!!

Vaibhav

I think post templates can work for certain kind of blogs. If you are writing for example a product review blog, then you can certainly benefit from a consistent structure across your posts. Or if you are writing a self help blog, for example.

Any blog which has a common theme across its post in terms of content sections, can work. A personal blog (such as mine) which carries a large variety of posts will find it tough to implement templates.

Muhammad Siyab

I don't really think post templates will do the trick. Because each post has a different tempo, and a different nature… but, you could adapt post templates to work for you!

Thanks for the idea! 😀

Alik | PracticeThis.com

francetales.com,

It is a concept that can be implemented in many ways.
If you are using Windows Live Writer (WLW) to author your posts then you might be interested in the plugin i've created for it that implements blog post templates approach, have a look:

Wec Cartoonist

That was a pretty complicated read but very interesting.

francetales.com

I don't know how to do this. I would like to learn it. Cn it be set from the WP admin interface or are you just talking about having a word processing document set up as a template?

I was thinking about having 3-4 different templates and that should really do it for me with the occasional random un-templated post.

Thanks for the inspiration.

Anuj Adhiya

I think this is great for new bloggers and once you get the hang of things and have 'establilshed' yourself, you can throw in the occassional "off-template" posts – which may have a template all of their own!
Super stuff – Thanks.

Groovy Vegetarian Blog

Creating a set look for your blog posts, is also a good way to create a familiarity with your blog. Thus creating an identifiable brand. It is a great idea, and one i will implement on some of my NEW! blogs.

The template doesn't have to be the exact same on every post, but have a few standard ones to accompany some daily posts. Over time, readers will know what to expect of you, and those that are into structure (like me) will love it.

Great blogging tip!

Todd Andrews

Nice template to force beginners to start formatting posts appropriately for usability and web viewing characteristics.

David Hobson

Im still not sure that post templates are good for me although a lot of bloggers will find them helpful.

abhishek

I would recommend to have a random..as every post has its own style…but i would also like to try a template sometime.

LiviuX

Post templates are not for me.

JACKIE JACKSON

GREAT POST ! I am immediately going to start practicing this !
Comments are closed.