Daily Blog Tips on the WordPress Showcase
The WordPress Showcase is a featured on the WordPress.org website that was launched in November 2008. According to them it is "a display of some of the best and brightest WordPress users, who are using it to do a whole lot more than blog."
A couple of weeks ago I thought that it would be cool to get Daily Blog Tips featured there, and I sent my application. Today I received an email letting me know that the application was accepted! You can view the Daily Blog Tips showcase here. If you have some time please give it a good rating too!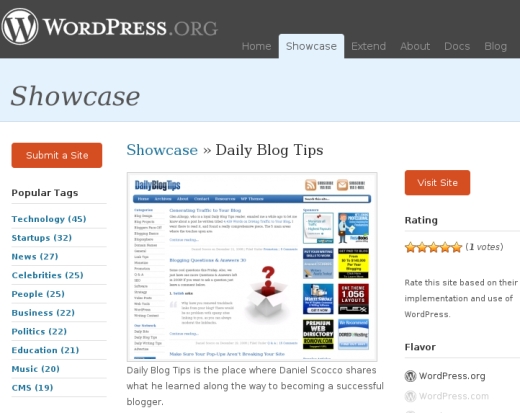 It is a pretty interesting section of their website, and it gives you the opportunity to discover the websites and people that are using WordPress as their CMS. For example, did you know that the site of the Brazilian Ministry of Culture uses WordPress on its official website? Pretty cool.

If you have a popular blog using WordPress, or if you employ it in innovative ways, it could be worth to send your application too.
Browse all articles on the WordPress category
15 Responses to "Daily Blog Tips on the WordPress Showcase"
website information

This blog deserves a feature, but it needs a little more promotion to be on the top rated websites. Mashable was there which is good.

Munawar AM

Hi…..Great Job.. and useful information.
My Name is Munawar AM, from Indonesia. I am a Newbie with my blog using WordPress theme I had downloaded from DBT.

Regard; Munawar AM

Adam Singer

Well earned Daniel. I've showcased your sites on my blog several times and am glad to see you earning respect from sites of this stature. I know you will just keep getting better/bigger!

BlogUnion

Cool!

PC

Well deserved. Congrats

Ajay

Great job 🙂

Kyle Judkins

Congrats!

Sohail

Congratulation i have given 5 stars at your blog is one of the blogs that i visit daily and love what you offer keep it up

Tom – StandOutBlogger.com

Wow! that is really cool! Congratulations.

Slavi

Very well.
Good Job!

Blog Expert

Congrats!

uncle wilco

well done.

still waiting for mine 🙁

Douglas

Welcome to the Showcase! Thanks for submitting your blog.

Sarah Jo

Congratulations on being featured in the Showcase! I just submitted my work website, which uses WP as a content management system. We'll see what happens .

Ikki at Bloggers blog

Congratulations! Being a part of WordPress.org Showcase isn't a small thing 🙂

BTW, I don't think I had never visited that section before. Is it new?
Comments are closed.