Check How Search Engines See Your Website
Ever wondered how Google and its pals see your website? There is a little tool called SEO Browser that can help you here. Basically you just need to type your URL and it will display the information that search engines see when they crawl your site.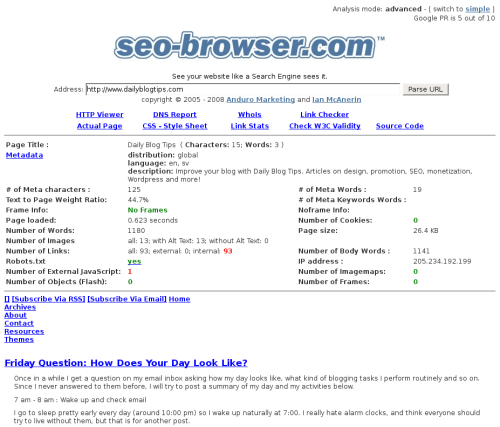 This can be useful to see what elements are not being considered, in what order your content and links appear and so on. They also have an advanced analysis mode where you will be able to see several SEO factors from your site, including meta tags, page size, load time, text to page weight ratio and more.
Browse all articles on the Web Tools category
14 Responses to "Check How Search Engines See Your Website"
medyum

very good… thanks

vitalij

Interesting tool. I will say about it for all my friends. I think they would like it 🙂

ccna4exam

Nice Tools. I just check my meta data. Its too bulk.

WeddingPlanning

Very useful tool. Might need someone to interpret the results, but very helpful nonetheless.

amelia

can locate not found pages

The Masked Millionaire

Too cool. It is really worth reading this blog. Most blogs just repeat and rehash the same old stuff. But I never fail to learn something from this blog. Thanks so much.

OldSailor

Very useful tip. It is like seeing your blog in a mirror.

Jeremy Steele

it displayed everything exactly how I thought it would (tests site designs in text-based web browsers). Nice find though.

Daniel Scocco

@Bilingual Blogger, meta tags and metadata is found on the header of your website.

We wrote a comprehensive guide about meta tags some time ago, you can find it here:

Bilingual Blogger

Thanks for the tip but when I put my URL through this SEO-browser, it said that my blog doesn't have any meta words and no meta data. How can this be? I tag every entry I make on the blog but I guess these are different tags for the overall web site? Can someone tell me where I'm supposed to put these meta words? I use WordPress. Thanks.

Not John

Nice tool to see what info is considered without the distractions of the graphics and other design elements.

simon

nice find there, i going post an article about it too

Daniel Scocco

Eli, the page weight is the total size of your page. For the DBT homepage it should be around 39KB. You could also consider the HTML weight only, which is smaller (for DBT homepage it is around 26KB).

Out of that total weight one can calculate what percentage is coming from text, which is the first factor that search engines will consider on websites.

If you them divide the text weight over the total page weight you get that ratio.

Eli

Quite an interesting tool. After I checked out my site I decided to go and refine the meta description and keywords, since they were a little bulky at the time.

One thing I'd like to know though, what's the text to page weight ratio? Mine seems to be a considerable amount lower than yours, and I'm not sure if I should be worried about that.
Comments are closed.