Your Calls to Action Should Go Below The Post
There are many WordPress plugins around that will insert a call to action on the top of your posts. Some people even do this manually. Lately I was visiting some blogs that use this strategy, and I realized that perhaps it is not that effective, and sometimes they might even hurt the user experience.
Before proceeding let me clarify what I am talking about. The What Would Seth Godin Do plugin is a good example. Once you upload and activate it, whenever a new visitor comes to your website, he will be presented with a message on top of your page that will say something on the lines of:
Welcome! to My Blog!, it seems that you are new to this site. If you want to get regular updates you can signup to get email alerts or subscribe to the RSS feed.
Sociable is another similar plugin. It will basically identify if the visitor is coming from a specific social networking site, and it will present a tailored message to him. So if someone comes to your page from Stumble Upon, it will show him a message like this one:
Hello fellow StumbleUpon, if you like this page, don't forget to give it a thumbs up! You can also see my StumbleUpon profile here.
You get the idea.
So why do I think the strategy of using those plugins and calls to action on top of your pages and posts is not efficient, and perhaps even a bad idea? Because their positioning is completely wrong. They should be placed at the bottom of your posts and not on top of them!
Let me illustrate my argument with a real example.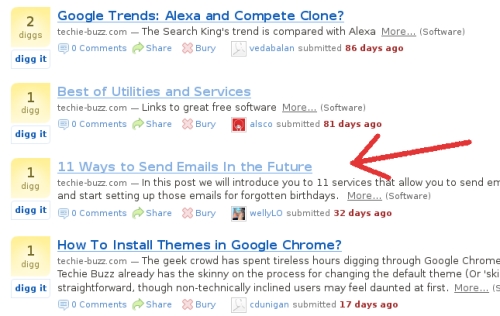 Suppose I am browsing on Digg when I suddenly come across a story that grabs my attention: 11 Ways to Send Emails in the Future. (Notice I am using Techie-Buzz as example only because Keith uses both plugins I mentioned there. The blog itself is very good and has excellent content).

The title of the story sounds interesting and I decide to click and see what it is all about. Once I click there, however, I will be presented with the following page: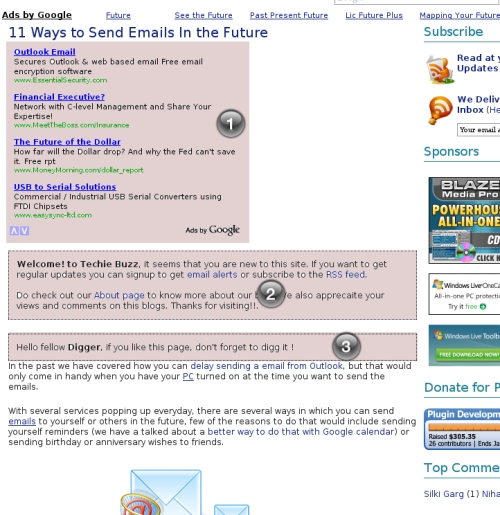 As you can see, right below the title there is an AdSense unit (1). I am not against having ads, but you need to consider that this large rectangle is already taking space and making it harder for me to find the actual content I was looking for.

Then after the AdSense unit you have the message from the What Would Seth Godin Go plugin (2). It is inviting me to subscribe to the blog or to check out the about page. Hmmm… I just arrived here from Digg, and all I want is to check the content I was looking for. I am not sure if I want to subscribe to the blog yet.

I move on, and then I find yet another message that distracts me from the content itself (3). This one is coming from the Sociable plugin, and it is encouraging me to Digg the story. But hey! I haven't even had the opportunity to read it yet, how could I digg it without knowing what the story is about?

As you can see, those calls to action are ineffective and even counter-productive if positioned on top of the posts. Sure it is a good idea to encourage visitors to subscribe to your RSS feed and to vote for your stories on social bookmarking sites, but you must make sure that this call to action will appear to the user when he has the right mindset on, and that is after he is done reading your content.

As a rule of thumb, I try to put as few content as possible between my headlines and my posts (in fact I don't even put the author name or date there). This is to ensure that there will be no distractions from the moment I grab the attention of the visitor with a headline until the moment he actually starts reading the content.

If you put too many things between those two stages, you might lose a fraction of the visitors right there.

Those are my opinions obviously, and I would love to hear what you guys think about the issue.
Browse all articles on the Blog Design category
43 Responses to "Your Calls to Action Should Go Below The Post"
medyum

I remember one time, I put a paypal logo on top but a reader suggested me to transfer it so I immediately followed his advise.
Now, I only put a simple sentence on top of my blospot blog posts to invite them to check out my WP blog.But for my WP blog, I make sure that it is clean although there is adsense on every end of the post.

ayman

good work

Rebecca

Thanks for the advice. There are many plug-ins to use. I do prefer a website that is streamlined and not "flashy." Perhaps that's the artist in me; I prefer clean lines.

gendut

wow….I think very great strategy……. I will try to use it…..and evaluate the result…thanks

firmanwy

I think adsense or ads is ok but not to dominate the page.

arya – moderatofm.com

All the better having blog without commercial point with poor content

tsquez

Just have to say awesome post. I wonder how many people will read it and make adjustments to their own sites. Thanks for the post. Good job!

Credit Helper

I personally get pretty frustrated when I do find a good post that I want to subscribe/stumble etc. and then I have to scroll all the way back to the top just so that I can.

Usually by that time I just move on.

Odd how it doesn't bother me when I first arrive at the site but I'm too lazy to scroll back up when I already took the time to scroll down.

Rod

I've never heard anyone express this quite as clearly, but it makes perfect sense. I've always found the bottom of a post converts quite well in terms of AdSense, and presumably subscriptions, social bookmarking etc, which is where I have my calls to action. I haven't really tested this by moving them around though, which I suppose would validate the theory…

Erica-Copywriters Needed/ No Experience Required- Make $200/hr

yeah. If you put the call for action later in the posts, people will feel that they can trust you and that you gave them content. For example, "I gave you content, now please look at my offer in exchange." People wouldn't mind clicking on call for actions then because it sounds more sincere.

BloggerNewbie

I've often thought the same thing! I can't subscribe or "stumble" if I haven't read it yet! My "subscribe" plugin shows up on the first page under the excerpt as well, not sure how to edit it, I will probably look for a different plugin. Thanks for the tips.

Stephanie

That's way too much at the top of the post… especially the big AdSense block. Great if you only want to make money, but if you want to think about the long term earnings, it's better to move things down to increase the odds that people will come back to your site.

Subscriptions can be trickier. My own inclination would be to have a general link for that above the fold, probably elsewhere in the template rather than the top of the post, and one at the bottom of the post. If you're catching people's attention well enough from the start that they want to subscribe, they may still see the upper one, and if they read the whole post they'll probably see the lower one.

And of course do that before the AdSense. You might lose the click on the first visit, but people only need to subscribe once. If they keep coming back you'll have more chances at selling to them.

Which reminds me that I really need to add subscription options to the bottom of my own posts. Haven't done that yet.
Comments are closed.