You Can Get a Pingdom Account Free Now
This week I got an email from the Pingdom CEO mentioning that they are now offering free accounts. That is good news for all small bloggers out there.
Pingdom is basically an uptime monitoring company. In other words, after you create an account with them, they will monitor your website. Should it go down, they will immediately notify you about it, either by email or by SMS (or both). The service can check if your website is up every minute if so you specify, and they make tests from several locations around the world to make sure it is really down.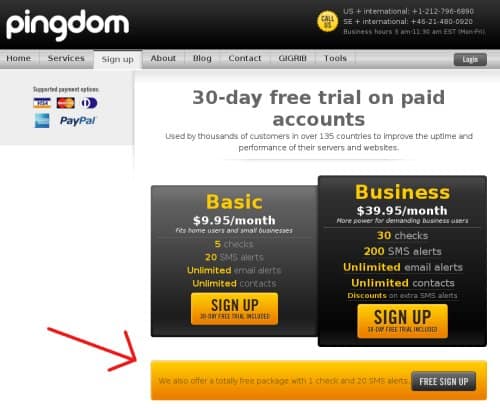 Until last week you would need to pay $9.95 monthly for a Basic account, which can monitor up to five websites. Now they introduced a Free account (which is not a free trial, but a standard account). The only limitation is that it can monitor only one website. Other than that, you have access to all the features.
I just signed up and added Daily Blog Tips to my account.
Browse all articles on the Web Tools category
29 Responses to "You Can Get a Pingdom Account Free Now"
Kurt Avish

@Mr I and @Daniel: Right now I might not agree with you about Doreo. I am currently using their largest plan and right now all my sites are down and it is over the 10th time since I am using it for the past 5 months!

Right now I am rather an angry customer while awaiting a definite reply from them. Maybe Doreo is not bad in the overall but one specific server on which my sites are on, is specially very lame.

Considering a move now as sincerely it is becoming annoying. For today its almost 1 and half hour downtime and approx 1500 readers who went away seeing a network error page.

Single Guy Money

Just found your blog today and it's very helpful to small bloggers. Thanks!!

hikaye

Very useful post buddy! Thanks for sharing them!

Angelina Hostutler

Hi Daniel,

In this economically stressful world, it is so nice to know that you can get such a helpful service for free. I will definitely check this out.

Thanks!

Brenon MacLaury

This sounds like a great tool for bloggers! It's great to see that there's a free option, especially since I only have 1 website. Thanks for making this announcement!

Brenon MacLaury

Tom Bradshaw

Thanks for the info, gonna sign up for min now

Blogger Bear

Signing up now! 😀

Chester

Very useful post buddy! Thanks for sharing them!

GoBusiness101

Just registered. Thanks for the info

Todd Wallace

This was on my todo list. No time like the present. Thanks for the tip about Pingdom starting a free service.

obat ejakulasi dini

The website service monitoring about what? i will check more, thanks.

Andy Syrewicze

This looks like an excellent service, and I was looking for something like it just the other day. Signed up already. Post is certainly Dugg, Stumbled, and Delicious! 🙂

Thanks!

Boerne Search

Thanks for the heads up. Retweet is in order here.

Kane

ramaraobobby

useful info. Thanks for sharing. Will signup with pingdom

Dave Starr

I have another monitor service. Well worth it, else you will never know how often and how long your blog is down. But here's an important aspect of Pingdom no one has mentioned. Pingdom has a free 'load time analyzer' that will show you, in detail, how long each single request for a page from your blog takes to load.

It's very useful to look at your blog load times frequently … often times advertising services, statistic counters, etc. will make you pages load slowly … example I got out of MyBlogLog long ago becuase sometimes 70% or more of my load times were waits for MBL servers to respond.

Also, it's very common for different blog themes to take much longer than other themes to load … in testing I've noted as much as several seconds difference. If you chose a theme that takes, say, 4 secinds to load versus one that completes it's load in 1 second or so, and you have a thousand page loads a day (very tiny traffic, that's only a few hundred visitors) then that's ~3,000 total seconds … 50 minutes … a day that your blog is 'up', but unavailable to a reader. It's all about 'eyeballs on target', whether you write for money, for a cause or just for personal satisfaction.

A very interesting tool, Pingdom.

Blog Ebooks – Claus D Jensen

I think that's a good business idea for them!

Will attract more customers!

😀

Greetings,
Claus D Jensen

Daniel Scocco

@Bengt, like what other reasons?

Bengt

@Mr I,
Doreo's downtime is measured on server level, your site can still be down due to other reasons.

Bengt

Another option that also has a free account is Are My Sites Up

Daniel Scocco

@Mr. I, good point. Not everyone is on Doreo yet though 🙂 .

Mr. I

Daniel, I don't think that (at least) we need it! Doreo's downtime is almost 0! 🙂 Isn't it?

reinkefj

Great find. Thanks.

If I was a business, makes perfect sense.

As a hobbyist (i.e., broke, busted, disgusted, unemployed / retired), what I really need is to watch a few sites on a relaxed interval. (I'm seeking to find those "silent" changes when my hobby sites go offline. Usually due to the hosting provider changing something. Did I mention I HATE "cloud computing" for the easy way stuff changes silently. And, never for the better! Argh!!)

So I'd need about twenty sites say once a day for free.

Who said beggars can't be choosers?

teratips

Thats Great News, Now i can get my account may b, thanks

Arun Basil Lal

I liked what they are doing. Their service if of top quality and they look like professional people.

Eventually they will end up with more customers. I just signed up, didnt even see what their service is like, but I feel they are awesome. Already I feel like upgrading!

Kurt Avish

Thats great. Gonna get mine for my new blog then 🙂 as my other blogs already have their monitoring.

Daniel Scocco

@Michael, I believe this service is even more essential for people on shared accounts, because they go down more often.

From my experience, unless you notify the support service of your hosting company as soon as you see the site down, it might be hours before they put you online again.

Michael Aulia

Cool! But if you are on a shared account, what good does this to you? I mean, it's not that we can do anything about it and I"m sure the technicians will be all over the place already 🙂

Roseli A. Bakar

Just signed for EzyBlogger. Thanks Daniel.

Liane YoungBlogger

There's a free option now? I've been waiting for this Thanks Daniel ;D
Comments are closed.