WWW or no-WWW?
Whenever you create a website or a blog it usually can be accessed either through "http://www.domain.com" or "http://domain.com". While this feature might appear useful at a first sight (since people can type whatever version they prefer) over the long run it will harm your search engine ranking.
The problem arises because Google and other search engines view the two versions as two distinct sites, even if they have the exact same content (technically, in fact, the "www" denotes a subdomain that could point to different content).
Search engine ranking is based, among other things, on the number of incoming links to your site. If you keep the two versions available some people will link to "http://www.domain.com" while other people will link to the "http://domain.com", basically splitting your backlink count.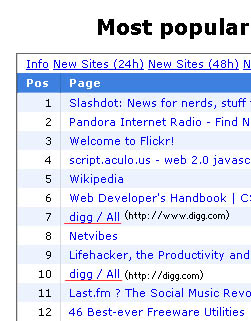 Having two different versions might damage you in popular lists and social bookmarking sites as well. The picture on the right was extracted from Populicious, a site that lists the most popular sites on Delicious. If you take a look you will notice that Digg is listed both at the 7th and 10th position. This happens because the list treats "http://www.digg.com" and "http://digg.com" as two different sites. Shoud only one version be available the combined number would place Digg on the first position of the list.
How do you solve the problem for your blog? The easiest way is to set up a "301 Permanent Redirect" from the "no-www" version to the one with "www", or vice-versa. Once the redirect is in place every time a visitor types http://domain.com he will automatically be redirected to the "www" version.
By the way, if you are wondering whether you should go with or without "www", it does not matter. The important thing is that you pick one and stick with it.
Update: Check out the article "How to setup a 301 Redirect"
On YouTube: WWW vs. Non-WWW for Your Website
Browse all articles on the Domain Names category
19 Responses to "WWW or no-WWW?"
John Abraham

I prefer www, I didn't use to give any importance to it and used the non-www version for my sites but these days I am using www on all sites. It gives a better look for sites in search engine result pages.

Lenny

Wow I never knew Google views it as 2 different pages. I've followed the advice here and set up a 301 redirect. I think it looks better with 'www'…

Shows in Blackpool

You are right in that you need to sort out www or non www but there is another reason to consider. Depending on how the server is configured you may find that non www doesnt actually work!!! I have seen a few famous sites that have made this mistake. I type in the domain name without the www and get an error message back. So which ever option you choose make sure it works correctly and is consistent across your site.

Chen

Thanks allot!
At first i thought that i had a problem with all the traffic going to the adress without the www but now im actually satisfied with it and ill keep it this way….:-)

Robomaster

I don't get why people put in the 'www' OR the 'http://' in the first place! You can go to any website without it.

Sriraj

Whether you choose with www or without www, you have to make sure that only 1 is active and the other redirect to the active one's.
I started my blog without www but later changed it to with www and seeing god results almost immediately.
Google's likes www

Daily Good Tips

i choose without www because people usually just type the domain name such as dailyblogtips.com in the browser.

Dravid

This is Nice article. Very interesting post. I learn something from this articles. Good luck.

Thanks,

ganeshseg

Thank you i newly learn something from this. Its very interesting information.

Bang Kritikus

Use a blog it is no problem to use www or no.

Reynolds

Interesting! I didn't know that! I learned something new again. Thanks.

Edward

thanks for the great tips. I always wondered why I was getting info to access about the same site in two different listings on my site statistics page. Now I know.

free msn chat rooms

Oh ok thats good to know i may set that up now thanks..

egon

Agreed. I've had major problems with this in the past. It's very important to do one and stick with it, but make sure your .htaccess lets people enter both and still get to the same place. From a technical standpoint, the "no www" is better, but doesn't really look as good.

Ajay D'Souza

I don't use the www on most of my sites. Have .htaccess to do all the redirecting.

Ben Matheny

very helpful site! thanks

Carey

Excellent tip! Also consider if you own multiple domains to the same site (e.g. site.com and site.co.uk). You should apply the same principle i.e. choose one and do a 301 permanent redirect to it from any other domains.

Alister Cameron, Blog Consultant

Man!

No sooner do I post on this question, do I see find your post!

It is a matter of great minds thinking alike?!

Hope so 🙂

– Alister

PS. I'm updating my post with a link to your post here. Good stuff.

Easton Ellsworth

It's amazing how many big, big companies don't even follow this simple advice. Thanks, Daniel!
Comments are closed.