WordPress Click Tracking Plugin
There are many researches and studies describing where users look on a website, what kind of navigation structure is optimal, what ads get more clicked and so on. That is good and by all means you should take it into consideration, but do not forget that you should also analyze your specific case individually.
Tracking the clicks on your website is the first step in that direction. You can not be sure about where users are clicking unless you track it.
Click Tracking is a small WordPress plugin that can help you here. You just need to upload and activate it, setup some options and you are ready to go. The plugin will track clicks throughout your pages and it will gather the results on heatmaps.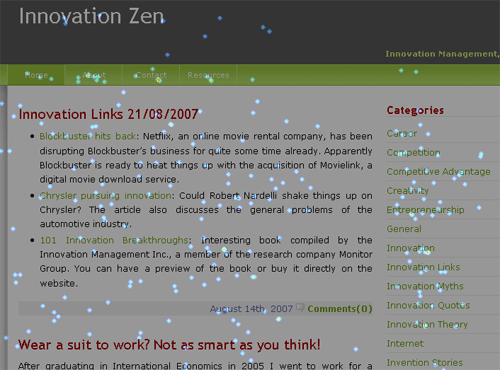 The only drawback is that the heatmaps are the only way to visualize the data. You will not be able to access how many people are clicking a particular link (you would need to guess it by the number of dots on the graph).
If you are looking for something more advanced you should check Problogger's review about CrazyEgg, another very useful online tool for tracking clicks.
Browse all articles on the WordPress category
18 Responses to "WordPress Click Tracking Plugin"
JTPRATT's Blogging Mistakes

You had me sold on this until you said the only way to get results was on the heat map, and it wouldn't say how many people clicked on individual links, etc…I won't be interested in this until that feature is added…. =(

Jermayn Parker

Will install it and try out. I like how it can be used on WP as I hate having to go on different sites etc to use features…

Transcriber

Thumbs-down, it is as if asking us to count the stars on sky.

the buxr widget

For most users the free version of Crazyegg is good enough. This plugin is a nice start, but it's really too basic.

Daniel

Google Analytics slows down site performance, for the info. Not too much, but certainly more than some WP plugins.

But yeah I am all for keep WP install clean, in fact most of the stuff I do is hand coded on the files.

Jay Tillery

Yeah. Why would people go crazy installing plugins that will ultimately slow down site performance. If you have google analytics, you shouldn't need heatmaps. It's cool to see where people are clicking, but whats it really good for?

Daniel

Mike, yeah there is no reason to keep the plugin activated through out the year.

Usually I turn this on when I am considering design changes.

Ryan Imel

I like this, thanks Daniel. I actually just put up a tutorial and visual walkthrough over at Theme Playground if anyone's interested in some help getting started with Click Tracking.

I'm interested in seeing how this matches up with Crazy Egg. Trying both now, I guess we'll find out!

Mike Panic

Heatmaps seem to be the new, in thing… and I agree they are really nice, however I personally won't be installing a bunch of extra plug-ins for the sake of installing them. Google analytics gives me info in the site overview of what links people are clicking.

I do agree that this can help with tweaking to some extent, knowing if 85% of your users click the right most portion of your RSS button, maybe you move it the right a little more in the theme… outside that, I see no real added value to this.

Rhys

That looks awesome! I will have to try iit out 🙂

Daniel

It is funny how most of the clicks go inside the content area. No wonder people like to blend adsense units inside the text :).

Ramkarthik

Good plugin to be use in any blog. Thanks for the plugin. Now I can at least improve my earnings in AdSense or increase my subscribers by placing those in the most clicked areas.

Daniel

Yeah, in fact I am using it on one of my sites where I don't need advanced features, just an overall idea of where users are clicking.

Martin

Thanks for the tip. Nice free alternative to Crazy Egg if you exceed their free limits.
Comments are closed.