WordPress 2.5 RC 1 Released
You can already download and install the Release Candidate 1 version of WordPress 2.5. On the development blog they mentioned that the release is already stable and functional, and they could actually release it officially today. But prior to doing that they want to get feedback from testers and from the community.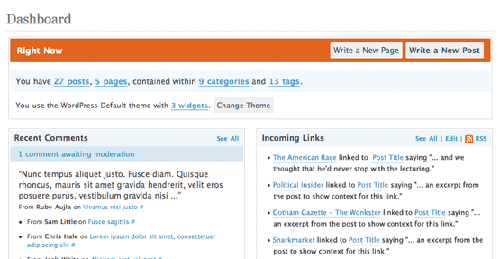 I will try to load it on a test website, and if I were you I would wait for the official version before using it on your live websites. Here are some of the changes that are coming with this new version:
New Dashboard: Now it should be focused on publishing activity, comments and incoming links.
Navigation: The navigation menu should now be split into primary and secondary activities, to make it easier for beginner users.
Writing posts: Apparently you will now have fewer options on the "Write" page. In additional to that you will be able to customize it with the custom fields that you use often.
Manage: The manage post is also getting revamped to make the management of posts, pages and comments more smooth.
When I install it I will give you guys more information. Hopefully this RC 1 means that the official version is just around the corner.
Browse all articles on the WordPress category
12 Responses to "WordPress 2.5 RC 1 Released"
güvenlik

it is very clean .. very liked it.

Abhinav Sonkar

I have reviewed WordPress 2.5 here… Check it out.

Satollo

The first thing I saw is a great improvement in speed, specially for the editor.
And I'd like the new concept of media library. It would be useful to have the captcha for comment. Even if akismet works great, a numer of spam comments still bypass the filter.
Ok, there are plugins for that, but I greatly appreciated when a software come with "basic" functionalities bundled, becose usually the work etter 🙂

LiveCrunch

I upgraded mine and looks awesome had some troubles with "top commentators" plugin but thats about it, its more user friendly and less jumping to get to the point of wordpress

That is my review on 2.5

i setup also for people test on

Vikram

Hi Daniel.

Did you upgrade yet or you are waiting for feedback from the community!

I would like to hear your views about this before I switch! Waiting for a review! 🙂

Sumesh

I already upgraded my local XAMPP server setup on my PC (guide to installing WordPress on PC), and the admin panel is, uhm, underwhelming. I expected a bit more from the HappyCog-Automattic team, and they've not really made it anything to stand out. However, Fluency admin theme is superb, and I will be using it for sure. Hope Admin Dropdown Menu by Ozh will be updated for compatibility with Fluency.

Frank

While you are looking at the new 2.5 you might also want to look a the Fluency admin theme (
Comments are closed.