Winners of the 2007 Weblog Awards
The 2007 Weblog Awards website announced the winners of the current edition. Daily Blog Tips was running for the "Best Web Development Weblog" category. Congratulations for A List Apart for winning the prize, they surprised me beating Problogger.net (the winner of the 2006 edition). Thanks for the readers that supported this blog also, hopefully next year we will give the other competitors a tougher run!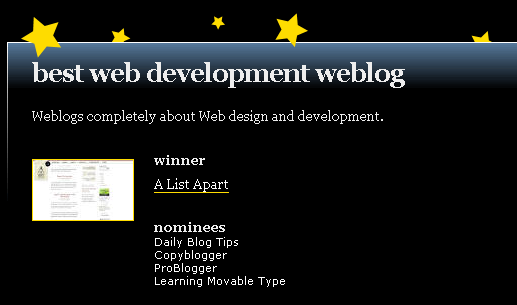 Browse all articles on the Blogosphere category
16 Responses to "Winners of the 2007 Weblog Awards"
PreobrajenskySuka2

Hallo, but topic starter, [b]you are sure?[/b]
prof.Preobrajensky.
Good luck!

Mark

Congratulations Daniel on making the nominees list with a relatively new blog. Keep up the good work.

inspirationbit

Weblog Awards had led me to your blog, Daniel. And you keep impressing a heck out of me 🙂
Keep up the good work, and I'm sure you'll be the winner next year.

Bes Z

Congratulations Daniel. 🙂

Daniel

Michael, your point about PostSecret is valid.

Regarding Problogger, I think that despite the fact that he focuses on blogging much of the stuff he discusses can be applied to any website, hence why he could be included under the "Web Development" category.

George

Michael,

I think problogger doesn't really fit under any other category and that is why it is in the web development category.

Good point about PostSecret.

Michael Wales

A List Apart winning "Best Web Development Blog" doesn't surprise me, the fact that Problogger did does though. I don't see Problogger as a Web Development blog at all – maybe SEO, marketing, or simply blogging – but not web development.

Also – how can PostSecret be a Topical blog (Weblogs with a definite topic other than the other available topics) but be a nominee within other topics? Doesn't that defeat the definition of Topical?

All around – not impressed by these awards.

SyafTheGeek

ops sorry, heheh my mistakes, anyway i'm trying to learn a lot from your site though

Dawud Miracle

Congrats Daniel. Nice company to be in, too. Must be a sign that you're doing something good. But of course those of us who read you daily already know that.

Daniel

Syaf, who said I beat Problogger? I think Darren came second place. Probably I got the last one :), I doubt the list or the runners up on the site is ranked in order.

SyafTheGeek

Dude, you beat Problogger? I thought Problogger is much popular than you. But anyway, congratulations, I've learned a lot from you.

Lars-Christian

Even being among the finalists is a great feat, and something you should take as an honour Daniel, so congratulations on that 🙂 And ALA is definitely a worthy winner too, I just love their design 😉

George

Daniel, at least you were some really good company. Keep up the good writing and maybe you can win it next year. I personally don't read a list a part or Copyblogger on a regular basis, but maybe I should check them out. I do read your blog and Problogger all the time.

Maki, I wouldn't be surprised at all if you were up for the award next year. Your blog is one of the best new blogs around, and I am not just saying that.

Daniel

Yeah the other competiting blogs were pretty good, even if someone ask my advice I would recommend him to read Copyblogger or Problogger over my blog any day 🙂

Maki

Oooh I like the results because I'm a big fan of A List Apart. You had some tough competition, Daniel lol.

Hopefully next year Dosh Dosh will be in the running as well.. 🙂
Comments are closed.