Win A Free License of the Flexx Theme for WordPress
Update: The two winners are Carey Suante and Agus Rest, you should receive the theme soon by email.
It looks like my newsletter subscribers are in for a good ride. Pretty much every week some company approaches me to offer a free trial of its service or some free licenses to its products. When the offer is valuable and relevant for my readers, I am glad to accept it. It is a situation where everyone wins, after all.
So from now on I will make a random draw with those freebies for the subscribers of the newsletter. Even people that subscribed a while ago will participate. The only exception are the subscribers that already won something in the past (there are some lucky people out there that would win over and over again otherwise…).
This week two subscribers will win a license to the recently launched Flexx Theme, from iThemes. The single-user license costs $79,95.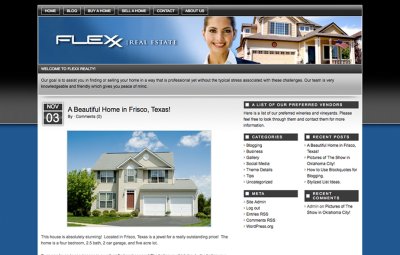 As the name hints, Flexx is one of the most flexible and customizable WordPress themes around. Here are some of the features:
1,056 layout options
no coding required
image uploader
image rotator
search engine optimized
Cory and Nathan did a wonderful job with this theme, so check it out if you are looking to give a face-lift to your blog. If you want to have a chance to win one of the two free licenses, you just need to subscribe to my Internet Marketing newsletter below (it is free, and you can unsubscribe anytime).

Next Monday I will make the random draw and put an update on top of this post with the name of the two winners.
Browse all articles on the General category
31 Responses to "Win A Free License of the Flexx Theme for WordPress"
Nimble

Thanks Daniel and congrats to the winners.

Daniel Scocco

I just did the random draw, sorry for the delay.

Kimberly

Do we have a winner yet?

Nimble

Who won this free license?

laptop

i like this post. some good information.

Raju

btw, I have subscribed as well 🙂

SE7EN

subscribed! I wonder how 1,056 layout options work 😀

David

It says I'm already subscribed 🙂 I definitely want this theme for my new blog.

Hussein

Hope I win this battle. I was actually impressed by the thousand layouts. I love changing layout of my blog 🙂

Arun Basil Lal

Damn, The these is so h o t.
just dont know how much I want this one.

Daniel Scocco

@Andy, the newsletter enables me to build a closer relationship with the readers, and it is a way to reward the subscribers that trusted me their attention.

I did many contests with comments in the past too, so it is not excluded I won't do them again in the future.

Just varying a bit.

idrys

it's great offer, i have subscribed.

Andy

I try to reduce my newsletters and read more RSS feeds. Why not draw the winner from the comments?

Himanshu Chanda

Was planning to start a blog soon 😉 On need based criteria…. I am in the merit list !!

Young

Hope I will be the lucky one this time. haha~~

Kirsten

That theme is exactly what I've been looking for! I subscribed to your newsletter and I am keeping my fingers crossed in hopes of winning.

K-IntheHouse

Thanks for the opportunity to win this cool theme.. the possibilities are endless with a nice theme from Nathan.

Daniel Scocco

@Jodith, the link is there, on the title of the post.

There is one at the bottom of the post too 🙂 .

Let me know if your reader dont display those and I will try something else.

Raju

really amazed with the features and quality, amazing theme

Jodith

You know, you really should put a link to your subscription form in your post for those who read via RSS, since the form doesn't show up in RSS. Makes readers happier!

Wishnu Gallery

Information that is very interesting. Can be tried, who knows lucky.

Aravind Jose T.

I hope to win this.
Cool theme.

Madhur Kapoor

Nice, i have subscribed too.

Bugjee

i will feel more lucky when i win this theme
\ /
thanks "(-_-)"

Luca – Internet Marketing for Beginners

Love your site. Always great content. May the best subscriber win.
Pick me – pick me

Ryan McLean

Sounds pretty cool. I just bought a premium theme and I am loving it. Good luck to the winners

Peter

Great theme. I have subscribe to your newsletter. DailyBlogTips is one of the best blogs around. Thanks..

Melvin

Flex is damn flexible huh… great name for a nice theme…

Tom – StandOutBlogger.com

I love it when we get offered free stuff for our subscribers!

Hussein

Great theme. Yeah I am already subscribe. Hope to be lucky.
Comments are closed.